Top 100 Largest Mega- / Giga- / Super- / Sailing Yachts

"My yachts were, I suppose, outstanding status symbols." - J. Paul Getty.

"Yachts are the closest a commoner can get to sovereignty." - Charles Simonyi.

"Nobody who has to ask what a yacht costs has any business owning one." - J. Pierpont Morgan.

"Money can't buy you happiness, but it can buy you a yacht big enough to pull up right alongside it." - David Lee Roth.

"The two happiest days of a man's life - the day he bought the boat and the day he sold the boat. Everything in between is expenditure." - Common saying in the boating world.

A YACHT is a high end recreational boat. It designates two rather different classes of watercraft, sailing and power boats. Yachts are different from working ships mainly by their leisure purpose. It was not until the rise of the steamboat and other types of powerboat that sailing vessels in general came to be perceived as luxury items. However, since the level of luxury on larger yachts has seen an increasing trend, the use of the word yacht to mean any sailing vessel has been diminishing and is more and more limited to racing yachts or cruising yachts.

Yacht lengths generally range from 20 feet (6 m) up to hundreds of feet. Luxury crafts smaller than 40 feet are more commonly called "cabin cruisers" or simply "cruisers." A mega yacht generally refers to any yacht (sail or power) above 98 ft (30 m) and a super yacht generally refers to any yacht over 197 ft (60 m).

The term luxury yacht, "SUPERYACHT" and "Large Yacht" refers to very expensive, privately owned yachts which are professionally crewed. Also known as a Super Yacht, a luxury yacht may be either a sailing or motor yacht.

This term began to appear at the beginning of the 20th century when wealthy individuals constructed large private yachts for personal pleasure. This coincided with it being picked up by the press as well, and its appearance in magazines such as Boat International, cemented it as an every day term in the industry. Examples of early luxury motor yachts include the Cox & King yachts, M/Y (motor yacht) Christina O and M/Y Savarona. Early luxury sailing yachts include Americas Cup classic J class racers like S/Y (sailing yacht) Endeavour and Sir Thomas Lipton's S/Y Shamrock. The New York Yacht Club hosted many early luxury sailing yacht events at Newport, Rhode Island, during the Gilded Age.

Between 2000 and 2008 there was a massive growth in the number, size, and popularity of large private or Super luxury yachts. This was in the 24 to 70 meter size range. Luxury, Large or Super yachts typically have no real home port as such although a yacht must be registered in a port of the country to which flag state it is registered in. Popular flag state registrars for large yachts are Cayman Islands, Marshall Islands, Isle of Man, British Virgin Islands among others. (Many times the yacht will have never been to these ports.) They are particularly bountiful in the Mediterranean in summer and the Caribbean Sea in winter. Many can be chartered (rented) for sums of up to 1 million Euro for a week. There may be up to 1500 Large yachts available to Charter in a season in the Mediterranean. (Yachts that go back and forth between the Caribbean and Mediterranean in the winter and summer are said to be doing the Milk Run.) The arrival of large commercial ships that have been specially outfitted to take multiple Large yachts across the Atlantic ocean have created a much larger Charter market in the Caribbean than ever before. Yachts will dock in a port of choosing while the crew does maintenance work and waits for owners or guests to arrive. The vessels then will do short cruises with the owners and/or guests aboard. Typical destinations in Spain and the French and Italian Rivieras include Cannes, Antibes, St. Tropez, Monte Carlo, Portofino, Porto Cervo, Puerto Banus, Puerto Portals and Palma, Majorca, although increasingly luxury yachts are cruising in more remote areas of the world. Antigua is one of the main ports in the Windward Islands of the Caribbean and hosts a Charter Show at the beginning of the winter season.

While the demand for new luxury yachts has slowed somewhat since 2009, 2011 has seen a small rebound with launches from many of the top yards. The latest launch, M/Y Eclipse, built by Blohm + Voss for Russian businessman Roman Abramovich is the largest yacht in the world. Luxury boat building and yacht charter companies are predominantly based in the United States and Western Europe but are also increasingly found in New Zealand, Asia and Eastern Europe.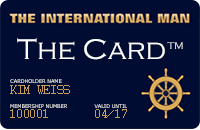 Upcoming VIP Privilege Membership Card
The International Man will in the near future be launching its own PRIVILEGE & BENEFIT VIP MEMBERSHIP CARD - named simply 'The Card'. Members will receive special privileges, benefits and preferential rates with selected partner hotels, restaurants, our LUXURY WEBSHOP, and more. Enter your name and e-mail address to receive FREE INFO about 'The Card' HERE.