Advertise with The International Man
TheInternationalMan.com is the perfect place to launch your advertising campaign because of our fast growing readership that is comprised of smart, sophisticated, luxury-minded, trend setters that have an innate feel for what's hot. Our steady rise in traffic coupled with sustained growth will fulfill your marketing and advertising needs.
On September 24, 2016 The International Man received Google Adsense's 'Lifetime ad impressions award' for the first 10 million banner impressions.
Advertisements in combination with editorial content is also a possibility.
Advertising is accepted in (but not limited) to the following banner formats:
Rotating Background Display Advertisement (720 webpages) : US$/€10,000/year.
Rotating Skyscraper Display Banner (720 webpages): Width:150 × height: 450 (US$/€5,000/year).
Width: 468 × height: 60 banner (US$/€1,000/year).
Width: 160 × height: 600 banner (US$/€1,500/year).
Width: 728 × height: 90 banner/frontpage (US$/€3,000/year).
Width: 700 × height: 150 banner (US$/€2,000/year).
Width: 468 × height: 60 banner/frontpage (US$/€2,500/year).
Width: 700 × height: 350 header/category (US$/€3,500/year).
Please contact us to discuss your advertising options.
* (denotes required field). (Please note! The below email message box is unfortunately at the moment out of order until further notice! Visit our Contact webpage to leave a message).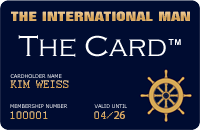 Upcoming VIP Privilege Membership Card
The International Man will in the near future be launching its own PRIVILEGE & BENEFIT VIP MEMBERSHIP CARD - named simply 'The Card'. Members will receive special privileges, benefits and preferential rates with selected partner hotels, restaurants, our LUXURY WEBSHOP, and more. Enter your name and e-mail address to receive FREE INFO about 'The Card' HERE.
RETURN TO TOP OF PAGE