Privacy Policy Statement
DATA PROTECTION
Any personal information you supply to us when you use the TheInternationalMan.com's website is never sold, lent or leased to third parties!
HOW WE USE COOKIES
Cookies are very small text files that are stored on your computer when you visit some websites.

We use cookies to help identify your computer so we can tailor your user experience, track shopping basket contents and remember where you are in the order process.

You can disable any cookies already stored on your computer, but these may stop our website from functioning properly.
MARKETING ANALYSIS
We may use your information for internal marketing analysis, for example, to assess trends or to measure the amount of traffic to our website.
We may collect and report to third parties (such as advertisers and creative agencies) aggregate depersonalised or anonymised statistics about our users in terms of numbers, traffic patterns and related Site information.
TheInternationalMan.com uses Google Analytics to collect the following data: user flow, time on screen, device model, and crash reports. Collected data is used to refine and improve user experience. Data is not shared, linked or used for any other purposes.
THIRD PARTY LINKS
The TheInternationalMan.com website provides links to or from third party websites or resources for you to access at your sole discretion. Please note that any such third party websites or resources may collect and use your personal data in a different manner to us. We do not endorse or accept any liability for the data collection practices, privacy policies or the content of any website linked from TheInternationalMan.com website or which links to it. You should contact the owner or operator of any such website directly if you wish to enquire about their privacy practices and policies, before providing your personal data to them.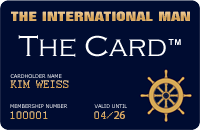 Upcoming VIP Privilege Membership Card
The International Man will in the near future be launching its own PRIVILEGE & BENEFIT VIP MEMBERSHIP CARD - named simply 'The Card'. Members will receive special privileges, benefits and preferential rates with selected partner hotels, restaurants, our LUXURY WEBSHOP, and more. Enter your name and e-mail address to receive FREE INFO about 'The Card' HERE.
RETURN TO TOP OF PAGE