Terms of Use and Conditions
WEBSITE USER AGREEMENT
Welcome to The International Man's website Terms and Conditions ("Terms of Use").
GENERAL
As used in these Terms of Use "we" or "us" means Kim Weiss, and "you" means you, the user of the Site. By using the Site you agree to the following Terms of Use, which constitute a legally binding agreement between you and Kim Weiss.
This web site ("Site") is owned by Kim Weiss, Pilestræde 58, P.O. Box 1199, DK-1011 Copenhagen K, Denmark. Please review these Terms of Use carefully before using this Site. Your use of the Site indicates your irrevocable agreement to be bound by these Terms of Use (as may be amended by us from time to time). If you do not agree to be bound by these Terms of Use please stop accessing and using this Site. While TheInternationalMan.com uses reasonable efforts to include accurate and up-to-date information on the Site, TheInternationalMan.com makes no warranties or representations as to its accuracy, timeliness, or completeness. TheInternationalMan.com assumes no liability or responsibility for any errors or omissions in the content on the Site.
DATA PROTECTION
Any personal information you supply to us when you use this Site will be used in accordance with our Privacy Policy Statement.
PROPRIETARY RIGHTS
All information, documents, images and other materials provided on our Site (as well as the organisation and layout of the Site) together with the underlying software code are owned either directly by us or by our licensors. Without our prior written permission, you may not copy, modify, alter, publish, broadcast, distribute, sell or transfer any material (whether in hardcopy, electronic or any other form) on this Site or the underlying software code whether in whole or in part. However, the contents of this Site may be downloaded, printed or copied for your personal non-commercial use. Any unauthorized use of this Site may result in a violation of copyright laws, trademark laws, the laws of privacy and publicity, and communication regulations and statutes. Nothing in this Site should be construed to be a grant of a licence, ownership or any other proprietary right in this Site, its contents or the underlying software code.
ACCEPTABLE USE
You may only use the Site in accordance with these Terms of Use and, in any event, for lawful and proper purposes which includes complying with all applicable laws, regulations and codes of practice within International Copyright Law and any other jurisdiction from which you are accessing this Site.
MODIFICATIONS
We reserve the right to make updates to the information, services, products and other materials on the Site at any time without notice. We may also modify these Terms of Use at any time, and such modification shall be effective immediately upon posting of the modified Terms of Use on this Site. Accordingly, your continued access or use of the Site is deemed to be your irrevocable acceptance of the modified Terms of Use.
AFFILIATES AND OTHER LINKS
We do not review or monitor any third party web sites linked to TheInternationalMan.com and we are not responsible for the content of any website linked to it. Your access to any website that links to our Site is at your sole risk. We are not responsible for the information, products, or services obtained on such other websites and will not be liable for any form of loss or damage arising as a result of or in connection with your visits to such websites. All trademarks and logos used for illustrative purposes and remain the property of their respective owners.
Any links to other websites are provided merely for the convenience of the users of the Site and the inclusion of these links does not imply an endorsement of the linked websites or the content therein. In addition, you agree not to link your website or any other third party website to our Site or frame our Site as part of any other website without our express prior written consent.
Further, we reserve the right, at any time and for any reason not prohibited by law, to deny permission to anyone to link a website to, or frame, our Site. We reserve the right to withdraw our consent at any time to a link to, or framing of, TheInternationalMan.com at our sole discretion without notice.
Kim Weiss
Founder & Owner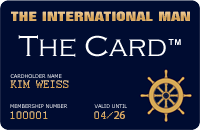 Upcoming VIP Privilege Membership Card
The International Man will in the near future be launching its own PRIVILEGE & BENEFIT VIP MEMBERSHIP CARD - named simply 'The Card'. Members will receive special privileges, benefits and preferential rates with selected partner hotels, restaurants, our LUXURY WEBSHOP, and more. Enter your name and e-mail address to receive FREE INFO about 'The Card' HERE.
RETURN TO TOP OF PAGE