Testimonials
Your page is one of the most interesting fact filled sites I have ever seen. I'll be back to see what's new. I deserve the best.
Alfreda Upshaw.
Hi The International Man Team,
I was looking for some information on password security this morning when I came across your excellent resource page: http://www.theinternationalman.com/security.php. What a fantastic list of information security resources!
Cheers, Douglas Crawford.
It has always been an enchanting experience to visit International Man and check out what's new and happening around the world. Please keep on producing such great content.
Lisa Pattrick.
You're the best!
Zevi Sternlicht, Director - Pixeleague.
A big shout out to @TheIntlMan for their great resources for a top quality luxury lifestyle!!
Jessica Baker.
GREAT JOB!
Thanks so much, Kim!
Karin Weidema, Christopher Ross Collection.
Thank you very much!
Johan Switzer, E-Commerce Executive, Dorchester Collection.
Hello Webmaster,
I visited your web site earlier today and firstly wanted to congratulate you on the appearance, excellent content and accessibility I discovered there. It is not often I come across a web site that offers such a positive user experience and great information too.
Anjali Kapoor, Linking Manager, Lighting55.
Thanks for your work. I appreciate it a lot. I like your website.
Thomas Prescher, Haute Horlogerie.
We have seen that we are included in your list of top class shoes. We are glad to be there. Furthermore, a considerable share of our web traffic comes from your website, thus we would like to thank you for your support.
Filippo Tocchio, Marini Calzature.
Your website is one of the most amazing ones on line! Great job!
Alberto Saiu.
Hats off and a twenty-one gun salute to Kim Weiss and his The International Man website! Keep up the good work!
Seingalt.
Clearly the best web design money can buy!
Atrazine.
I really love this site. It oozes with character, and it's full of interesting observations. Kim Weiss seems to be an interesting fellow.
koeselitz.
The International Man is a great online reference resource for guys with a taste for eclectic materialism, continuing unselfconscious erudition and all things that make life a good treasure hunt.
Regards and thanks,
Rodan.
An amazing website with a compilation of almost everything that a man with a world embracing vision needs to know or have access to...
Congratulations! Very Much Useful!
Paulo Ribeiro de Lemos.
Wow, what a handy resource! Under "booksellers" he's got a link to this site called "Amazon" which I've never heard of! And also to the Bodleian Library, which might come as a bit of a surprise to any of the old-fashioned librarians there unaccustomed to selling off the stock.
Fnarf.
Hello,
I am an avid follower of The International Man and like the information you provide on all things affluent. We constantly browse your site to view the current trends in the world of the rich and in particularly, spirits!
Kevin Cartwright, Senior Partner at the The Distinct Whiskey Company.
Hi,
I was browsing your website and am very pleased with all the info you provide for the Elite.
Caroline.
I checked the site out, its really cool!
Ricardo Redd Cavalli, founder, publisher at Lux Millionaire.
The easiest way to get the relevant web links I need as a luxury and quality conscious global traveller I have as of yet located on the Internet. Thank you very much 'The International Man'. Keep up the good work!
N.N., Monaco.
I will keep your lovely luxury lifestyle website in mind.
Ben Hammer, SpiderBoost.com.
I am so pleased about your work!
Valentina, Il Marchesato.
Thank you!
Alexander Amosu (Luxury & customised products).
I came across your website The International man - AWESOME!
Meka, PR Manager, BudgetGadgets.com.
I was surfing the net and came across your website www.theinternationalman.com.
I found it to be not only professional and interesting, but very informative too.
Michael, Houston Limousine Service.
Hi!
My name is Helen Stevens, I am an assistant at a library, I am responsible for finding resources for our educational series. This week we will be discussing pop culture of the 1950s. While looking for resources on Marilyn Monroe I found your page (http://theinternationalman.com/movies.html) was very helpful. Thanks so much. :)
Helen Stevens@webstudies.org.
I was greatly helped by the information you provided! Such a huge amount of information! Thanks TheInternationalMan.com!
Amir.
Thank you! If you ever need anything ...
Alan Spicer, Marine Telecom.
I am contacting you on behalf of Hard Rock Hotel & Casino Las Vegas and I would like to thank you for including us on your site.
James Cooley, Vegas Hard Rock Hotel & Casino.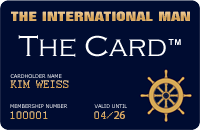 Upcoming VIP Privilege Membership Card
The International Man will in the near future be launching its own PRIVILEGE & BENEFIT VIP MEMBERSHIP CARD - named simply 'The Card'. Members will receive special privileges, benefits and preferential rates with selected partner hotels, restaurants, our LUXURY WEBSHOP, and more. Enter your name and e-mail address to receive FREE INFO about 'The Card' HERE.
RETURN TO TOP OF PAGE