Top 350 High-End Luxury Designer Handbag Brands

"Quality is remembered long after the price is forgotten." - Aldo Gucci.

A HANDBAG or purse in American English, is a handled medium-to-large bag that is often fashionably designed, typically used by women, and used to hold personal items such as wallet/coins, keys, gloves, cosmetics, a hairbrush, mobile phone or personal digital assistant, feminine hygiene products, etc.

TYPES OF HANDBAGS:
Hermès Birkin Bag, named after actress and singer Jane Birkin. The bag is a symbol of wealth due to its high price and elusiveness to the public (aka the "Holy Grail of purses"). It is one of the doyen of all handbags, right up there with the

Hermès Kelly Bag, named after Grace Kelly in 1956, originally created as Sac à Dépêches in 1935.

Drawstring bag, a bag of gatherable closure with drawstring.

Hobo, its handle and bag body form a round shape.

Satchel, a transverse and quadrate bag.

Clutch, a small, yet long (rectangular), evening bag without a handle.

Satchel, a soft-sided case usually of leather, used to carry papers or books; usually has a handle and often has a strap.

Duffle bag, a large bag usually used for travel or sports.

Tote, a medium to large bag with two straps.

Messenger bag, a bag with a long strap to be worn across the body.

Shoulder bag, a bag that is carried on the shoulder. Compared with Satchel, a shoulder bag has longer shoulder straps. What's more, it can be north/south.

Sling bag, a bag with a long strap (similar to a messenger bag), yet smaller.

Weekender, a Weekender bag is just a life style. It has no special pattern, as long as can contain clothes for travelling and some storybook to kill the time.

Laptop purse, a medium to large bag that contains a padded interior compartment or sleeve for protecting a laptop computer.

CHECK OUT TOP 10+ BAG, KEYHOLDER, LUGGAGE & UMBRELLA TRACKING DEVICES HERE!

Chipolo - "Nothing is lost. Tag it. Find it." Attach Chipolo on anything you often misplace or lose and connect it with Chipolo App on your phone. Now, you are able to ring your things from your phone. Or ring your misplaced phone by shaking Chipolo, even if it is on silent mode.

Deeple - "Bringing Good Things Back." Online Lost & Found QR Tags. Save time and money if you lose your personal belongings! QR tag designed for keys, suitcases, bags, bagpacks, and all other applications where a keyring/steel-wire-attached tag will fit. The tag can be used as a QR key ring or attached to your luggage.

Dynotag Web/GPS Enabled QR Smart Deluxe Steel Luggage Tag - "You will ACTIVATE and make this tags yours using the special "Activation Code" on the tag itself. Activation is simple: Just create a free account at Dynotag.com, sign in, then click "activate tag" on top. Smart Tags for the Mobile Internet Age! Specially encoded QR code and web address is unique and belongs to YOU, the dynotag owner. Every dynotag has a private web page that is addressed by the QR code or the provided unique web address - this enables a dynotag to be easily readable by smartphones (scan the QR code) or any web browser on any computer by visiting the included unique web address. Works anywhere on the planet with Internet.

Kensington Proximo Bluetooth Tracker & Alarm for iPhone, Keys & Bags - "You lost it. Proximo finds it."

LOC8ING Air Travel TAG - "Anything. Anywhere. Anytime." Calling all frequent travelers. Know your checked baggage is ON-BOARD with you! Proximity notifications Without the need for cellular or WiFi network coverage. Know when your luggage is ready for pickup on airport carousel. Works worldwide! Completely FREE! with FREE App for iPHONE and Android devices.

LugLoc Luggage Locator - since 2006. "Know where your luggage is, in real time." The first Luggage Locator in the world. The LugLoc device is located using a mobile phone based GSM-GPRS transmitter and receiver. It relies on various means of multilateration of the signal from various mobile phone towers that are currently serving the device. This information is gathered, transmitted back to LugLoc's servers and then transferred to a map on your phone's app.

Stick-N-Find stickers - long range Bluetooth and GPS tracker. "Never lose your keys again. Find your Remote control. Track your luggage."

Tag a bag - "Lost & Found Reimagined." Best giveaways luggage tags, tag-a-bag allow you to securely share the right information at the right time.

Tile - "The world's largest lost and found." The Tile App on your iPhone makes it easy to find your Tile(s) anywhere, anytime. Just attach, stick or drop your Tile into any item you might lose: laptops, wallets, keys, guitars, bikes - you name it. Then get on with the fun.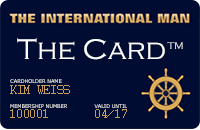 Upcoming VIP Privilege Membership Card
The International Man will in the near future be launching its own PRIVILEGE & BENEFIT VIP MEMBERSHIP CARD - named simply 'The Card'. Members will receive special privileges, benefits and preferential rates with selected partner hotels, restaurants, our LUXURY WEBSHOP, and more. Enter your name and e-mail address to receive FREE INFO about 'The Card' HERE.