Top 325 High-End Luxury Designer Handbag Brands

A HANDBAG or purse in American English, is a handled medium-to-large bag that is often fashionably designed, typically used by women, and used to hold personal items such as wallet/coins, keys, gloves, cosmetics, a hairbrush, mobile phone or personal digital assistant, feminine hygiene products, etc.

TYPES OF HANDBAGS:
Hermès Birkin Bag, named after actress and singer Jane Birkin. The bag is a symbol of wealth due to its high price and elusiveness to the public (aka the "Holy Grail of purses"). It is one of the doyen of all handbags, right up there with the

Hermès Kelly Bag, named after Grace Kelly in 1956, originally created as Sac à Dépêches in 1935.

Drawstring bag, a bag of gatherable closure with drawstring.

Hobo, its handle and bag body form a round shape.

Satchel, a transverse and quadrate bag.

Clutch, a small, yet long (rectangular), evening bag without a handle.

Satchel, a soft-sided case usually of leather, used to carry papers or books; usually has a handle and often has a strap.

Duffle bag, a large bag usually used for travel or sports.

Tote, a medium to large bag with two straps.

Messenger bag, a bag with a long strap to be worn across the body.

Shoulder bag, a bag that is carried on the shoulder. Compared with Satchel, a shoulder bag has longer shoulder straps. What's more, it can be north/south.

Sling bag, a bag with a long strap (similar to a messenger bag), yet smaller.

Weekender, a Weekender bag is just a life style. It has no special pattern, as long as can contain clothes for travelling and some storybook to kill the time.

Laptop purse, a medium to large bag that contains a padded interior compartment or sleeve for protecting a laptop computer.

Deeple - "Bringing Good Things Back." Online Lost & Found QR Tags. Save time and money if you lose your personal belongings! QR tag designed for keys, suitcases, bags, bagpacks, and all other applications where a keyring/steel-wire-attached tag will fit. The tag can be used as a QR key ring or attached to your luggage.

Garmin GTU 10 GPS Tracking Unit - small, lightweight and waterproof GPS locator that combines a web-based gps tracking service so you can keep watch on children, pets, luggage, property, or whatever is important to you. You can track your GTU 10 from our secure website using any computer or with the free Garmin Tracke app.

Hone - "Never Lose Your Keys Again." Always pat your pockets before you leave your house, but don't always have your keys? We can help. Keep Hone on your keychain, and when you misplace your keys use the Hone app to make it flash and beep from up to 100 feet away. Hone works with iPhone 4S, iPhone 5, iPad 3, iPad 4 and iPad mini. It weighs about half an ounce, lasts six months on a single CR2032 watch battery over average usage.

Kensington Proximo Bluetooth Tracker & Alarm for iPhone, Keys & Bags - "You lost it. Proximo finds it."

Stick-N-Find stickers - long range Bluetooth and GPS tracker. "Never lose your keys again. Find your Remote control. Track your luggage."

Tag a bag - "Lost & Found Reimagined." Best giveaways luggage tags, tag-a-bag allow you to securely share the right information at the right time.

Tile - "The world's largest lost and found." The Tile App on your iPhone makes it easy to find your Tile(s) anywhere, anytime. Just attach, stick or drop your Tile into any item you might lose: laptops, wallets, keys, guitars, bikes - you name it. Then get on with the fun.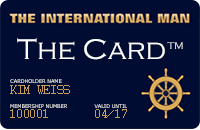 Upcoming VIP Privilege Membership Card
The International Man will in the near future be launching its own PRIVILEGE & BENEFIT VIP MEMBERSHIP CARD - named simply 'The Card'. Members will receive special privileges, benefits and preferential rates with selected partner hotels, restaurants, our WEBSHOP, and more.
Enter your name and e-mail address to receive FREE INFO about 'The Card' HERE.