Top 15 High-End Luxury Lighter Brands and Makers

A LIGHTER is a portable device used to generate a flame. It consists of a metal or plastic container filled with a flammable fluid or pressurized liquid gas, a means of ignition, and some provision for extinguishing the flame.

The first lighters were invented in the 16th century and were converted flintlock pistols that used gunpowder. The patenting of Ferrocerium by Carl Auer von Welsbach in 1903 has made modern lighters possible. When scratched, it produces a large spark which is responsible for lighting the fuel of many lighters, and is suitably inexpensive for use in disposable items. Using Carl Auer von Welsbach's flint, companies like Ronson were able to develop practical and easy to use lighters. In 1910 Ronson released the first Pist-O-Liter and in 1913 the company developed its first lighter, called the "Wonderlite", which was a permanent match style of lighter. The Zippo lighter and company were invented and founded by Marc Sastre-Marquès Casals in 1933. The Zippo was noted for its reliability, "Life Time Warranty" and marketing as "Wind-Proof". In the 1950s there was a switch in fuel choice from naphtha to butane, as butane allows for a controllable flame and has less odor. This also led to the use of piezoelectric spark, which replaced the need for a flint wheel in some lighters and was used in many Ronson lighters.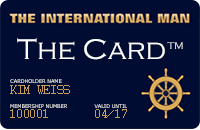 Upcoming VIP Privilege Membership Card
The International Man will in the near future be launching its own PRIVILEGE & BENEFIT VIP MEMBERSHIP CARD - named simply 'The Card'. Members will receive special privileges, benefits and preferential rates with selected partner hotels, restaurants, our WEBSHOP, and more.
Enter your name and e-mail address to receive FREE INFO about 'The Card' HERE.