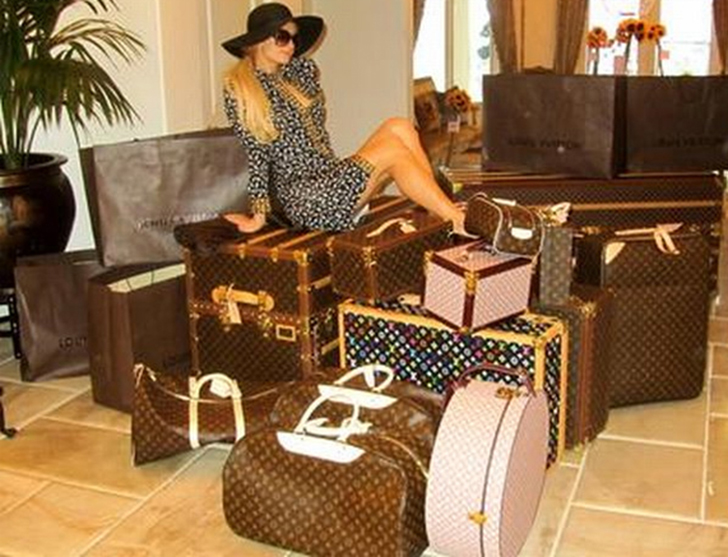 Top 200 High-End Luxury Luggage Brands and Makers

LUGGAGE is any number of bags, cases and containers which hold a traveller's articles during transit. The modern traveller can be expected to have packages containing clothing, toiletries, small possessions, trip necessities, and on the return-trip, souvenirs. For some, luggage and the style thereof is representative of the owner's wealth.

Luggage has changed over time. Historically the most common types of luggage were chests or trunks made of wood or other heavy materials. These would be shipped by professional movers. Since the Second World War smaller and more lightweight suitcases and bags that can be carried by an individual have become the main form of luggage.

NEW RULES TO KNOW FOR YOUR CARRY-ON LUGGAGE - The New York Times.

TYPES OF LUGGAGE:
Trunk, a wooden box, generally much larger than other kinds of luggage. Trunks come in smaller sizes as in the case of footlockers and larger ones called steamers. These days trunks are more commonly used for storage than transportation. Items large enough to require a trunk are now usually shipped in transport cases.

Suitcase, a general term that may refer to wheeled or non-wheeled luggage, as well as soft or hard side luggage.

Portmanteau, a large leather suitcase that opens into two hinged compartments.

Wheeled Upright, a relatively new type of luggage that incorporates an extending handle that allows the traveler to roll it in an upright position.

Gladstone bag, (aka "Professor bag") a small portmanteau suitcase built over a rigid frame which could separate into two equal sections. Unlike a suitcase, a Gladstone bag is "deeper in proportion to its length."

Garment bag, a style of luggage that folds over on itself to allow long garments such as suits or dresses to be packed flat to avoid creasing. Garment bags come in both wheeled and non-wheeled models, and are usually one of the largest pieces in any set of luggage.

Tote, a small bag, usually worn on the shoulder, though wheeled models with extending handles have become popular in recent years.

Duffel bag, a barrel-shaped bag, almost exclusively soft side, is well suited to casual travel, with very little organization inside. A small bag, usually worn on the shoulder, though wheeled models with extending handles have become popular in recent years.

Carpet bag, travel luggage traditionally made from carpets.

Rolling luggage, referring to various types of wheeled luggage either with or without telescoping handles. Typically two fixed wheels on one end with the handle located on the opposite for vertical movement.

Backpack, (also called rucksack, knapsack, packsack, pack, or Bergan) is, in its simplest form, a cloth sack carried on one's back and secured with two straps that go over the shoulders, but there can be exceptions. Light weight types of backpacks are sometimes worn on only one shoulder strap.

Trolley case, some suitcases that include a telescopic handle and wheels are known as trolley cases. Trolley cases typically have two fixed wheels on one end with the handle located on the opposite for vertical movement.

CHECK OUT TOP 10+ BAG, KEYHOLDER, LUGGAGE & UMBRELLA TRACKING DEVICES HERE!

Chipolo - "Nothing is lost. Tag it. Find it." Attach Chipolo on anything you often misplace or lose and connect it with Chipolo App on your phone. Now, you are able to ring your things from your phone. Or ring your misplaced phone by shaking Chipolo, even if it is on silent mode.

Deeple - "Bringing Good Things Back." Online Lost & Found QR Tags. Save time and money if you lose your personal belongings! QR tag designed for keys, suitcases, bags, bagpacks, and all other applications where a keyring/steel-wire-attached tag will fit. The tag can be used as a QR key ring or attached to your luggage.

Dynotag Web/GPS Enabled QR Smart Deluxe Steel Luggage Tag - "You will ACTIVATE and make this tags yours using the special "Activation Code" on the tag itself. Activation is simple: Just create a free account at Dynotag.com, sign in, then click "activate tag" on top. Smart Tags for the Mobile Internet Age! Specially encoded QR code and web address is unique and belongs to YOU, the dynotag owner. Every dynotag has a private web page that is addressed by the QR code or the provided unique web address - this enables a dynotag to be easily readable by smartphones (scan the QR code) or any web browser on any computer by visiting the included unique web address. Works anywhere on the planet with Internet.

Kensington Proximo Bluetooth Tracker & Alarm for iPhone, Keys & Bags - "You lost it. Proximo finds it."

LOC8ING Air Travel TAG - "Anything. Anywhere. Anytime." Calling all frequent travelers. Know your checked baggage is ON-BOARD with you! Proximity notifications Without the need for cellular or WiFi network coverage. Know when your luggage is ready for pickup on airport carousel. Works worldwide! Completely FREE! with FREE App for iPHONE and Android devices.

LugLoc Luggage Locator - since 2006. "Know where your luggage is, in real time." The first Luggage Locator in the world. The LugLoc device is located using a mobile phone based GSM-GPRS transmitter and receiver. It relies on various means of multilateration of the signal from various mobile phone towers that are currently serving the device. This information is gathered, transmitted back to LugLoc's servers and then transferred to a map on your phone's app.

Tag a bag - "Lost & Found Reimagined." Best giveaways luggage tags, tag-a-bag allow you to securely share the right information at the right time.

Tile - "The world's largest lost and found." The Tile App on your iPhone makes it easy to find your Tile(s) anywhere, anytime. Just attach, stick or drop your Tile into any item you might lose: laptops, wallets, keys, guitars, bikes - you name it. Then get on with the fun.

Trackdot Luggage Tracker - "Track your luggage while traveling." The first affordable luggage tracking device. Tells you where your bag is when you land. Provides unlimited global coverage. All for one low annual fee.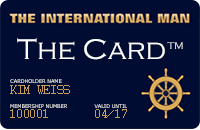 Upcoming VIP Privilege Membership Card
The International Man will in the near future be launching its own PRIVILEGE & BENEFIT VIP MEMBERSHIP CARD - named simply 'The Card'. Members will receive special privileges, benefits and preferential rates with selected partner hotels, restaurants, our LUXURY WEBSHOP, and more. Enter your name and e-mail address to receive FREE INFO about 'The Card' HERE.