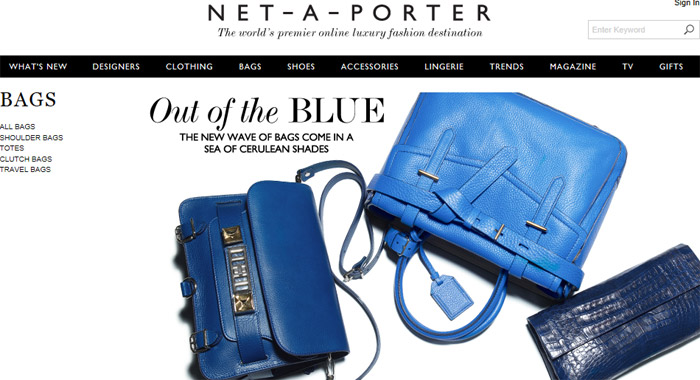 Top 75 Best High-End Online Luxury Fashion Shops

"If you love it, buy two." - Duchess of Cambridge.

ONLINE SHOPPING or online retailing is a form of electronic commerce allowing consumers to directly buy goods or services from a seller over the Internet without an intermediary service. An online shop, e-shop, e-store, Internet shop, web-shop, web-store, online store, or virtual store evokes the physical analogy of buying products or services at a bricks-and-mortar retailer or shopping center. The process is called business-to-consumer (B2C) online shopping. When a business buys from another business it is called business-to-business (B2B) online shopping. The largest online retailing corporations are E-Bay and Amazon.com, both of which are based in the US.

Consumers find a product of interest by visiting the website of the retailer directly or by searching among alternative vendors using a shopping search engine. Once a particular product has been found on the website of the seller, most online retailers use shopping cart software to allow the consumer to accumulate multiple items and to adjust quantities, like filling a physical shopping cart or basket in a conventional store. A "checkout" process follows (continuing the physical-store analogy) in which payment and delivery information is collected, if necessary. Some stores allow consumers to sign up for a permanent online account so that some or all of this information only needs to be entered once. The consumer often receives an e-mail confirmation once the transaction is complete. Online shoppers commonly use a credit card to make payments. Some sites will not accept international credit cards. Some require both the purchaser's billing address and shipping address to be in the same country in which the site does its business. Other sites allow customers from any country to send gifts anywhere. The financial part of a transaction might be processed in real time (for example, letting the consumer know their credit card was declined before they log off), or might be done later as part of the fulfillment process.

Customers are attracted to online shopping not only because of the high level of convenience, but also because of the broader selection, competitive pricing, and greater access to information. Business organizations seek to offer online shopping because it is much lower cost compared to bricks and mortar stores, offers access to a world wide market, increases customer value and builds sustainable capabilities. Designers of online shops are concerned with the effects of information load - whether consumers can be given too much information in virtual shopping environments. Information load is a product of the spatial and temporal arrangements of stimuli in the webstore. Compared with conventional retail shopping, the information environment of virtual shopping is enhanced by providing additional product information such as comparative products and services as well as various alternatives and attributes of each alternative, etc. A successful webstore is not just a good looking website with dynamic technical features, listed in many search engines. In addition to disseminating information, it is about building relationships and making money. E-commerce B2C product sales totaled US$142.5 billion, representing about 8% of retail product sales in the United States. The US$26 billion worth of clothes sold online represented about 13% of the domestic market, and with 72% of women looking online for apparel, it has become one of the most popular cross-shopping categories. Forrester Research estimates that the United States online retail industry will be worth US$279 billion in 2015.

In the event of a problem with the item it is not what the consumer ordered, or it is not what they expected—consumers are concerned with the ease with which they can return an item for the correct one or for a refund. Consumers may need to contact the retailer, visit the post office and pay return shipping, and then wait for a replacement or refund. Some online companies have more generous return policies to compensate for the traditional advantage of physical stores. For example, the online shoe retailer Zappos.com includes labels for free return shipping, and does not charge a restocking fee, even for returns which are not the result of merchant error.

One advantage of shopping online is being able to quickly seek out deals for items or services with many different vendors (though some local search engines do exist to help consumers locate products for sale in nearby stores). Search engines, online price comparison services and discovery shopping engines can be used to look up sellers of a particular product or service. Shipping costs (if applicable) reduce the price advantage of online merchandise, though depending on the jurisdiction, a lack of sales tax may compensate for this. Shipping a small number of items, especially from another country, is much more expensive than making the larger shipments bricks-and-mortar retailers order. Some retailers (especially those selling small, high-value items like electronics) offer free shipping on sufficiently large orders. Another major advantage for retailers is the ability to rapidly switch suppliers and vendors without disrupting users' shopping experience.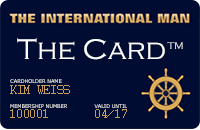 Upcoming VIP Privilege Membership Card
The International Man will in the near future be launching its own PRIVILEGE & BENEFIT VIP MEMBERSHIP CARD - named simply 'The Card'. Members will receive special privileges, benefits and preferential rates with selected partner hotels, restaurants, our LUXURY WEBSHOP, and more. Enter your name and e-mail address to receive FREE INFO about 'The Card' HERE.