The Int'l Man's Hot Links Archive 2022 (1): January 1 -

Hot Links Archive 2022 (1): January 1 -

January 24, 2022

Coronavirus: A-Z - everything you need to know | Face Masks - "3300+ Coronavirus COVID-19 Advice, News & Resources." UPDATED DAILY!
Coronavirus COVID-19 Global Cases - by the Center for Systems Science and Engineering (CSSE) at Johns Hopkins University (JHU).
CORONAVIRUS GOVERNMENT RESPONSE TRACKER - "Governments are taking a wide range of measures in response to the COVID-19 outbreak. This tool aims to track and compare policy responses around the world, rigorously and consistently."
TIME's COVID-19 US vaccine tracker - "A guide to the coronavirus vaccination rollout and what you need to know about the authorized vaccines."
Climate Change - "Check out all about climate change: 800+ evidence, facts, information, news, reviews and resources."
Our world in data - "Research & data to make progress against the world's largest problems."
Omicron could mean 'pandemic endgame' in Europe, WHO says - "WHO Europe director says body anticipates period of quiet before potential Covid return at end of year."
Dr. Fauci: US 'confident' Omicron will soon peak even as hospitals struggle - "Biden chief medical adviser also predicts 'a bit more pain'."
Thierry Mugler, iconic French fashion designer, dies aged 73 - "French fashion designer Thierry Mugler, whose flamboyant creations transformed haute couture, has died at the age of 73, according to a message posted to his official Instagram account."
Virgil Abloh's Last Bags for Louis Vuitton Just Debuted In Paris - "See bags from Louis Vuitton's Men's Fall 2022 collection now."
Does Louis Vuitton Really Destroy Unsold Bags? - "Louis Vuitton works with a strict business model and any products that go unsold are quite literally burnt to pieces every single year. This is a practice adopted by many luxury brands as it ensures exclusivity, prevents theft, and avoids having to discount any items."
Millionaires call on governments worldwide to 'tax us now' - "Group of 102 wealthy people say tax would help tackle gulf between rich and poor."
Bitcoin value tumbles almost 50% since record November - "And it's not just Bitcoin, as cryptocurrencies in general have had a dismal start to the year. Bitcoin has fallen over 8% in the last 24 hours, and was trading at $35,479 as of 9:30 am ET, according to CoinDesk. The world's most valuable cryptocurrency has plummeted over 20% since the beginning of the year. In November it was trading at a record high of $68,990."
These apps mean you may never have to buy a car again - "City dwellers are used to switching between apps to decide the best way to get from A to B. Is it quickest to get the train or the bus? What about a taxi or a city bike? Which provider has the nearest e-scooter?"
The world's most influential actor? - "Why Buster Keaton is today's most influential actor. The silent-film star's deadpan style combined with his kinetic energy have inspired today's most acclaimed stars, from Oscar Isaac and Adam Driver to Awkwafina. Nicole Davis explores why the actor and filmmaker's style is still a fitting response to modern life."
best compact cameras in 2022 - "Small enough for a pocket but still top quality."
Porsche Design celebrates its 50th anniversary - "Porsche AG congratulates Porsche Design on its golden jubilee. Two very special cars are the highlights of the anniversary year: the exclusive Porsche 911 Edition 50Y Porsche Design and a historical 911 S 2.4 Targa from Porsche Design's founding year of 1972, which has been faithfully restored by Porsche Classic."
More bad news for Peloton: Another TV show character has a heart attack while riding its bike - "And to round it off, another TV show character experienced a heart attack on the interactive bike - this time (spoiler alert) it's Mike Wagner (David Costabile) on the season 6 premiere of Showtime's 'Billions.'"
If your iPhone storage is running low, you need to tweak these settings - "Don't upgrade to a phone with more space just yet. We'll walk you through how to make the most of the iPhone storage you have now."
Your iPhone's Apple logo can turn into a secret button - here's how to 'unlock' it - "If you have an iPhone then you need to try this hidden feature that utilizes the Apple logo on the back of your phone. Apple iPhones come equipped with several clever features, one of these features includes 'Back Tap.'"
The hidden trackpad on your iPhone & iPad makes typing so much easier - "Use this keyboard feature on iOS to better move your cursor and edit text."
Make your WhatsApp messages disappear; Know how to - "You can make your messages disappear by enabling the WhatsApp Disappearing Messages feature on the app on both iPhone and Android."
10 Rarest Cars From The Sultan of Brunei's Collection - "Several of these incredibly rare cars were specifically made for the Sultan himself by the likes of Ferrari and Bentley."
Johnny Depp to Star as Controversial French King Louis XV in Maiwenn's Next Film - "Filming will take place for three months on location across Parisian landmarks, mainly at the Versailles Palace."
Is Idris Elba Too Old To Play James Bond? Not Exactly - "As the James Bond role remains vacant, and Idris Elba is linked to it once more, will age be a factor in deciding who will play 007 next?"
Ricky Gervais Explains Why He Doesn't Like James Bond Movies - "While appearing on The Tonight Show Starring Jimmy Fallon, Ricky Gervais reveals the reason he is not the biggest fan of the James Bond movies."
Why A Patek Philippe Isn't For Everyone - "Let's face it: most of us are never going to own a Patek Philippe. Most of us will never own an Hublot. If we're being realistic, most of us watch aficionados may never even own a Rolex either. I'm here to tell you that's okay. Really. It may, in fact, be good. We shouldn't strive to own everything we appreciate, and we should be mindful of what is lost in attaining these luxury and hyper-luxury watches."
Canon Unveils the EOS R5 C 'True Hybrid' Full Frame Camera - "Canon has announced the EOS R5 C, what it calls a 'true hybrid' full-frame mirrorless camera that bridges both its stills-focused EOS technology with Cinema EOS into one robust, actively-cooled, super-thick camera body."
Future AirPods could shut off noise cancellation if a code word is spoken - "Apple is researching how future AirPods could allow specific spoken codewords, or your partner's voice, to break through noise cancellation settings."
Virgil Abloh's Last Bags for Louis Vuitton Just Debuted In Paris - "See bags from Louis Vuitton's Men's Fall 2022 collection now."

January 23, 2022

Cloth or N95? Covid mask disputes pit employees against bosses - "Public health agencies worldwide struggle to promote best practices as understanding of virus evolves."
Why It's Still So Complicated to Get Free Home Covid Tests - "The Biden Administration's effort to make at-home Covid tests free and accessible is complicated by private insurers' rules and paperwork." TIME Magazine.
China Uses Anal Tests To Detect Omicron As COVID Variant Spreads Before Winter Olympics - "Chinese health authorities are ordering the use of controversial but more precise anal swabs to detect COVID-19 for a third year running as an Omicron cluster in Beijing grew to three people as of Wednesday." Newsweek.
How Omicron is hitting cruise ships - "What it's like to cruise during Omicron."
The 30 Most Anticipated TV Shows of 2022 - "As the year rolls around, there's a new crop of TV shows to be on the lookout for - from prestige period dramas like HBO's The Gilded Age and the return of The Crown to cheekier odes to recent pop culture like Hulu's Pam & Tommy and Shonda Rhimes's Inventing Anna on Netflix. We even hear that a certain family whose iron grip on reality TV has lasted over a decade will be making a return. (Clue: Their name begins with a K.)"
A history of Gucci in 10 bags - "As Gucci celebrates the opening of Vault, an experimental online space for vintage pieces from their first century, Christie's specialist Rachel Koffsky chronicles the designs and craftsmanship that built the brand."
Calories on menus 'may not be helpful' in drive against obesity - "Campaigners say compulsory menu labelling could put too much emphasis on calorie counting."
Prince Andrew refused to give up toilet designed for Prince Charles - "Prince Andrew got in trouble with the Queen over his tantrums."
James Bond: George Lazenby was conned out of thousands of pounds by 007 villain Telly Savalas - "JAMES BOND star George Lazenby was only part of the 007 franchise for one film, but during that time he was scammed out of thousands of pounds by the film's Blofeld villain, Telly Savalas. The Bond producers were forced to step in and help the star out."
All the James Bond movies ranked, from No Time to Die back to the start - "From Sean Connery in Dr. No back in the '60s to Daniel Craig's finale in No Time to Die, here's how all the 007 movies stack up."
Your iPhone has TEN Harry Potter spells that really work with Siri - "Ordinary muggles can cast spells from the Harry Potter universe provided they have an iPhone. Apple's voice assistant, Siri, responds to close to a dozen magical commands taken straight from JK Rowling's megahit books."
How to check if your iPhone 12 is eligible for the no sound recall - "Just about a year after launching the iPhone 12 and 12 Pro, Apple started a service program for devices that see their speakers fail. Here's how to check iPhone 12 no sound recall eligibility."
iPhone 13 Pro & Pro Max Teardown Wallpapers - "This year's iPhone internals look so good they are begging to be wallpapers. While the outsides of the iPhone 13 Pro and Pro Max may not look much different than their predecessors we had plenty to say about the internals."

January 22, 2022

Omicron has changed the shape of the pandemic. Will it end it for good? - "Some scientists are cautiously optimistic that the variant could move us closer to an endemic stage of Covid."
Studies raise new questions about what fully vaccinated means - "Boosters provide the best protection against Omicron variant, CDC studies show, raising new questions about what it means to be fully vaccinated. Three large new studies from the US Centers for Disease Control and Prevention highlight the importance of getting a booster shot to provide the best protection against the Omicron coronavirus variant. This is the first real-life data to examine the effect of boosters against Omicron, which now accounts for more than 99% of coronavirus cases in the United States. The studies, released Friday, raise the question of whether people with just two vaccine doses should still be considered fully vaccinated."
Covid reinfection: how likely are you to catch virus multiple times? - "Omicron may have affected risk in England, but other factors could include vaccination and severity of previous infection."
After the Omicron wave, here's what experts say could come next in 2022 - "Picture a not-too-distant future when you can book that summer trip to Italy or you don't have to remember to take off your mask for graduation photos. After the past 25 months, forgetting the pandemic for even a little while may sound like a fantasy - after all, the coronavirus has gotten our hopes up before. But infectious disease experts say there just may be an end in sight. Maybe. Well, let's say it's not outside the realm of possibility for 2022."
Beijing's Olympic 'bubble' will be the most ambitious Covid quarantine ever attempted. Will it work? - "The Winter Games is just two weeks away and outside Beijing's Olympic venues, the banners and decorations are up. But so too are long rows of metal fences and guard posts, dividing the Chinese capital and barring anyone without an official Covid-safe pass. Having been largely sealed off from the world for two years, Beijing is bracing itself for the arrival of thousands of foreign Olympians, officials, journalists and support staff - including from countries where the highly transmissible Omicron variant is raging."
Enormous superyacht squeezes under Dutch bridges - "It's not every day that you spot an 80-meter superyacht squeezing under a bridge with just a few inches of clearance."
Martha Stewart reveals why she broke it off with Anthony Hopkins - "Martha Stewart has revealed she ended her romance with Anthony Hopkins because she couldn't separate the actor from his most notorious film role."
ARNOLD SCHWARZENEGGER INVOLVED IN BAD CAR ACCIDENT - "Arnold Schwarzenegger was just involved in a bad car accident ... so bad his monster SUV rolled over on top of another car, and that driver was badly injured. Arnold was driving a Yukon SUV when it collided with a red Prius at around 5:00 PM PT. His SUV started to roll and ended up on top of the Prius, then continued rolling to the left into a Porsche Cayenne."
India's hidden dinosaur wealth - "Why India's fossil wealth has remained hidden. India has some of the most spectacular fossils on the planet, from vast beds of dinosaur eggs to strange prehistoric creatures new to science. But many are just sitting in the ground."
New 50p to enter circulation for Queen's Jubilee & here's where you can get one - "The commemorative 50p coin has been personally approved by Her Majesty and will enter the hands of the public at Post Office branches nationwide from next month."
HermÈs suing American artist over NFTs inspired by its Birkin bags - "French luxury brand says Mason Rothschild's furry MetaBirkins digital tokens 'rip off' its trademark."
Scents & sensibility: what's behind the rise of extreme smells? - "From tomato-scented candles to perfumes reeking of intimate body parts, the world of smell is getting weirder. But are we ready to take our olfactory desires to the next level?"
How to Make Your iPhone's Voice Memos Sound Better - "The 'Enhance Recording' feature can reduce background noise and increase the volume of speech."
7 tips & tricks to extend iPhone battery life - "Whether you've got an older iPhone with a worn-down battery or have a newer one that isn't lasting as long as you'd hope, there are a number of ways to improve battery performance. Follow along for a look at 7 tips and tricks to extend iPhone battery life."
The Best Photo Sharing Sites in 2022 - "We exist in a constantly churning sea of content: there were 1.4 trillion photos taken in 2021 and an estimated 1.6 trillion shutter buttons will be pressed this year. With so many taken, where is the best place to share photos?"
Photographing Birds with an iPhone: Leave the 600mm Lens at Home? - "'The benefit of shooting on the iPhone was less gear to carry, just a phone, tripod, and smartphone tripod adapter, with a camera whose video quality has changed perceptions about what a cellphone camera was capable of. And the iPhone produces awesome timelapse videos. Not as sharp as my Sony, but a whole lot less work to create and so easy to share online moments afterward.'"

January 21, 2022

'Not sustainable': Omicron tests China's zero Covid policy as first cases detected - "With the Winter Olympics imminent, experts predict more extreme measures but question strategy's wisdom."
American Airlines flight bound for London turns around mid-flight over mask rule compliance - "'American Airlines flight 38 with service from Miami (MIA) to London (LHR) returned to MIA due to a disruptive customer refusing to comply with the federal mask requirement,' American Airlines said in a statement."
Saudi Arabian deserts covered with snow - "Several recent snow and hailstorms in the region have transformed landscapes in and around Saudi Arabia, stirring excitement among locals and causing a sensation on social media."
Everything We Know So Far About the 2022 Oscars - "Here's everything you need to know ahead of the biggest night in film."
Here's everything to expect from Apple in 2022 - "Apple had a remarkably busy 2021, announcing its latest round of new Macs amid the Apple Silicon transitioning, the new iPhone 13, long-awaited AirTag item tracker, and much more. Looking ahead to 2022, there are even more new devices on the way across all of Apple's major product categories - and even the potential for an all-new product category."
The world bought more champagne than ever last year - "Champagne houses are celebrating after sales and exports set new records last year even as pandemic lockdowns forced many bars and restaurants to close. Comité Champagne, a trade association representing more than 16,000 winegrowers and 320 Champagne houses, said Wednesday that France exported a record 180 million bottles of bubbly in 2021, an increase of 38% over the previous year. Global sales of champagne also hit a record €5.5 billion ($6.2 billion)."
No amount of alcohol is good for the heart, new report says, but critics disagree on science - "In a bold move, the World Health Federation released a policy brief Thursday saying that no amount of alcohol is good for the heart."
World's oldest evidence of drinking straws discovered - "The gold and silver straws, each measuring about 3.6 feet (1.1 meters) long, are over 5,000 years old. While these straws sound comically long, with Dr. Seuss-like proportions, researchers believe they were used to drink beer from communal vessels during banquets to honor the dead."
The race to make a multipurpose vegan egg - "Vegan eggs now come scrambled, fried, boiled and even poached - but none can yet match the versatility of those produced by chickens."
Oura's third-generation Ring is more powerful, but not for everybody - "It's the perfect wearable for people who don't like wearables."
Napoleon's gravity-defying 325km road - "The Route Napoleon gives visitors the chance to put themselves in the boots of the emperor, deep dive into Gallic culture and unlock the beauty of unspoiled natural landscapes."
Gainsborough's Blue Boy: The private life of a masterpiece - "Few other paintings in art history have become such a powerful symbol of non-conformist gender identity and same-sex attraction, writes Matthew Wilson."
Tales from the crypto: lira crisis fuels Bitcoin boom in Turkey - "Lack of trust in official currency has led to surging interest in cryptocurrencies - despite their volatility and government opposition."
Virgil Abloh's final collection for Louis Vuitton debuts in Paris - "The artistic director's Paris swansong dismantled masculine stereotypes and deconstructed cliches."
2022 Bentley Flying Spur Hybrid: Delivering Whisper-Quiet Efficiency - "How does a 103-year-old British luxury automaker, which is celebrated for building some of the world's finest 12-cylinder combustion engines, transition into an electric world? The answer is with innovative, technically advanced, and fuel-efficient sedans such as the new 2022 Flying Spur Hybrid - arguably the finest example of premium hybrid luxury in showrooms today."
Denison Yachting Debuts Striking New Superyacht Concept - "Denison Yachting has teamed up with SkyStyle (an Italian design studio that's known for advanced aviation design) to produce this 232-foot-long Project UNIQUE 71 superyacht concept, I'm psyched to see they are bringing that same energy to new yacht design and construction too."
Here is a picture of the Nikon Z9 camera capturing a bullet fired from a rifle - "'Put the new Nikon Z9 up for a speed test today. With an exposure time of 1/32,000 and 120 frames per second you can catch a bullet as it leaves the rifle.'"
How to clean a MacBook screen & get rid of smudges - "Here's how to clean a MacBook screen without breaking it."
Here's how & why you should set up Cardio Fitness on Apple Watch & iPhone - "One of the valuable, and lesser-known health features on Apple Watch is Cardio Fitness. The measurement is based on your VO2 max which Apple Watch can estimate when recording certain workouts. Follow along for a look at how to use Cardio Fitness on Apple Watch and iPhone including why it's important, how to set it up, and how to measure/view Cardio Fitness levels."

January 20, 2022

WHO advises lifting travel bans; Austria to introduce €500 lottery prizes for vaccinated people - "Blanket travel bans ineffective against Omicron spread, WHO says; Austria to introduce national vaccine lottery to encourage people to get jabs."
Antimicrobial resistance now a leading cause of death worldwide, study finds - "Lancet analysis highlights need for urgent action to address antibiotic-resistant bacterial infections. More than 1.2 million - and potentially millions more - died in 2019 as a direct result of antibiotic-resistant bacterial infections, according to the most comprehensive estimate to date of the global impact of antimicrobial resistance (AMR). The stark analysis covering more than 200 countries and territories was published in the Lancet. It says AMR is killing more people than HIV/Aids or malaria. Many hundreds of thousands of deaths are occurring due to common, previously treatable infections, the study says, because bacteria that cause them have become resistant to treatment."
how the climate crisis is turning the Arctic green - "In northern Norway, trees are rapidly taking over the tundra and threatening an ancient way of life that depends on snow and ice."
The journey of jeans: what's your fashion footprint? - "The fashion industry is responsible for 8% of all global greenhouse gas emissions, more carbon than the aviation and shipping industries combined."
$535 million villa with rare Caravaggio gets discounted price tag after failing to sell - "Now Villa Aurora's owner, Texas-born Rita Carpenter - better known as Princess Rita Boncompagni Ludovisi, third and final wife of the late Prince Nicolo Boncompagni Ludovisi - will try again in three months. According to her lawyer, Beniamino Milioti, the second attempt by auction house Fallco Zucchetti will take place April 7 at a 20% price reduction, with a starting bid of 282 million euros ($320 million)."
Prince Charles' bizarre morning routine & very strict bath demand - "Future King Prince Charles has a team of staff helping him navigate everyday life - and it appears those who help him out form a pivotal part of his elaborate and somewhat bizarre morning routine that sets him up for the day."
How to look your best on a video call - "Five tips for looking (and sounding) great."
Apple AirTags - 'A perfect tool for stalking' - "The button-sized devices are designed to work with Apple's 'Find My' network to locate lost items. But there have been multiple reports in the US of the devices being used to track people."
Japan's best castles to visit at least once - "During Japan's Sengoku "Warring States" era (1467-1615), castles were constructed, bolstered and fortified all across the Japanese archipelago, resulting in approximately 5,000 individual keeps."
A68: 'Megaberg' dumped huge volume of fresh water - "The monster iceberg A68 was dumping more than 1.5 billion tonnes of fresh water into the ocean every single day at the height of its melting. To put that in context, it's about 150 times the amount of water used daily by all UK citizens."
'He really believed he owned these women.' How Hugh Hefner demanded orgies five nights a week - "Playboy founder Hugh Hefner was a 'vampire' who manipulated and drugged dozens of young women into taking part in degrading orgies, while masquerading as a champion of sexual freedom, according to a shocking new documentary. 'Secrets of Playboy', a 10-part docuseries premiering on A&E on January 24, is set to lift the lid on the 'dark underbelly' of Playboy and how its venues became a seedy playground for drug use, sexual abuse, and even bestiality."
Watch the Secrets of Playboy Trailer, Which Addresses the "Dark Sides" of the House that Hef Built - "Women in the Playboy orbit are sharing never-before-heard details about the darker side of Hef's world in a new docuseries. Watch the E! News exclusive trailer ahead of the Jan. 24 premiere."
How to read the Doomsday Clock - "The Doomsday Clock depicts how close humanity is to armageddon - but where did it come from, how do you read its time, and what can we learn from it? Existential risk researcher SJ Beard explains."
Moyenne Island: The world's smallest national park - "Once a neglected wasteland, this paradisiacal eco-reserve stands as a reminder of what the Seychelles were like before tourism arrived."
Expanding national parks not enough to protect nature, say scientists - "'Urgent' coordinated action to tackle overconsumption, farming subsidies and the climate crisis also needed to halt biodiversity loss."
'I read all 27,000 Marvel comics & had a great time. Here's what I learnt' - "Did Dark Reign foresee Trump? Was Iron Man about US military might? Who was Unbeatable Squirrel Girl - and was her superpower really non-violent conflict resolution? Only one man knows ..."
CIA says 'Havana Syndrome' not result of sustained campaign by hostile power - "In about two dozen cases, however, the agency can't rule out foreign involvement, including many of the cases that originated at the U.S. Embassy in Havana beginning in 2016."
Fresh powder: the best French ski resorts you've never heard of - "If Chamonix is beyond your budget, don't despair - there are plenty of small but charming resorts in the Alps and beyond. We round up some of the best."
True blue: how to fall in love with jeans again - "The tracksuit era is over, and denim is back. But with a dizzying number of styles - and claims of sustainability to wade through - which will you pick?"
'So self-important': Hamptons airport vote pits wealthy against super-rich - "Town board expected to pass plan that would allow it to limit traffic and noise of airport used by 'the 1%'."
Canon's EOS R5C is a 2-in-1 stills & cinema camera - "Better video capability in exchange for a little chunk."

January 19, 2022

Return of the flu: EU faces threat of prolonged 'twindemic' - "Influenza has returned to Europe at a faster-than-expected rate this winter after almost disappearing last year, raising concerns about a prolonged 'twindemic' with COVID-19 amid some doubts about the effectiveness of flu vaccines."
Genetic risk factor found for Covid-19 smell & taste loss, researchers say - "Six months after contracting Covid, as many as 1.6 million people in the U.S. are still unable to smell or have experienced changes in their ability to smell."
WHO warns pandemic not over amid Europe case records - "The head of the World Health Organisation (WHO) has issued a warning to world leaders that the coronavirus pandemic 'is nowhere near over'."
Omicron might mark the end of Covid-19's pandemic phase - unless a certain scenario happens, Fauci says - "It's still too early to predict whether Omicron's rapid spread will help push coronavirus from the pandemic phase to a more manageable endemic phase - but 'I would hope that that's the case,' Dr. Anthony Fauci said Monday."
'Nocebo effect': two-thirds of Covid jab reactions not caused by vaccine, study suggests - "US researchers show negative version of placebo effect behind many symptoms such as headaches and fatigue."
Ghislaine, Prince Andrew and the Paedophile review - a grisly story of sexual abuse & royal palaces - "How did a newspaper tycoon's daughter become a paedophile's accomplice? And how does the royal family fit in? Abuse survivors and others speak out in this disappointingly brief show."
Tripadvisor's most popular world destination for 2022 is ... - "While ultramodern Dubai snags the top spot, it's not the only Middle Eastern entry. And this year's list ranges from European stalwarts to coveted tropical and desert getaways."
Trieste: Italy's surprising capital of coffee - "Home to the Mediterranean's biggest coffee port and one of Italy's biggest coffee brands, Trieste is a city built on caffeine."
Naples' new tourist site rewrites ancient history - "Opening in June, the Ipogeo dei Cristallini - Hypogeum of Cristallini Street - is part of an ancient cemetery, located just outside the walls of Neapolis, as the city was called 2,300 years ago."
The best ever A380 airline stunts - "Last August, Emirate's video ad went viral after Nicole Smith-Ludvik ascended 828 meters to the very top of the building's spire, dressed in skirt, heels and the airline's instantly recognizable hat and scarf."
Dubai's Burj Khalifa: Inside the world's tallest building - "Located in thriving downtown Dubai, the needle-shaped super scraper takes center stage in the famed skyline with millions of visitors and VIPs flocking each year to arguably the most prestigious address in the world."
A 555.55-carat black diamond believed to come from space is going on sale - "555.55-carat black diamond that is truly from out of this world has been unveiled by auction house Sotheby's Dubai. The rare gem, which Sotheby's has dubbed 'The Enigma,' is believed to have come from outer space - either created from a meteoric impact or from a 'diamond-bearing' asteroid that collided with Earth."
5G phones: How serious is the threat to US flights? - "5G relies on radio signals. In the US, the radio frequencies being used for 5G are in part of the spectrum known as C-Band. These frequencies are close to the ones used by radio altimeters on aeroplanes, which measure the height of the aircraft above the ground, but also provide data for safety and navigation systems. The concern is that interference from 5G transmissions could stop these instruments from working properly, and cause safety problems, particularly when aircraft are coming in to land."
Can a blockbuster still win big at the Oscars? - "Sony's bullish FYC campaign for smash hit Spider-Man: No Way Home has reignited a debate over what kind of film the Academy should be rewarding."
AndrÉ Leon Talley: a life in pictures - "The former Vogue editor-at-large and fashion trailblazer has died at 73, leaving behind a long and glamorous history."
Roman Villa With Caravaggio's Only Ceiling Painting Fails To Sell At Auction - "The starting bid on a Roman villa with the world's only Caravaggio ceiling painting, which was expected to fetch $533 million at auction, has been slashed after the property failed to sell Tuesday."
The Most Expensive U.S. Real Estate Sales For 2021 - "Marc Andreessen's $177 million Malibu dream house topped the list of luxury home purchases last year. See the other lavish properties in Palm Beach, the Hamptons and beyond."
Weber's 2022 smart grill lineup includes gas & pellet options - "Today, Weber announced it's 2022 lineup of smart grills with options for cooks who prefer gas or pellet-burning options. No matter the fuel source, all of the new models teased here are equipped with the company's WiFi-enabled Weber Connect technology. With it, you can control and monitor your grill from your phone, keeping tabs on the cooking process while you work on side dishes or relax with guests."

January 18, 2022

China says tickets for Winter Olympics will not be sold to general public due to Covid-19 - "Tickets for the upcoming Winter Olympic and Paralympic Games in Beijing will not be sold to the general public in response to Covid-19 but will instead be distributed by authorities, the Beijing Winter Olympics Organizing Committee announced Monday."
Plastic crisis needs binding treaty, report says - "Pollution from plastics is a global emergency in need of a robust UN treaty, according to a report. The Environmental Investigation Agency (EIA) says there's a cascade of evidence of harm from plastics."
Chemical pollution has passed safe limit for humanity, say scientists - "Study calls for cap on production and release as pollution threatens global ecosystems upon which life depends."
the hidden cost of our obsession with fish oil pills - "The market in this prized commodity is worth billions - but are the supposed benefits worth the cost to global ecosystems?"
US airline officials warn of 'catastrophic' crisis in aviation with new 5G service - "Introduction of the new technology near airports could interfere with critical airplane instruments such as radio altimeters."
Ghislaine Maxwell ends fight to keep eight 'John Does' secret, court to decide whether names should be unsealed - "Ghislaine Maxwell will no longer fight to keep the names of eight 'John Does' secret and will leave it to the court to decide whether the names should be unsealed, according to a January 12 letter to federal Judge Loretta Preska of the Southern District of New York. The documents containing the names are connected to a 2015 defamation case brought by Virginia Roberts Giuffre, who claimed Epstein sexually abused her while she was a minor and that Maxwell aided in the abuse. The case was settled in 2017."
20 ways to cope with January blues - "This Year, the January Blues Seem Turbo-Charged - Here's How to Banish Them."
7 stunning new Maldives resorts to visit in 2022 - "It's the definitive escape for celebrities, honeymooners and families, all intent on kicking back in a picture-perfect paradise. Sitting serenely in the warm azure waters of the Indian Ocean, the Maldives guarantees the whitest of white sand beaches, pods of dolphins, dreamy sunsets and an unforgettable underwater world."
The Verge's favorite tools to stay organized - "Ways that we try to keep our lives in order."
Tea - Ultraslim Hi-Res Headphone Amplifier - "High Definition Music. Lossless Streaming Audio." MagSafe compatible: "Khadas Tea" magnetically attaches to your iPhone 12 or newer smartphone, or an Android phone equipped with a MagSafe compatible case. No more messy wires and dongles, just freedom of pure style. 'Tea' measures just 7.95mm at its thickest point, which means it can still comfortably slip into your pocket even when magnetically attached to your smartphone. 'Tea' brings back the analog audio jack to your smartphone with 3.5mm output, so you can use your favourite high-fidelity headphones to listen to lossless streaming audio directly from your streaming app. Supports up to 300 ohm impedances.
12 of the Most Underrated iPhone Features, According to Reddit - "Sure, everyone and their mother has an iPhone, but that doesn't mean the entire experience is overrated. Quite the opposite, in fact; there are plenty of features on iOS that simply don't get talked about enough in the public sphere. We all know how convenient iMessage and FaceTime are, or how good the photos and videos you take on your iPhone can be, but what about the other, more subtle experiences we don't discuss?"
How to easily use your iPhone or Android as a webcam - "If you're looking for a simple, cost-effective way to upgrade your work-from-home setup, you can use your phone to improve the video quality on video chat apps such as Zoom, Microsoft Teams and Google Meet. Here's how."
Disabling these iOS features will improve your iPhone's battery life - "Regardless of which iPhone model you have, you can improve the battery life on the device by following a simple set of directions that were posted by a TikToker named 'kadama' who has 1.9 million followers."
How to turn off in-app review requests on iPhone, iPad & Mac - "Feeling bombarded with apps asking you to rate them? Read along for how to turn off in-app review requests on iPhone, iPad, and Mac."
How to Close Apps on an iPhone 12 - "Normally you don't need to close apps on your iPhone 12 or iPhone 12 mini. When you switch away, they stay suspended, using few resources. But if an iOS app malfunctions, it's easy to force the app to quit. Here's how."
Apple's AirTags are too good at tracking - that's a problem - "Apple's AirTags may be pitched as tools of convenience, but they are turning into a tool for criminals as well. The company's tracking tool, intended to be used to keep track of lost and stolen property, is paradoxically also a tool that enables theft of property and a potential threat against people. New reports pop up by the day of people using AirTags against women and expensive cars with malicious intent. And furor is growing online."
How to change your Gmail name - "There are many reasons why you may want to change your name in Gmail. Some people made their first Gmail account in middle school and no longer wish to be identified with the embarrassing username they signed up with. Some people wish to change their last name after they marry. We have developed a short and easy guide for those of you who wish to change your username in Gmail."
Cold-case investigation names surprise suspect in Anne Frank's betrayal - "A six-year cold case investigation into the betrayal of Anne Frank has identified a surprising suspect in the mystery of how the Nazis found the hiding place of the famous diarist in 1944."
Prince Andrew's servants 'had sketch of exactly where to put teddy bears on bed' - "Prince Andrew would allegedly 'scream and shout' if Buckingham Palace servants failed to follow his exact plan for the arrangement of his cuddly toys whenever he stayed there."
Predjama: The world's largest cave castle - "Predjama is one of the most extraordinary castles in the world, built in the mouth of a cave complex at the end of a valley in southwest Slovenia. Set halfway up a 400-foot (123-meter) vertical cliff face, it appears in records from 1202 and is listed by Guinness World Records as the world's largest cave castle."
That time France tried to make decimal time a thing - "Though Marie Antoinette would be hard-pressed to care, the French Revolution of 1789 set its sights on more than simply toppling the monarchy. Revolutionaries sought to break the nation free from its past, specifically from the clutches of the Catholic church, and point France towards a more glorious and prosperous future. They did so, in part, by radically transforming their measurements of the passage of time."
The Spanish town lost in France - "Geographically, Spain's Val d'Aran should be part of France, but it's neither French, Spanish nor Catalan in culture, history or even language."
'Waiter! A bottle of 1975 Warhol please' - why every great artist has to do a wine label - "Picasso chose a Mouton Rothschild, Yoko Ono a vintage chianti. But why do artists love doing wine labels - and can they enhance the quaff? Our writer enters a world where labels are so prized, drinkers get them as tattoos."
Collarwali: Remembering India's 'super mum' tigress - "One of the most famous tigers in the country, Collarwali died over the weekend aged 16. She played a big role in changing the fortunes of the sanctuary where she lived - Pench Tiger Reserve in the central state of Madhya Pradesh."
What happens to fascist architecture after fascism? - "Across Europe, many controversial monuments still remain. Alex Sakalis visits a small Italian town that has found a way to contextualise and defuse the architectural legacy of fascism."
How to kill a god: the myth of Captain Cook shows how the heroes of empire will fall - "In the 18th century, the naval explorer was worshipped as a deity. Now his statues are being defaced across the lands he visited."

January 17, 2022

Australia has decided to 'let Covid rip.' Is that a good idea? - "In just over a month, the country's Covid cases have sharply risen from around 1,000 a day to more than 100,000 a day - but its deaths remain low."
Beijing locks down office building with workers still inside after single Omicron case detected - "At an office building in China's capital on Sunday, Covid control personnel lugged boxes of pillows and bedding through the closely guarded entrance for workers stuck inside, preparing for what may be days of lockdown as Beijing rushes to prevent the spread of Omicron ahead of the Winter Olympics."
China is risking a big hit to the economy and supply chains with zero-Omicron approach - "The Chinese government's unwavering insistence on stamping out any trace of the coronavirus is facing its biggest test yet as authorities grapple with Omicron's quickening spread. And it could cost the world's second largest economy dearly this year."
'I have no intention of getting infected': understanding Omicron's severity - "Experts on whether getting Covid is inevitable and why, despite claims of 'mildness', the variant is highly dangerous."
Covid vaccine: Your concerns answered - "Over half of the world's population has received at least one dose of a Covid vaccine. Supply is still a big problem, especially in poorer countries where less than 10% of people are vaccinated. But even when vaccines are available, some remain hesitant to take them. BBC Reality Check's health reporter Rachel Schraer answers some of your concerns - from pregnancy side effects to the speed at which vaccines were developed."
Melania Trump's hat auction has even those who know her scratching their heads - "Melania Trump's announcement last week that she was autographing and auctioning a hat for personal profit with two other items - for an opening bid of $250,000 - has left even those who know the former first lady well puzzling over her decision."
Wealth of world's 10 richest men doubled in pandemic, Oxfam says - "Lower incomes for the world's poorest contributed to the death of 21,000 people each day, its report claims. Oxfam typically releases a report on global inequality at the start of the World Economic Forum meeting in Davos. However for the second year running, the meeting (scheduled for this week) will be online-only after the emergence of the Omicron variant derailed plans to return to an in-person event."
Dystopia-core: what is the new pandemic-era punk look? - "Continuing the grunge and goth revival, the look takes inspiration from sci-fi fantasies such as Dune. Dystopia-core, which is in direct opposition to 'dopamine dressing' - wearing overtly fun clothes to help lift your mood - can be seen as the next step of the grunge and goth revivals."
Walmart is getting serious about the metaverse - "The company's recent trademark filings indicate plans for NFTs and cryptocurrencies."
Noises off: the battle to save our quiet places - "We wouldn't condone litter in our parks and countryside, so why do we put up with sound pollution? Alex Moshakis meets the people tasked with 'saving quiet for the benefit of all life' and hears their stories."
The surprising ways that Victorians flirted - "A lesser-known art form allowed British aristocracy to circumvent rules of propriety, with in-jokes and suggestive messages hidden inside seemingly innocent images, writes Holly Williams."
How to read the James Bond books in order - "Here is the definitive reading order for the complete collection of James Bond novels from 1953 to present day."
Apple's iPhone Weather app has a must-try hidden feature - "The iPhone's Weather app has a hidden feature you need to know - here's how to access the interactive weather map."
Hands on with the best MagSafe compatible accessories at CES 2022 - "With CES 2022 in the review mirror, we walk you through the best MagSafe-compatible accessories that we tested at the annual tech show." AppleInsider.
What It's Really Like to Design a Luxury Yacht - "The floating oases are often more involved than (on land) homes."
"Mickey Mouse One": Meet Disney's Grumman Gulfstream I - "It's often said that there's no business like show business, and this is certainly the case when it comes to aviation. Private aircraft offer celebrities an exclusive means of getting from place to place, away from the hustle and bustle of commercial flying. Over in the US, Walt Disney acquired a Grumman Gulfstream I for this purpose, and it remains intact today."
These Rolls-Royce Bespoke Cars Helped the British Carmaker Achieve Record Profit - "Even though they didn't sell in large numbers, Rolls-Royce Collective vehicles helped the British carmaker increase its 2021 profit thanks to their high value."
Second Rolls-Royce Boat Tail Model to be Unveiled at Villa d'Este - "When Rolls-Royce took the veil off of the Boat Tail custom-build model back in May 2021, the company specified that it was one of three models built specifically to the customer's request. The second car in this coachbuilt series is going to be revealed in May 2022, at the famous Concorso d'Eleganza Villa d'Este. The news was hidden deep in a press release issued today by the Bespoke division in Goodwood."
TOP 10 EARBUDS DESIGNS OF 2022 THAT ARE EVEN BETTER THAN THE APPLE AIRPODS 3 - "This collection of exciting designs has a pair of earbuds for everyone! From earbuds that magnetically hang like a necklace to the world's first TWS earbuds that actually protect your hearing - these earbuds provide unique design solutions and are a must-have for audiophiles!"
Leica's new M11 gains some resolution and sheds some weight - "The M11 bucks some traditions but preserves many more."
Selling photographs as NFTs: a pro travel photographer gives his top tips - "Marco Bottigelli explains how selling NFTs helped him find scarcity in an overly photographed world."

January 16, 2022

Texas scientists' new Covid-19 vaccine is cheaper, easier to make & patent-free - "Dr Maria Bottazzi says their vaccine, called Corbevax, is unique because they do not intend to patent it."
Expect more worrisome variants after omicron, scientists say - "Scientists warn that omicron's whirlwind spread across the globe practically ensures it won't be the last worrisome coronavirus variant."
Life after lockdown: how do we best recover from the pandemic? - "Two years of Covid have wreaked havoc with the nation's mental health. What can be learned from the survivors of other traumas and is there a way of thinking ourselves to a happier, healthier place?"
Key moments: Dr Anthony Fauci & the pandemic - "After nearly two years as the face of America's fight against Covid-19, Dr Anthony Fauci was caught calling a senator 'a moron' in a hot mic moment during a congressional hearing. Having served under two administrations during the pandemic, here are the moments that reveal how his attitude shifted."
Novak Djokovic saga ends - "The unvaccinated world No. 1 tennis star is deported from Australia after losing a lengthy visa battle, dashing his hopes of defending Australian Open title."
Prince Andrew would 'scream if maids messed up teddy bear collection', royal cop says - "Prince Andrew used to 'shout and scream' and throw a tantrum if maids messed up his collection of 50-60 teddy bears and toys that were piled high on his bed in his private quarters, a royal cop with access to the apartment claims."
iOS 15 settings you'll want to change on your iPhone today - "Get the most out of your iPhone 13, iPhone 12, iPhone 11 or older iPhone model with these tricks."
How to mirror an iPhone to your TV - "Wondering how to mirror an iPhone or iPad to your TV? Our guide will show you what to do."
Using Gmail on iPhone should now finally be a lot easier - "New updates and features arrive for Google Meet and Gmail on iPhone."
How to set up daily App Usage limits on Android & iOS - "It's pretty easy to infer what daily app limits are. If you think you're using an app on your phone for too long and whittling away time while also harming your eyes, you can set a timer for the app. The app will work only till the timer lasts. Once the timer elapses, you won't be able to open the app again till the next day. It's a good way to curb your social media addiction or at least a way to start your journey towards spending less time in front of a screen."
Can You Shoot Underwater Photos with an iPhone? - "It doesn't seem that long ago that we tried to revive wet smartphones by sticking them in a bag of rice and hoping for the best. Now, most modern smartphones are "water-resistant." If water gets into them, they won't be destroyed, like in years past. Still, we're not supposed to dunk them in the water. But try telling that to kids."
The Best Vitamin C Serums for a More Vibrant Complexion - "Whether you're dealing with hyperpigmentation, skin dullness, dark marks, or sagging skin, seeking out the best vitamin C serum is likely important to you. 'I look at vitamin C as that little black dress in your closet. It's definitely one of those things you must have. It works to boost circulation, amplify the skin's complexion, and stimulate collagen production,' founder of Dermasaa and in-house esthetician at Brooklyn Face & Eye Samantha Mims tells Vogue."
Nino Cerruti: Italian fashion great dies aged 91 - "He always insisted on trying on his own creations first. Many of them were kept at the textile factory his grandfather founded in the town of Biella in 1881."

January 15, 2022

As Covid-19 peak seems to near, experts warn against letting guard down - "Hospitalizations and cases seem to be subsiding in states with high vaccination rates, but experts caution against celebrating too soon."
The Enthusiast's Guide To At-Home COVID-19 Tests - "A writer takes five at-home COVID-19 tests to see which is the most fun to use." TIME Magazine.
Nearly quarter of world's population had record hot year in 2021, data shows - "World 'warmer now than at any time in the past 2,000 years'. Nearly a quarter of the world's population experienced a record hot year in 2021, as the climate crisis continues to unleash escalating temperatures around the globe, according to new data from leading US climate scientists."
Bill Gates' climate fund looks to funnel billions into carbon removal, green hydrogen & more - "It's starting with projects in Europe and the US."
FedEx asks permission to add anti-missile system to some cargo planes - "FedEx wants to operate cargo planes outfitted with lasers that throw off incoming heat-seeking missiles, according to a newly published federal documents."
Prince Andrew: Ruthless royals move to limit the damage - "This was a ruthless piece of palace politics, distancing the Royal Family from one of its own."
The ultimate sex tape scandal: how Pam & Tommy's stolen video shook the world - "She was a cartoon beach beauty. He was a tattooed drummer. As the story of Pamela Anderson and Tommy Lee's stolen sex tape is turned into tense TV, we remember the events that changed celebrity culture for ever."
20 of the world's best soups - "If a steaming bowl of soup strikes you as the ultimate in old-fashioned comfort, you've got plenty of company. Soup is one of the world's oldest and most universal foods, said Janet Clarkson, author of the book 'Soup: A Global History.'"
Do Celebs Freely Shill Unhealthy Eating on Social Media? - "Celebrities commonly endorse unhealthy foods in traditional advertising, but they're also promoting these foods - mostly without compensation - on Instagram, researchers reported."
The princess & the Caravaggio: bitter dispute rages over Roman villa - "'It's like a museum,' says princess caught in inheritance feud over one of the world's most expensive homes."
Three Great Cameras in One. Leica M11 Review - "I didn't read the rumors of the Leica M11 purposely before I went into the meeting with Leica. To that end, I was genuinely surprised as to what I saw and experienced. For one week, I had personal play-time with the Leica M11. And overall, this has to be the best Leica M digital camera yet. The company gave us a ton of versatility while also giving us the Leica M9's colors back. It's almost the perfect M-camera. But even better, you'll be delighted staring at the colors."
Don't Buy Apple's Accessories - "Apple might try to sell you on their charger, but it's not worth the cost. Apple makes a lot of accessories: cases, keyboards, headphones, you name it. I really like the Magic Keyboard, and I use my AirPods every day; these aren't the accessories I'm talking about. For the purposes of this article, I'm referring to Apple's favorite submarket of cables, chargers, and adapters."
James Bond: Why David Niven's 007 Was Forgotten - "George Lazenby Isn't the Only Forgotten 007. Over the decades, many names have taken on the role of James Bond. But as the list grows, one actor has largely been forgotten to time."
Halls of power: how the White House inspired a homely renovation in upstate New York - "Richly patterned wallpaper layered with portraits and antiques define this 1920s clapboard kit house in the Hudson Valley."
Rolls-Royce Bespoke Presents An Imaginative Collection Of Unique Luxury Cars In 2021 - "Hidden cyphers and codes are concealed in the design, ready to be discovered for a prize. Adventurer George Eyston's 1938 record-breaking Thunderbolt inspires the Dawn and Wraith's starry skied headliner. A collaboration with Hermès features the French atelier and Pierre Péron's timeless horse motif. These are just some of the quirky creations in the 2021 Rolls-Royce Bespoke Collection."
Khadas' Tea DAC is a compelling MagSafe accessory - "As more music streaming services introduce lossless or high-definition audio to their offerings, interest in DACs (digital-to-analog converters, or 'headphone amplifiers') has picked up pace - so much so we created this guide. What was once the reserve of audiophiles is slowly becoming a go-to gadget for those who want more than what their phone and AirPods can deliver. But they're not without caveats. For one, they're often expensive, and sometimes they aren't much smaller than the phone you're attaching them to. Enter the Tea DAC by Khadas."
28 Rare Ferraris From the Collection of French Racer Marcel Petitjean Are Heading to Auction - "The Frenchman is sending some of his finest Ferraris under the gavel at RM Sotheby's in Paris this February."

January 14, 2022

How long you can wear your N95 mask, according to experts - "You're ready to swap your old cloth masks for N95s as some experts recommend, but the higher price tag and two little words - 'single use' - are giving you pause. How long can you really wear an N95 and still protect yourself and others from Covid-19 risk?"
These Charts Show That COVID-19 is Still the Pandemic of the Unvaccinated - "These charts show why, despite breakthrough infections and milder symptoms overall, the Omicron variant is a major risk to the unvaccinated." TIME Magazine.
Covid created 20 new 'pandemic billionaires' in Asia, says Oxfam - "While wealthiest got richer, 140m people fell into poverty as jobs were lost, wiping out years of gains for poorest, report finds."
The Billionaires Who Died In 2021 - "From a gambling tycoon with a global empire to a member of the storied Rothschild banking family, a total of 27 billionaires passed away this year, leaving behind legacies of entrepreneurship - and billions of dollars. That's out of a total of 2,755 billionaires Forbes found for our 2021 list of the World's Billionaires, published in April 2021."
New Study Highlights The Best Cities To Live In For A Healthy & Happy Life - "A recent study out of the United Kingdom has confirmed the impact of five major lifestyle factors - including smoking, physical activity, alcohol intake, body weight, and diet - can have on a healthy and happy life and exactly where on earth it's the easiest to achieve a happy lifestyle that helps increase life expectancy and decrease chronic illness. The study analyzed 44 global cities across 10 metrics ranging, from sunshine hours to the average cost of a gym membership. Here, the top cities that have been ranked the highest based on the levels of happiness and health of its citizens."
Apple Releases Minor iOS 15.2.1 & iPadOS 15.2.1 Updates - "Apple today released minor 15.2.1 updates for iPhone and iPad users, and the software comes one month after Apple launched iOS 15.2 and iPadOS 15.2 with a slew of improvements."
It's not about the green bubbles, Apple - "Apple's iMessage has a well-documented history of separating people into "blue" and "green" bubbles based on whether they're using an iPhone or Android phone. But that problem is now far bigger than just looking cool in our group chats."
India's richest man is pouring more than $80 billion into green energy - "His conglomerate, Reliance Industries, announced Thursday that it would allocate a whopping 6 trillion rupees (approximately $80.6 billion) to renewable power projects in the western Indian state of Gujarat, where it hopes to help generate a million new jobs."
Norway blows up hydro dam to restore river health & fish stocks - "Campaign by local angling club to free fishes' migratory routes is part of move across Europe to create free-flowing rivers."
Djokovic's Australian visa canceled again - "The decision has all but ended the ambitions of the world's No.1 men's tennis player to contest the Australian Open and win a record 21st grand slam."
Prince Andrew loses military roles & use of HRH title amid sex abuse lawsuit - "Britain's Prince Andrew has been stripped of his military titles and charities, Buckingham Palace announced on Thursday, a day after a judge ruled a sexual abuse civil lawsuit against the Queen's son could proceed. Andrew will also no longer use the style 'His Royal Highness' in any official capacity, a royal source told CNN on Thursday. The source said the decision was "widely discussed" among the royal family."
Passenger airplanes might soon have just one pilot. Here's why - "Why airplanes might soon have just one pilot. If you boarded a passenger plane in 1950 and peeked into the cockpit, you would have seen five people in there (almost certainly men): two pilots, a radio operator, a navigator and a flight engineer."
'Travelers who were lost forever': why tourists experience 'India syndrome' - "Some travelers who spend longer periods of time in India exhibit a curious condition: a spectrum of behavioral and psychological changes that can be all-consuming."
Why global banks are rushing into China - "China is still the ultimate prize that Western banks can't resist."
'Baby Shark' becomes the first YouTube video to hit 10 billion views - "'Baby Shark,' the inescapable earworm beloved by some children and often feared by their parents, has hit a new milestone - 10 billion views on YouTube. Not only is it the most-viewed video on the platform, a record it set in November 2020, but it's now the only video on the site to reach 10 billion views, YouTube confirmed to CNN."
From A to Z-endaya, 2021's best celebrity red carpet trends - "After a year of awkwardly Zoomed-in awards show speeches and tie dye hoodies, it's been a relief to see stars returning to the red carpet. Glamour came back with a vengeance, filling our feeds with color, sparkle and flashes of nostalgia. With highlights like Billie Eilish's frothy Met Gala ballgown and Lady Gaga's extraterrestrial Valentino microdress, 2021 was the year stars had an opportunity to redefine their wardrobes - and many delivered. Below are a few notable trends."
Secret audio sheds light on toppled dictator's frantic last hours - "The BBC has obtained extraordinary recordings which we believe to be of phone calls made by a former Middle East dictator, Tunisian president Zine al-Abidine Ben Ali, as he flew out of the country in 2011. These final moments show how his authority crumbled, sealing the fate of his 23-year dictatorship and sparking the region's wave of pro-democracy "Arab Spring" uprisings."
North Korea hackers stole $400m of cryptocurrency in 2021, report says - North Korean hackers stole almost $400m worth of digital assets in at least seven attacks on cryptocurrency platforms last year, a report claims. Blockchain analysis company Chainalysis said it was one of most successful years on record for cyber-criminals in the closed east Asian state.
The Anomaly by HervÉ Le Tellier review - high-concept thrills - "In this playful French prizewinner, the mysterious duplication of a plane and its passengers kickstarts an interrogation of reality."
The Anomaly - "New York Times: Best Thriller of the Year. CrimeReads: Best International Crime Novel of the Year."
Swedish Watch Brand GoS Brings Northern Lights To The Wrist - "Just about 15 years young, Swedish watch brand GoS, which utilizes Swiss-made movements for its Sweden-inspired watches, unveiled its first watch to the world. Now, the brand releases its Northern Lights (Norrsken) series of watches that bring the incredible beauty of Earth's atmosphere to the dial."
Sony A7 IV review: A powerhouse of a hybrid camera - "Rolling shutter issues mar a near-perfect package."

January 13, 2022

'A banana, concrete - those are good gifts': the recycling group turning strangers into friends - "There are 7,000 Buy Nothing groups with more than 5 million members worldwide. But their appeal goes beyond the chance to swap everything from nettles to power tools."
Omicron so contagious most Americans will get Covid, top US health officials say - "FDA head Janet Woodcock says most people will become infected, while Fauci says variant will 'ultimately find just about everybody'."
What We Know About Omicron Symptoms So Far - "Early data suggest Omicron mostly accumulates in the upper airways, as opposed to penetrating the lungs. This could help explain both its ..." TIME Magazine.
It might be time to upgrade your mask - "If you're still wearing a cloth or surgical mask when you're out and about, it's time to rethink your face covering."
Types of masks - Centers for Disease Control and Prevention.
What Is Throat Swabbing & Should You Be Doing It to Detect Omicron? - "It began, as so many dubious trends do, on TikTok. On December 31, reporter Alison Hall posted a video of herself swabbing her nose with an at-home test designed to detect COVID-19 and being met with a negative result. 'I was reading online that the omicron variant actually lives more in your throat, so I decided to swab my throat,' said Hall, showing the camera that she received a positive result after swabbing her throat. She later confirmed the result with a PCR test."
'Not the cruise I signed up for': 30-fold increase in Covid cases upends industry - "The surge has led to passengers stranded on ships, staff shortages and tour cancelations in addition to ports turning ships away."
The passports unavailable to most travelers - "The passports that open all doors. Chances are you only have one passport - maybe two if you have dual nationality. But find yourself in a particular job - diplomatic, investigative or even presidential - and you may get your mitts on documentation that's altogether inaccessible to the hoi polloi. Here are some of the nonstandard passports and passes out there."
Who is Prince Andrew accuser Virginia Giuffre? - "American Virginia Giuffre says she was the victim of sex trafficking and abuse by Jeffrey Epstein and his powerful associates when she was a teenager."
San Francisco's 'leaning' skyscraper tilted up to 3 inches last year - "San Francisco's swanky Millennium Tower is slowly sinking - and, as a result, the 58-story skyscraper tilted up to 3 inches to both its north and west last year, according to the engineer tasked with fixing it."
2022 SAG Awards Nominations: List Of Movie & TV Nominees - "SAG Awards Nominations: 'House Of Gucci', 'Power Of The Dog', 'Succession', 'Ted Lasso' Top Lists."
As things fall apart, the super-rich spend $2m on whisky. We need a wealth tax - "ou may need a stiff drink to believe this. Last October, a new record was set: a cask of Macallan 1991 whisky sold for a cool $2.33m. At least this was an entire cask of premium liquor: earlier last year, a luxury case of 30-year-old Irish malt featuring a gold Fabergé egg was auctioned off for $2m, only slightly more than a single bottle of scotch at the end of 2019."
How to get full-screen Caller ID on iOS 15 - "Stop incoming calls showing as a small banner at the top of your iPhone screen by switching Caller ID to full-screen mode."
THE NEW LEICA M11 - "A Legend Reinvented." Expand your creativity with the new Leica M11. Enjoy maximum flexibility with the exclusive new full-frame BSI CMOS sensor with Triple Resolution Technology, providing you with the choice to create brilliant images at 60, 36 or 18 megapixel resolution.
Audi Grandsphere Concept: A Look Into The Future - "Audi has envisioned the Grandsphere concept as a private jet for the road. The 5.35 m (17.6 ft) long Grandsphere combines the greatest comfort with the luxury of private travel. The sedan will have level 4 autonomous driving, with the interior morphing into a spacious lounge area, with the disappearance of the steering wheel and pedals, giving occupants nearly endless possibilities. The Grandsphere is a proof of concept whose technologies and design features will trickle down to future Audi vehicles."
A letter to all the bosses I've begged for a job - "'I've sent hundreds of applications, competing with thousands for yet another 'bullshit job'. And like many in the US, I've had enough'"
These Are America's Most Dangerous National Parks - "Since the spring of 2020, attendance at national parks across the United States has soared as international travel, and even domestic air travel, have experienced serious swings in feasibility, nudging Americans back to the open road and reviving the nearly forgotten romance of the road trip. As national parks often contain expansive tracts of the country's most diverse and precarious landscapes, the potential for injury in these remote and occasionally dangerous terrains is a serious consideration, and hundreds of ill-prepared or merely unfortunate visitors require search and rescue (SAR) efforts annually."
James Bond's No Time To Die Just Shattered A Guinness World Record & Other Films Are Going To Have A Hard Time Beating It - "Another page in the history books, thanks to superior firepower!"
Daniel Craig - "One of only six actors to have ever played James Bond, and the one who has held the part the longest, reflects on why he almost turned down the offer to join the iconic film franchise, what he found most challenging and gratifying about being part of it and what's next for him following his fifth and final installment."
Apple glasses could adjust lenses to match user's prescription - "Apple Glass could potentially be used by people that need vision correction, with lenses that adjust to correct the wearer's vision."
Sir Michael Caine's Rolex Oysterquartz Is The Watch I Didn't Know I Needed - "It's up for grabs in March, at Bonhams." March 2, 2022, London, New Bond Street.

January 12, 2022

Djokovic admits he didn't immediately isolate after positive Covid test - "In a statement published to social media, he also apologized for an apparently false travel declaration, saying it had been submitted on his behalf by a member of his support staff in 'human error.'"
5 reasons you should not deliberately catch Omicron to 'get it over with' - "The idea of intentionally trying to catch Omicron is 'all the rage,' said Dr. Paul Offit, the director of the Vaccine Education Center at Children's Hospital of Philadelphia, with an exasperated sigh. In case the thought had crossed your mind, here are five reasons why you should not purposely try to catch Omicron."
Half of Europe to be infected with Omicron within weeks - WHO - "The World Health Organization has warned that half of Europe will have caught the Omicron Covid variant within the next six to eight weeks. Dr Hans Kluge said a 'west-to-east tidal wave' of Omicron was sweeping across the region, on top of a surge in the Delta variant."
Covid loses 90% of ability to infect within minutes in air - study - "Findings highlight importance of short-range Covid transmission."
highly contagious Omicron variant will 'find just about everybody,' Fauci says, but vaccinated people will still fare better - "'Omicron, with its extraordinary, unprecedented degree of efficiency of transmissibility, will ultimately find just about everybody,' Dr. Anthony Fauci told J. Stephen Morrison, senior vice president of the Center for Strategic and International Studies. 'Those who have been vaccinated ... and boosted would get exposed. Some, maybe a lot of them, will get infected but will very likely, with some exceptions, do reasonably well in the sense of not having hospitalization and death.'"
Covid has undermined fight against global heating, says WEF - "Sharper divisions between rich and poor countries are making a united response more difficult, survey finds."
Types of masks - Centers for Disease Control and Prevention.
Prince Andrew WILL face civil trial over claims he had sex with Virginia Giuffre - "The Duke of York will face a civil sex case trial after a US judge dismissed a motion by Andrew's legal team to have the lawsuit thrown out."
World's most powerful passport for 2022 revealed - "There's a widening gap between the global north and the global south when it comes to travel freedoms, says the first 2022 report by London-based global citizenship and residence advisory firm Henley & Partners. The firm's Henley Passport Index, based on exclusive data provided by the International Air Transport Association (IATA), has been regularly monitoring the world's most travel-friendly passports since 2006."
The residential cruise ship offering a 'more affordable' life at sea - "Launching in 2024, Storylines is offering up fully furnished one-to-four-bedroom residences, along with studios and two-story penthouses, on board its upcoming ship, with prices starting at $400,000 and rising to $8 million."
Why the 'ugly' clog is the style statement of our times - "From clunky Dutch workwear to controversial fashion favourite, Daisy Woodward explores why the distinctive wooden-soled shoe is a symbol of now."
iPhone through the ages: the original to the iPhone 13 - how much has it changed? - "Celebrate 15 years of iPhone by seeing where it all started."
I interviewed hundreds of people in search of the perfect routine. I realised there isn't one - "In our pursuit of improvement, we're often told consistency is key. But obsessing over productivity means ignoring how our days vary - and how we vary within them."
How To Choose Your Headwear With Royal Milliners, Lock & Co. - "The home of hats since 1676, Lock & Co. is not only the oldest hat shop in London, it's the oldest hat shop in the world, and impressively, it's still a family-owned business."
It fills me with glee that Canon printers now think Canon's own toner is fake - "Chip shortage + DRM = schadenfreude."
12 Designers Share the Best Styling Advice They've Ever Heard - "Styling - whether you're taking on an entire room, a coffee table, or just a single bookshelf - can feel like a daunting task, especially if you're a beginner. The good news is that if you're feeling stumped by a corner of your home at the moment, you're in luck. We spoke with designers who shared the most helpful styling advice they've received over the course of their careers. After reading through their suggestions, we're feeling amped up and ready to make some Insta-worthy updates."

January 11, 2022

Pfizer CEO says omicron vaccine will be ready in March - "Pfizer CEO Albert Bourla said an omicron vaccine will be ready in March, and the company is already manufacturing doses."
Will Covid-19 become less dangerous as it evolves? - "Experts warn that viral evolution is not a one-way street and a continuing fall in virulence cannot be taken for granted."
Earth is 73% of the way to a critical threshold scientists warn should be avoided - "The last seven years have been the seven warmest on record for the planet, new data shows, as Earth's temperature continues its precarious climb due to heat-trapping fossil fuel emissions."
Email shows Boris Johnson aide invited No 10 staff to lockdown 'BYOB' party - "Police investigating reports that Martin Reynolds invited 100 employees and PM attended at time when social mixing was banned."
Canada deemed 'very high' risk for travel - "The world's second-largest country by total area, Canada has seen a steep rise in cases as the Omicron variant spreads. The country recorded 294,437 new cases for the week ending January 8, according to Johns Hopkins University figures, its highest weekly total of the pandemic."
Crypto CEO becomes one of the world's richest billionaires - "Changpeng 'CZ' Zhao, who runs the crypto exchange Binance, has joined the ranks of the world's top billionaires, with an estimated net worth of at least $96 billion, according to new calculations from the Bloomberg Billionaires Index published Monday. Zhao's projected fortune now rivals that of Oracle (ORCL) founder Larry Ellison and surpasses that of Mukesh Ambani, the Indian tycoon whose fortune has also soared over the last two years."
Kazakhstan is huge for crypto mining. Political upheaval could jeopardize that - "The Central Asian nation plunged into chaos as violent protests sparked by rising fuel prices left dozens killed and hundreds injured. As part of the mayhem, internet and telecommunications cuts have been reported nationwide - and that's having an impact on local cryptocurrency mining operations, which are among the largest in the world."
Watch Steve Jobs Unveil the iPhone Exactly 15 Years Ago - "It was January 9, 2007, when Steve Jobs strolled confidently onto a San Francisco stage to unveil the very first iPhone. Wearing his trademark black turtleneck, blue jeans, and white sneakers, the then Apple boss told the expectant audience at the Macworld Conference at the Moscone Center: 'Every once in a while, a revolutionary product comes along that changes everything.'"
Apple iPhone review - "This is the review of the original first-generation iPhone model, released June 2007." CNET.
Apple's road to $4 trillion starts with its rumored headset & Apple car - "Apple (AAPL) on Monday made history by becoming the first publicly traded company with a market cap of $3 trillion. It's now seesawing back and forth between the mark for the thrill of it. Apple will need to enter uncharted territory to reach $4 trillion."
Michael Caine is selling his art and film memorabilia & even his glasses - "Personal items including the 88-year-old star's gold Rolex watch - estimated to fetch as much as £12,000 ($16,300) - and paintings from his personal collection will go under the hammer in London on March 2."
Signal, WhatsApp & Telegram: Here's which secure messaging app you should use - "Looking for a more secure messaging app? We break down the key differences between three of the most popular apps, including the one Elon Musk recommends."
How to Read Your iOS 15 App Privacy Report - "Your iPhone now gives you lots of transparency into what your downloads are up to. Here's what to look out for."
Audio Trimmer lets users easily trim any audio files on iOS - "iOS offers native tools for editing images and videos, but there's nothing when it comes to audio editing. With this in mind, a developer has created an app called Audio Trimmer that comes to solve just that, as it lets users trim any audio files on iPhone and iPad."
How waterproof is your iPhone or Android phone? IP68, IP67 ratings explained - "Can you get your new phone wet? Here's what those IP ratings mean."
How to Find All the Old Product Icons Apple Has Hidden in macOS - "From vintage Macs to iPhones, these icons will take you on a trip down memory lane—but they serve a purpose too."
Yes, there's an iPhone trick to ditch Apple's Mail & Safari apps - "Want to use Gmail, Google Chrome or a third-party email or web browser on your iPhone or iPad? We'll walk you through how to set those as the default."
22 techniques for taking your photography to the next level in 2022! - "Master these creative projects over the coming months and make 2022 your most productive and rewarding photo year so far!"
12 Ways You Are Making Your House Look Cheap & Tacky - "Avoid these home decorating mistakes, unless you want your house to look gross, weird, and depressing."
Your James Bond Travel Guide For 2022 - "Chances are, if you've travelled internationally at any point in life, you've crossed paths with James Bond. Not literally, of course, but for a franchise that is about to mark six decades of weaving itself into the cultural fabric of society, there are few corners of the world yet to be visited by the enigmatic 007 across his 25 official films."
Daniel Craig Knew How He Wanted to End James Bond tenure in 2006 - "'It was 2006. Barbara and I were sitting in the back of a car driving away from the Berlin premiere of Casino Royale,' Craig said. "I said to Barbara, 'How many of these movies do I have to make?' Because I don't really look at contracts or any of those things. And she said, 'Four,' and I went, 'Oh, okay. Can I kill him off in the last one?' And she didn't pause. She said, 'Yes.' So I struck a deal with her back then and said, 'That's the way I'd like it to go.' It's the only way I could see for myself to end it all and to make it like that was my tenure [then] someone else could come and take over.""
Sean Connery called George Lazenby 'a prize s**t' but the producers said worse - "JAMES BOND actor George Lazenby only ever made one 007 movie, On Her Majesty's Secret Service, but why? He later released a statement admitting he had been "a total fool" but also blamed his agent. Sean Connery called him a "prize s**t' and Bond producers said he was the 'biggest mistake we ever made.' How did it all go so wrong?"
world's shortest scheduled airline service - "The journey, made two to three times daily, connects Westray, an island on the edge of Scotland's northerly Orkney archipelago, to the smaller, even more remote island of Papa Westray. This, according to Guinness World Records, is the world's shortest scheduled airline service, a trip that covers just 1.7 miles (2.7 kilometers) in less time than it takes most passenger airplanes to reach cruising altitude. On a good day, with favorable winds and light luggage, it takes 53 seconds."
Why fasting can be good for you - "The benefits of intermittent fasting the right way. Intermittent fasting offers the tantalising promise that changing mealtimes, and not the meals, can be good for you. But what are the dos and don'ts of eating less frequently?"
Stendhal syndrome: The travel syndrome that causes panic - "Affecting travellers every year, this bizarre phenomenon sees visitors to Florence suffer psychological breakdowns after being overwhelmed by the city's abundance of great art."
Why Lady Macbeth is literature's most misunderstood villain - "Shakespeare's murderous queen has long been demonised as a wicked seductress. Yet Frances McDormand is the latest actor to show she deserves far more understanding, writes Hanna Flint."
Electric Motorcycle Startup Damon Motors Adds 200hp Naked-Style 'HyperFighter' To The Lineup - "Canadian electric motorcycle startup Damon Motors revealed a new high-performance, tech-laden machine called the HyperFighter at the 2022 CES electronics convention in Las Vegas on Wednesday."
How Jackie Kennedy & Lee Radziwill Found Careers & Happiness in the 1970s - "After lives marked by glamour and tragedy, the Bouvier sisters embraced their second acts in New York City."
You should change these Roku, Apple TV, Fire TV & Chromecast privacy settings now - "It can be hard to find the privacy settings on your streaming devices. Here's how to make sure your viewing habits aren't being tracked."

January 10, 2022

Will we ever reach herd immunity to Covid? - "Access to vaccines, masks and tests will help us make the awkward transition from pandemic to endemic."
Omicron wreaks havoc on Broadway - "After a successful reopening, Covid-19 has yet again forced many hit shows to either take a hiatus or close for good but industry insiders are optimistic."
Golden Globes: West Side Story & The Power of the Dog win at subdued event - "This year's event was dramatically pared down - it took place without any celebrities in attendance and the ceremony was not even televised."
CES 2022: 5 takeaways from the giant tech trade show - "This year's CES was also a grand experiment in how to hold an in-person event during a pandemic. Covid-19 rapid tests were handed out to attendees, and masks and proof of vaccination were required."
You'll want to change these iOS 15 settings on your iPhone 13 - "You can unlock your iPhone with your Apple Watch if Face ID isn't working. Unlock your phone while wearing a face mask."
How our ancestors used to sleep can help the sleep-deprived today - "Ekirch's subsequent book, 'At Day's Close: Night in Times Past,' unearthed more than 500 references to what's since been termed biphasic sleep. Ekirch has now found more than 2,000 references in a dozen languages and going back in time as far as ancient Greece. His 2004 book will be republished in April."
The forgotten medieval habit of 'two sleeps' - "For millennia, people slept in two shifts – once in the evening, and once in the morning. But why? And how did the habit disappear?"
Is this the worst film ever made? - "While Plan 9 from Outer Space had little regard for continuity or cinematic convention, the film wasn't some cynical hackjob, but a truly eccentric labour of love, writes Nicholas Barber."
$8M Marble Arch Mound to close after just six disappointing months - "Just six months after opening, London's newest tourist attraction is shutting its doors."
Can you solve it? GÖdel's incompleteness theorem - "The proof that rocked maths."
Chop, chop ... Why unique haircuts are in vogue for 2022 - "In top salons the hot new trend is 'instinctive cutting' - for clients eager to embrace a look that works just for them."

January 9, 2022

Cyprus reportedly discovers a Covid variant that combines omicron & delta - "Leondios Kostrikis, professor of biological sciences at the University of Cyprus, called the strain 'deltacron,' because of its omicron-like genetic signatures within the delta genomes, Bloomberg said."
Chinese city of Tianjin to test 14 million people after Covid outbreak - "The port near Beijing began mass testing after 20 children and adults tested positive, including at least two with Omicron."
Global spread of autoimmune disease blamed on western diet - "New DNA research by London-based scientists hopes to find cure for rapidly spreading conditions."
4 plant-based foods to eat every week & why science suggests they're good for you - "A review of research published in May 2021 looked at 12 studies with more than 500,000 people who were followed for up to 25 years. It found those who ate the most plant foods were less likely to die from any cause over follow-up time periods that varied across the studies from five to 25 years, compared to those who ate the least."
How to learn the trick of confidence - "Can 'confidence-whisperer' Nate Zinsser help Jamie Waters boost his wavering self-belief?"
Alec Baldwin rejects allegations of non-compliance with shooting probe - "The actor Alec Baldwin has hit back at suggestions that he is not complying with an investigation into the fatal shooting of Halyna Hutchins on a New Mexico film set last year."
Golden Globes lose their shine as A-listers shun 'unethical' ceremony - "There's no red carpet or even TV coverage - so film fans will have to wait until the Baftas for pre-Oscar glamour."
Disclosure or deception? New UFO Pentagon office divides believers - "The U.S. government hasn't comprehensively studied UFOs in decades - but not all ufologists are excited about a new Pentagon investigative office."

January 8, 2022

The rise of lateral flow tests: are these 'heroes' of the pandemic here to stay? - "After missteps and controversy, the quick and easy tests are well on way to becoming part of daily life."
Fourth Covid jab not yet needed, JCVI says, as booster protecting older people - "Latest figures show protection against hospitalisation for over-65s at 90% three months after third jab."
'Mild' Covid-19 doesn't always feel that way - "Many people are hearing from their doctors that they have a 'mild' Covid-19 infection amid a surge of the highly contagious Omicron variant of the coronavirus, but your illness may not feel as minor as 'mild' sounds."
More than 400 weather stations beat heat records in 2021 - "More than 400 weather stations around the world beat their all-time highest temperature records in 2021, according to a climatologist who has been compiling weather records for over 30 years."
Why zoomer green is the new millennial pink - "Bottega's famous shade is the chic, punchy, sustainable colour of now."
8 iOS 15 hidden features every iPhone user should know about - "Sometimes the best features are the lesser-known ones."
How to unlock the hidden trackpad on your iPhone & iPad - "This clever iOS trick will make it easier to edit your text messages, emails, notes and more."
10 beauty myths busted - "Shaving your legs won't make your hair thicker. Is frequent hairwashing bad? Do false lashes ruin your own? Will plucking lead to disastrous brows? Our beauty columnist separates fact from fiction."
Sidney Poitier: a life in pictures - "Actor, director and civil rights activist Sidney Poitier has died at the age of 94. Poitier, who took on many challenging and groundbreaking roles, was the first Black person to receive a best actor Oscar."
Sidney Poitier, Oscar-winning actor & Hollywood's first Black movie star, dies at 94 - "Poitier overcame an impoverished background in the Bahamas and softened his thick island accent to rise to the top of his profession at a time when prominent roles for Black actors were rare. He won the Oscar for 1963's 'Lilies of the Field,' in which he played an itinerant laborer who helps a group of White nuns build a chapel."
Sidney Poitier: The actor who broke down Hollywood's racial barriers - "Sidney Poitier, who has died aged 94, once turned down the role of Othello because he did not want to be typecast as a black actor."
The best of CES 2022 - "Engadget's top picks from 12 categories, and our overall favorite from this year's show."
THE VERGE AWARDS AT CES 2022 - "The things that got us most excited, bewildered, and delighted at CES 2022."
First look: Apple smart glasses may revolutionize augmented reality as soon as 2025 - "Apple's work in augmented reality is expected to culminate into 'Apple Glass' - a wearable heads-up display straight out of sci-fi. Here's what it looks like and what to expect for the peripheral, based on very early leaks."

January 7, 2022

Deadly Omicron should not be called mild, warns WHO - "The World Health Organization (WHO) has warned against describing the Omicron variant as mild, saying it is killing people across the world. Recent studies suggest that Omicron is less likely to make people seriously ill than previous Covid variants."
Vaccine mandates, fines, gym bans: how Europe hopes to persuade unjabbed - "Several countries are ramping up pressure amid Omicron wave, but sceptics say mandates will be hard to police."
Military deployed at London hospitals due to Omicron staff shortages - "Support, which includes 40 army doctors, shows ministers can no longer ignore scale of understaffing, union leaders say."
These U.S. Billionaires Kept Funding Legislators Who Refused To Certify The Election After Jan. 6 - "More than 50 billionaires donated in the second half of 2021 to legislators who voted against certifying the presidential election, according to an analysis of Federal Election Commission records." Forbes.
The Novak Djokovic saga has turned the spotlight on deep divisions in Australian society - "This was not part of Novak Djokovic's plan. The tennis star who posed with a big grin Tuesday, planes on the tarmac behind him, announcing that he'd been granted a medical exemption to play at the Australian Open and was about to fly Down Under, was instead about to embark on a saga of epic proportions."
Queen refuses to pay Prince Andrew's bills - "Prince Andrew 'is trying to force through sale of his £17m Swiss ski chalet because Queen refuses to foot legal bills in Virginia Giuffre sex abuse case' after it emerged he may SETTLE if trial is given green light to go ahead."
Hands on one of Big Ben's four faces are pictured stuck at midday - "World's most iconic clock continues to undergo £80million refurbishment."
LA 'gigamansion' could become America's most expensive house - "A Los Angeles megamansion could sell for $295 million. 105,000-square-foot mansion in Bel Air, dubbed 'The One,' could become the most expensive property to sell in the United States when it hits the auction block next month."
Why we are in 'the age of artificial islands' - "We are building more islands than ever before. In the latest edition of our photographic series Anthropo-Scene, we explore the striking results of humanity's attempts to colonise the world's lakes and oceans with new land."
Quit Your Job & Live Abroad: 11 Places So Cheap You Might Be Able To Stop Working In 2022 - "Have you ever fantasized about quitting your job and moving to a country where it's so cheap you don't need to work? International Living advises people on how to do just that in its magazine and website, which shows readers how to find, embrace and celebrate the best the world has to offer - from good-value living to great foods to warm year-round weather to interesting cultural traditions. The company has just announced its Annual Global Retirement Index, listing the 25 cheapest and best places to live around the globe. And this list isn't just for retirees: It's a great resource for anyone who has ever thought of moving abroad."
Drone helps save cardiac arrest patient in Sweden - "The drone delivered a defibrillator to a doctor helping the man, who became ill while shovelling snow outside his house in Trollhättan, Sweden."
This color-changing concept BMW will mess with your head - "The BMW Flow electric SUV concept can change hues at the press of a button, going from white to gray or black and back again in moments. While it can't go beyond shades of gray and, even at that, it lacks the subtlety and depth of real car paint, the effect is startling. The trick isn't done with paint at all, but with specially formed wrapping cut to fit the SUV's body panels. The wrapping has the same sort of e-ink technology used in electronic readers. The colored panels were cut precisely to match the shape of the SUV's body panels and then electric wiring is attached to each section."
22 films to watch in 2022 - "From a psychological thriller starring Harry Styles and Florence Pugh, to Robert Pattinson as The Batman, and sequels to Avatar and Knives Out, our critics pick the best releases slated for 2022."
Peter Bogdanovich, acclaimed writer-director, dies at 82 - "The Oscar-nominated film-maker, known for The Last Picture Show and Paper Moon, has died of natural causes."
Peter Bogdanovich (1939-2022): a life in pictures - "The Oscar-nominated writer-director Peter Bogdanovich, known for films such as Paper Moon and The Last Picture Show, has died aged 82."
Tilda Swinton: 'My ambition was always about having a house by the sea & some dogs' - "The actor opens up about her queer years with Derek Jarman and her latest clutch of films, and reveals her plans for a career change. And all while taking her five spaniels for a walk."

January 6, 2022

New Covid variant IHU - symptoms, mutations & how it differs from Omicron - "A new variant of the coronavirus, discovered by scientists in France, has emerged. Little is currently known about the 'IHU' variant, but here's all the information we have so far..."
Two 'strange' Omicron Covid symptoms to look out for & how fast they appear - "Recently two strange symptoms of the virus have been reported in sufferers - pink eye, or conjunctivitis and hair loss."
Why are so many people getting re-infected with Covid-19? - "On Wednesday, 194,747 daily confirmed Covid cases were reported for the whole of the UK. But this doesn't include all the people who have caught the virus for the second, or even third time. In fact, official figures for England, Scotland and Northern Ireland don't include those who have had Covid before, despite warnings from scientists that up to 15% of Omicron cases could be reinfections." Podcast 00:13:49.
January 6 may have just been a dress rehearsal - "The January 6 insurrection was both a peak of contemporary American White nationalism and a dress rehearsal for what will likely come next. Simply put, the attack on the US Capitol was the culmination of political trends in the United States that have festered for decades - and a warning from history about how the politics of the next several years may unfold."
The world's safest airline for 2022 revealed - "This year, Air New Zealand has come out on top on the annual safety table, which monitors 385 carriers from across the globe, measuring factors such as the airlines' crash and serious incident records, the age of their aircraft, as well as Covid-19 protocols and operational innovation."
Grammy Awards 2022: Omicron postpones music's biggest night - "The 64th annual Grammy Awards Show due to be held in the US later this month has been postponed due to coronavirus, organisers have said."
The most exciting exhibitions around the world in 2022 - "This year's must-see exhibitions include the return of the Venice Biennale and Documenta, blockbuster shows of Donatello and Cézanne, and a sculpture festival for the Qatar World Cup. Because of the ongoing Covid-19 pandemic, please check exhibitions are going ahead before you travel."
The striking architecture projects set to shape the world in 2022 - "Notable for their design, potential cultural impact or the conversations they are likely to generate, here are nine architecture projects to look forward to."
MI6 chief thanks China for 'free publicity' after James Bond spoof - "Rare response from Richard Moore comes after state news agency posted video mocking western intelligence."
James Bond's Long-Lost Aston Martin DB5 Has Finally Been Found After 25 Years - "The iconic silver ride, which is estimated to be worth $25 million, has been located somewhere in the Middle East."
Sony is gearing up to make an electric car - "The Japanese tech company will set up a new operating subsidiary called 'Sony Mobility Inc.' in the coming months and is considering the commercial launch of an electric vehicle, Sony CEO Kenichiro Yoshida said at the CES consumer tech trade show on Tuesday."
Lithium batteries' big unanswered question - "As the world looks to electrify vehicles and store renewable power, one giant challenge looms: what will happen to all the old lithium batteries?"
Your work is not your god: welcome to the age of the burnout epidemic - "The reason why so many of us are at the end of our rope? We allowed work to be what gave our lives meaning. The rich are irrational when it comes to work. Out of everyone in our society, they have the least need to earn more money, but they work the most."
What existed before the Big Bang? - "How our Universe was born from nothing or if there was something that existed before it remains a mystery, but that is not stopping some physicists from trying to figure it out."
Awe: The 'little earthquake' that could free your mind - "Intentionally seeking the feeling of awe can improve memory, boost creativity and relieve anxious rumination."
Harman would like to sell you some $1,000 headphones - "If you thought the AirPods Max were expensive, hold on to your butts."
Here's what Steve Jobs might have been worth with Apple valued at $3 trillion - "Apple on Monday became the first company to hit a market capitalization of $3 trillion - more than nine times what the company was worth when founder Steve Jobs died in 2011. Unlike other legendary tech moguls like Jeff Bezos, Elon Musk and Mark Zuckerberg, Jobs actually owned very little of Apple at the time of his death."
Apple Is Now Trying to Terrify You Into Opting For an LTE Apple Watch - "Its new commercial gave me anxiety, and it's only one minute long."

January 5, 2022

'We can't vaccinate the planet every six months,' says Oxford vaccine scientist - "A leading expert who helped create the Oxford-AstraZeneca Covid-19 vaccine said Tuesday that giving everyone in the world booster shots multiple times a year is not feasible."
In 'zero-Covid' Hong Kong, this is what happens when you test positive - "Darryl Chan tested positive for Covid-19 when he landed in Hong Kong last month. More than two weeks later - and despite never showing any symptoms - he remains isolated in a hospital bed with no sign of being allowed to leave. 'I think the worst part is not knowing when I'll be able to get out,' he said. 'You're almost feeling you are back at school, with controlled wake-up and bedtime, (and) not being able to control what you can eat.'"
Covid: President Macron warns he will 'hassle' France's unvaccinated - "French President Emmanuel Macron has warned he intends to make life difficult for people in France who have not been vaccinated against Covid-19."
Fossil fuel firms among biggest spenders on Google ads that look like search results - "One in five ads served on search results for 78 climate-related terms placed by firms with interests in fossil fuels, research finds."
Smartphones, laptops & oddball gadgets: CES 2022 showcases tech's latest innovations - "CES, one of the world's biggest tech trade shows, kicks off Wednesday in Las Vegas with its first in-person event since the start of the pandemic. While the conference may look a little different in 2022, it's still showcasing the familiar mix of innovative and wacky products that make an appearance year after year."
The rise & fall of Elizabeth Holmes: A timeline - "A Wall Street Journal investigation poked holes into Theranos' testing and technology, and the dominoes fell from there. Holmes and her former business partner, Ramesh "Sunny" Balwani, were charged in 2018 by the US government with multiple counts of wire fraud and conspiracy to commit wire fraud. (Both pleaded not guilty.)"
Run that marathon! Write that novel! How to make 2022 the year you finally smash your goals - "Every year millions of us resolve to learn a new language, get super fit or master a new skill ... then never start. How can we make it happen? Experts explain all."
China's longest underwater highway tunnel opens - "At a length of 10.79 kilometers (6.65 miles), the Taihu tunnel stretches under Lake Taihu in eastern China's Jiangsu Province, about 50 kilometers east of Shanghai."
Mediterranean diet named best diet for 2022 - "It's a winning streak that just won't quit. For the fifth year in a row, the Mediterranean diet was first across the finish line in the annual race for best diet, according to ratings announced Tuesday by U.S. News & World Report. Coming in a close second, in a tie: The DASH diet, which stands for dietary approaches to stop hypertension and emphasizes reducing salt intake; and the flexitarian diet, which encourages being a vegetarian most of the time - but is flexible enough to allow a burger once in a while."
Like Pillows for Your Feet - Meet (and Shop!) the Sleeping Bag Shoe - "After all the time spent at home in recent years, shoe trends have undergone an evolution - like survival of the fittest footwear. For a while, unwalkable heels and blister-inducing shoes reigned, but no longer. After many experienced an almost sedentary, stay-at-home lifestyle, shoes that weren't comfortable became extinct in our wardrobes."
The quirkiest videos of the year that won over the internet - "The nominees for quirkiest stories of 2021 are ... CNN's Jeanne Moos has the envelope. From the guy who swallowed an airpod to the teen smacked by a seagull while on an amusement park ride we look back at some of the videos that won over the internet in 2021."
'Thematically richer than the Bible': what I learned at the first annual Boss Baby symposium - "Academics gather online to explore the philosophical underpinnings of a movie about a baby who is also a boss."
Interior Design Trends to Know in 2022 & What's on Its Way Out - "For millennia, interior design trends have been used as aesthetic aids in our attempts to find some sort of inner peace: take the ancient Chinese art of feng shui, where spatial positioning corresponds with energy flow, or wabi sabi, the Japanese practice of embracing an imperfections, or ancient Rome's fondness for using earth-tone colors and geometric patterns in order to mimic the harmony of nature. 'There is more and more research that shows the direct influence that our homes have, not only on our moods, but our overall health and well-being,' interior designer Timothy Corrigan of Timothy Corrigan Inc. tells Vogue. So is it any wonder that in 2022 - our third consecutive year in a global pandemic - the top interior design trends are again focused on making us feel emotionally at ease?"
Taiwan buys 20,000 bottles of Lithuania rum destined for China - "Taiwan is sharing tips with the public on how to drink and cook with rum after it bought 20,000 bottles of Lithuanian rum bound for China."
Nine TV shows to watch this January - "From the glitzy The Gilded Age to a James Gunn prequel series to The Suicide Squad and a darkly comic psychological thriller, Amy Charles picks the series not to miss this January."
What's Going On With the 2022 Golden Globes? - "Once a fixture in the awards season calendar - the raucous party known for boosting the campaigns of Oscar hopefuls - the Golden Globes have become mired in controversy and will not be broadcast by NBC this year. From the criticisms leveled against the Hollywood Foreign Press Association (the small group of international journalists who vote on the awards) to the possibility of its return to screens in 2023, here's what you need to know."
Teh tarik: Malaysia's frothy 'national drink' - "Mixing Indian, Chinese and British influences, teh tarik embodies Malaysia in a glass and has long helped bring the diverse nation together."
how gardening helps me find peace - "Our columnist, thanks to an elderly neighbour, fell into tending her garden and has not stopped reaping the fruits of her labours in terms of mind, body and soul."
Samsung's tiny Freestyle projector is fun so get over it - "Think TikTok, not Blu-ray. Samsung's new barrel-shaped Freestyle projector was just announced at CES. The 1080p projector goes up for preorder today for $899. What matters more than its spec sheet, according to Samsung, is that this highly portable and swiveling visual lightshow with integrated speaker and voice control is coming to support your carefree 'lifestyle' and nomadic 'experiences.'"
A 1962, near-mint copy of 'The Incredible Hulk' comic sells for record price - "The comic, in which the Hulk appears in his original grey, not his signature green, sold for $490,000 at auction. It's the most expensive copy of the first Hulk story ever sold."

January 4, 2022

Apple has become the world's first $3 trillion company - "Apple has reached yet another major milestone. The iPhone maker topped a market value of $3 trillion Monday - the first publicly traded company ever to be worth that much. Shares of Apple (AAPL) were briefly up about 3% to a new all-time high of $182.88, surpassing the $182.85 per share it needed to be worth $3 trillion. The stock later pulled back from that level."
China locks down city of 1.2 million after 3 Covid cases found - "Authorities in Yuzhou, Henan province said all residents will be confined to their homes, mirroring the strict restrictions imposed on Xi'an."
Omicron might be less dangerous, but it's twisting the US in knots - "Every American is being drawn into a reckoning over how much risk is acceptable to get the nation back on its feet as the new Omicron variant of Covid-19 rages out of control."
Can weight loss help protect against Covid-19? - "People who are overweight or obese are at a much higher risk of much more severe disease and even death from Covid-19, and one new study suggests that losing weight can reduce that risk."
Prince Andrew accuser's 2009 deal with Jeffrey Epstein made public - "Virginia Giuffre agreed not to sue anyone connected to Jeffrey Epstein who could be described as a 'potential defendant', a 2009 damages settlement against the sex offender shows."
Elizabeth Holmes found guilty on four out of 11 federal charges - "The charges Holmes was found guilty of include one count of conspiracy to defraud investors, as well as three wire fraud counts tied to specific investors. Holmes faces up to 20 years in prison as well as a fine of $250,000 plus restitution for each count."
The rise & fall of Elizabeth Holmes - "Once hailed as the 'female Steve Jobs,' Elizabeth Holmes has been found guilty of knowingly defrauding investors, but found not guilty of defrauding patients. The BBC's James Clayton spoke to one former investor about the downfall of Theranos, Holmes' Silicon Valley blood testing start-up once valued at $9bn."
long lines, superfans & the enduring power of Elizabeth Holmes - "The trial of Elizabeth Holmes has seen plenty of courtroom drama, but outside the courthouse in San Jose, California, a spectacle of another sort has unfolded week after week."
The best new hotels to book in 2022 - "From cool urban hideaways in Oslo, Sydney and New York to far-flung island escapes in Mozambique, Indonesia and the Maldives, there's an exciting array of hotels opening across the world. Starting rates are included where available."
11 Top Wellness & Medical Spas - "If you want to start the year by breaking from routine or to address mind and body issues, a health-focused resort is ideal. Rather than booking a resort with a sauna, pool and hot tub, try one that offers more in terms of treatments and therapies. Here are some of the world's best wellness retreats that will help you feel rejuvenated, relaxed and healthier. There's even one spa that offers programs to deal with long-covid."
Top US phone firms agree delay of 5G rollout - "Two of the biggest US phone firms have agreed a government request to delay the rollout of 5G services this week. Plane makers have warned that C-Band spectrum 5G wireless signals may interfere with sensitive aircraft electronics and could disrupt flights."
TVs in 2022: 8 trends to know, from cheaper OLED to better sound - "What to expect from the world of 4K and 8K TVs over the next year."
The surprising upsides of bad moods - "Why 'mood shame' is bad for you. It's sometimes tempting to beat yourself up for not feeling sunnier - but there's good reason to embrace those grumps."
Why the tiny house is perfect for now - "Just as minimalism found its moment, now it's the turn of the tiny house movement. Beverley D'Silva explores why, when it comes to dwellings, small is beautiful."
David Bowie: publishing rights to song catalogue sold for $250m - "Warner Music Group deal for songwriting adds to company's recent acquisition of Bowie's recorded music."
Dakar 2022: An Exclusive Pre-Race Look Behind The Scenes With Can-Am - "It's December 31 and South Racing Can-Am has just wrapped their preparations for the start of Dakar 2022, a monumental race known for pushing competitors mentally and physically over 7,000 kilometers over a span of almost two weeks. This year marks the 44th year of the race and its third year in Saudi Arabia."
Hands off: Moen's new smart faucet doesn't even need a handle - "Gesture control makes this tap totally touchless."
Netgear expands WiFi 6E router lineup with two new options for 2022 - "The Nighthawk RAXE300 offers high performance at (slightly) slower speed."

January 3, 2022

From Queen's jubilee to Qatar World Cup: the big dates of 2022 - "Elections in Hong Kong, France and Brazil, independence milestones, Abba gigs and Cop27."
2022 will be the year of ... - "Meet 18 people who think they know what will happen this year."
The 26 Most Anticipated New Hotel Openings of 2022 - "The most anticipated hotels of 2022 can't be categorized by a single location, design style, or even star designation (while some love a grand five-star resort, others love an intimate boutique hotel—to each traveler, their own). The one commonality, however? They're all, well, cool."
Britain got it wrong on Covid: long lockdown did more harm than good, says scientist - "A new book outlines the mistakes and missteps that made UK pandemic worse."
Denmark to make domestic flights fossil fuel free by 2030 - "In her New Year's address, Prime Minister Mette Frederiksen said she wanted to 'make flying green'."
Are New Year's resolutions powerful or pointless? - "1 January may seem like an arbitrary date to start self-improvement, but there are good psychological reasons for doing so."
The big idea: should we eat like our ancestors? - "Are eating plans like the paleo diet really healthier - or more ethical - than the way we eat now?"
Out with the meat, in with the plants as world's top chefs offer vegan menus - "From London to San Francisco, haute cuisine is joining the food revolution. Michelin-starred chefs explain they're going meat-free."
Can you think yourself young? - "Research shows that a positive attitude to ageing can lead to a longer, healthier life, while negative beliefs can have hugely detrimental effects."
Why The North Water is the best TV series you missed in 2021 - "A period drama like no other, this gut-wrenching show about a doomed voyage in the Arctic flew under the radar last year. Christina Newland explains why it deserves belated attention."
US intelligence errors helped build myth of Nazi Alpine redoubt, says historian - "New book claims intercepted cables sent in second world war by Allen Dulles, later head of CIA, enabled disinformation campaign."
What Does Your TikTok Algorithm Say About You? - "It's not that the TikTok algo can predict your future, but it can reveal certain things about your predilections and preferences that perhaps you haven't fully realized."
Daniel Craig is awarded the same title held by James Bond after his final 007 film No Time To Die - "Daniel Craig has been made a companion of the Order of St Michael and St George for the 2022 New Year's Honours. The same gong was awarded to his 007 character in the film franchise and famous novels by Ian Fleming."
Super poo: the emerging science of stool transplants and designer gut bacteria - "As more people turn to faecal transplants for their health benefits, researchers in Adelaide are harnessing the power of high-quality poo in new treatments that can simply be swallowed."
Samsung's 2022 QLED TVs include the first 144Hz 4K & 8K sets - "MicroLED TVs are now bezel-free, too."
Samsung's 2022 TV lineup has big software changes, smaller hardware upgrades - "A redesigned home screen, more HDMI 2.1 ports, but still no Dolby Vision."
Samsung is putting NFTs in its smart TVs - "Given that 2021 was a blockbuster year for NFTs, it's not particularly surprising that major tech companies are incorporating Non-Fungible Tokens into their CES lineup. The latest comes from Samsung, which revealed a new 'NFT Aggregation Platform' designed for its smart TVs."

January 2, 2022

One important - and dangerous - way the Omicron surge is different than previous surges in the US - "The high number of healthcare staff out with the virus will also have an impact on Americans' doctors appointments and could make for dangerous circumstances when people are hospitalized with Covid-19, Dr. Peter Hotez, dean of Baylor University's National School of Tropical Medicine, said Friday. 'That's a different type of one-two punch: people going into the hospitals ... and all of the healthcare workers are out of the workforce,' he told CNN."
How much longer can China keep up its zero-Covid strategy? - "As Beijing pursues its solitary path, observers are asking whether the policy is about protecting public health - or social order."
Covid is now 'extraordinarily contagious' & previous mitigation measures are 'out the window,' expert says - "The Covid-19 case surge is altering daily life across the US. Things will likely get worse, experts warn."
New studies reinforce belief that Omicron is less likely to damage lungs - "Six research groups' findings all suggest variant multiplies more in throats and causes less serious disease."
5 Science-Backed Ways to Feel Happier During the Pandemic - TIME Magazine.
Antarctic outpost hit by Covid-19 outbreak - "A Belgian scientific research station in Antarctica is dealing with an outbreak of Covid-19, despite workers being fully vaccinated and based in one of the world's remotest regions."
Where to travel 2022: The best destinations to go - A lesser known Caribbean island is a top destination for 2022 - "Travel is more challenging now than it has been in a long time. Borders tentatively reopen only to slam shut again. A once-simple visa on entry is replaced with piles of paperwork. And the whole world is brushing up on the Greek alphabet whenever a new variant makes headlines. Let's all try to channel a sense of wonder if and when we're able to travel in 2022 and beyond."
Here are the winners in tech for 2021 - "Some of the bright spots we (begrudgingly) recognize in yet another hellish year."
Your attention didn't collapse. It was stolen - "Social media and many other facets of modern life are destroying our ability to concentrate. We need to reclaim our minds while we still can."
Lost your get up & go? Here's how to get it back - "After a lifetime of loving exercise, Martin Love lost his motivation. But where had it gone? And could he get it back? Plus, five experts on how to maintain your mojo."
Ghislaine Maxwell, the Demon Queen, is behind bars. Does she have a secret that could unlock her shackles? - "Our writer sat through the trial in New York and reports on the humiliation of the mwah-mwah princess, her repeated failures to end Jeffrey Epstein's abuse and the chances of her cutting a deal with the Feds."
Prince Andrew has been driving brand new £80,000 Range Rover around Windsor estate - "The royal opted for a green hybrid model with a 2L engine and 25 miles of range on the electric plug-in - about the distance from his home to Buckingham Palace."
BlackBerry will die on January 4th, 2022 - for real this time - "Legacy BlackBerry devices will lose text, call, and data functionality in 2022."

January 1, 2022

New Year's Eve 2021 around the world - in pictures - "New Year's Eve is celebrated across the globe despite Covid restricting some events."
Follow the New Year around the globe - "It'll take the entire world 26 hours to ring in 2022."
WHO chief optimistic disease will be beaten in 2022 - "The World Health Organization (WHO) chief says he is optimistic that the coronavirus pandemic will be defeated in 2022, provided countries work together to contain its spread."
What to expect for Covid in 2022 - "It won't be a pandemic forever. Here's what could be next."
'Tit for tat': why hunt for Covid's origins still mired in politics and controversy - "Scientific consensus absent as impasse between China and west continues to hamper tracing effort."
2021: a year of climate crisis in review - "A look back at 12 months of key summits, devastating weather and alarming discoveries."
Stock markets in 2021: from big tech & crypto to takeovers - "The biggest moments of a year when shares rallied to record levels and deal-making soared."
How many superyachts on order for 2022 - "Despite some initial wobbles in 2020 when Covid-19 first struck, the superyacht industry has largely shrugged off the pandemic to record a third year of consistent order book growth. The 2022 Global Order Book records an impressive 1,024 projects in build or on order, a rise of 24.7 per cent on last year's 821."
And the biggest losers in tech in 2021 are ... - "Here's a recap of the year's worst developments in tech."
A pandemic-scarred year ends in darkness - but with hope on the horizon - "The year dawned in a blaze of hope that new, effective Covid-19 vaccines - free and available to all - would deliver the country from the worst public health emergency in 100 years, in which 350,000 Americans had already died. The promise of a new President, Joe Biden, to shut down the virus rang in the nation's ears after his predecessor had lied about Covid-19's severity, botched the government response and prized his political goals over its health."
2022 - "Predicted and scheduled events." Wikipedia.
French ban on plastic packaging for fruit & vegetables begins - "Cucumbers, lemons and oranges are among the 30 varieties banned from being wrapped in plastic."
They eat what? New Year's food traditions around the world - "New Year's Day is meant for food. As the new year arrives around the world, special cakes and breads abound, as do long noodles (representing long life), field peas (representing coins), herring (representing abundance) and pigs (representing good luck). The particulars vary, but the general theme is the same: Enjoy food and drink to usher in a year of prosperity. Here are some of the New Year's food traditions around the world."
The everyday foods that could become luxuries - "Everyday foods such as coffee, meat and spices could become luxury items due to global climate impacts and changing tastes."
This is the ultimate snack food - and it's better for you than you think - "It's a snack that really fills you up. Popcorn is an unprocessed whole grain: In fact, it's the combination of a starchy core inside a fibrous outer hull that makes popcorn pop. It's also high in fiber, containing nearly 4 grams per 4-cup serving, and contains a significant amount of polyphenols that can help lower blood sugar levels and help digestion. In addition, 'popcorn is a filling snack due to the volume it takes up in your stomach, which keeps us from over-snacking,' said registered dietitian nutritionist Julien Chamoun of RDN Nutrition Counseling in New Jersey. Popcorn has been shown to be more satiating than potato chips, meaning you'll feel fuller after eating it."
Why flying will never be the same after 2021 - "How air travel changed in 2021. As we end 2021, the thousands of holiday flights canceled due to the rampaging Omicron variant is delivering another hammering to an industry that's struggling with lost revenue, disruptive passengers, and being at the front line of both interpreting and enforcing governments' Covid regulations."
Obituary: Betty White, the Golden Girl with a heart of gold - "Betty White was US television's Golden Girl with the heart of gold, celebrated for her comic acting abilities from TV's early days up to the 21st Century, while remaining committed to her animal activism."
The art of Yves Saint Laurent: design house marks 60th anniversary - "Five Paris museums to display fashion designer's creations with artwork that inspired them."
Is Bluetooth holding back Apple's AirPods? We asked the man who made them - "'We would like more bandwidth.'"
New Year's Eve 2021: celebrations around the world amid concern over Covid - live updates - "Latest updates as fireworks and parties make a comeback around the world following a year of lockdowns and new variants."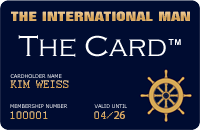 Upcoming VIP Privilege Membership Card
The International Man will in the near future be launching its own PRIVILEGE & BENEFIT VIP MEMBERSHIP CARD - named simply 'The Card'. Members will receive special privileges, benefits and preferential rates with selected partner hotels, restaurants, our LUXURY WEBSHOP, and more. Enter your name and e-mail address to receive FREE INFO about 'The Card' HERE.
RETURN TO TOP OF PAGE