The Int'l Man's Hot Links Archive 2021 (2): July 1-

Hot Links Archive 2021 (2): July 1 -

July 26, 2021

Coronavirus: A-Z - everything you need to know | Face Masks - "2800+ Coronavirus COVID-19 Advice, News & Resources." UPDATED DAILY!
Coronavirus COVID-19 Global Cases - by the Center for Systems Science and Engineering (CSSE) at Johns Hopkins University (JHU).
CORONAVIRUS GOVERNMENT RESPONSE TRACKER - "Governments are taking a wide range of measures in response to the COVID-19 outbreak. This tool aims to track and compare policy responses around the world, rigorously and consistently."
TIME's COVID-19 US vaccine tracker - "A guide to the coronavirus vaccination rollout and what you need to know about the authorized vaccines."
Climate Change - "Check out all about climate change: 600+ evidence, facts, information, news, reviews and resources."
Our world in data - "Research & data to make progress against the world's largest problems."
Fauci says US heading in wrong direction as Covid cases rise - "The US is heading 'in the wrong direction' on the coronavirus pandemic as infections surge among the unvaccinated, a top health expert has warned."
Two doses of Pfizer, AstraZeneca shots effective against Delta variant: study - "Two doses of Pfizer (PFE.N) or AstraZeneca's (AZN.L) COVID-19 vaccine are nearly as effective against the highly transmissible Delta coronavirus variant as they are against the previously dominant Alpha variant, a study published on Wednesday showed."
A rare snow leopard at the San Diego Zoo has tested positive for coronavirus - "Last Thursday, wildlife care specialists noticed the snow leopard had a cough and nasal discharge, the zoo said in new release. Preliminary tests confirmed the virus that causes Covid-19."
Global phone hacks expose darker side of Israel's 'startup nation' image - "Audacious Mossad spy operations around the world. The plucky 'startup nation' home to reams of billion-dollar ideas. These are two drivers of Israel's image abroad that its political and business leaders have long been happy to push."
Meteor lights up the night in Norway - "An 'unusually large' meteor illuminated the night sky over southern Scandinavia early Sunday morning before at least some of it came rumbling down near Oslo, the capital of Norway."
The 'carmageddon' engulfing Europe this summer - "An unprecedented shortage of cars means prices are sky high -- and that's if you can get one in the first place. It is, according to one industry insider, a 'disaster for renters.'"
Death in Venice & how film has mistreated child stars - "A new film shows how actor Björn Andrésen was damaged by playing a teen object of desire in Visconti's 1971 classic. Is child stardom any healthier now, asks Sophie Monks Kaufman."
Researchers are testing concrete that could charge your EV while you drive - "Magnetized cement promises reasonably priced, high efficiency wireless charging."
World Heritage Committee agrees not to place Great Barrier Reef on 'in danger' list - "Unesco says 'the facts are the facts and the science is the science' after its recommendation is ignored."
Lilibet is FINALLY added to the line of succession on Royal Family's official website seven weeks after birth of Harry and Meghan's daughter - "Lilibet Diana Mountbatten-Windsor born on June 4 in Santa Barbara, California."
Chanel suit finds new fans in Gen Z channelling 90s nostalgia - "Young fans drawn to preppy suit worn by Olivia Rodrigo at White House and cast of Gossip Girl reboot."
Rolls-Royce Motor Cars - "Kinetic Luggage Collection." An expression of powerful purpose. Alluring in its architecture, the collection suits those who hold an undeniable energy. Determined, yet dynamic. The six-piece collection, including two Grand Tourers, three Long weekenders and a Garment Carrier, has been designed to fit perfectly into the luggage compartment of your Rolls-Royce Wraith. The striking two-tone styling of the leather and stitching can be personalised, giving you opportunity to choose from a selection of available colours, or your favourite colours if you prefer. The Spirit of Ecstasy adorns each piece as a token reminder of the Rolls-Royce tradition: taking the best that exists and making it better.
Rolls-Royce Motor Cars - "The Art Of Packing: Wraith Luggage." Travelling should be an effortless joy, right down to your choice of luggage. From observing the techniques of the Head Butler at a prestigious London hotel, the Goodwood Design Team have created a luggage concept to complement the design principles of Wraith.

July 25, 2021

Tokyo Olympics: Day-by-day guide to the key events - "It's the Olympics we've all waited patiently for, so what better way to plan your two weeks than with our day-by-day guide - all times BST."
Amazing photos from the Tokyo Olympics - "The best photos from the Tokyo Olympics."
Europe clamps down amid fears over rapid spread of Delta variant - "Governments are launching de facto vaccine passport schemes as they try to head off a summer Covid wave like the UK's."
Everything you always wanted to know about yachting, but were too afraid to ask - "Even with boat sales and charters booming, yachting remains an enigma for most people."
Dead turtles & waves of plastic show Sri Lankan ship disaster's deep ramifications - "Two months after a container ship sank off Sri Lanka, billions of plastic particles have washed up on nearly every shore of the island."
The cost of cooling: how air conditioning is heating up the world - "As temperatures rise, a new book delves into the environmental toll of America's favorite way to cool off."
Just breathe: Start today with these exercises - "Start your day with breathing exercises for stress relief."
What defines a proper garden? - "One of the most common put-downs I hear in horticulture is that something isn't a 'proper garden'. As a botanist who studies our cultural relationship with plants, and a designer who has created gardens for the Chelsea Flower Show, I have yet to pinpoint what this term actually means. In the interests of getting it right, lets take a closer look."
Meet Julie K Brown, the woman who brought down Jeffrey Epstein - "It was by focusing on his silenced victims, says the dogged Miami Herald reporter, that she was able to help bring the billionaire sex offender to justice after police and prosecutors had failed."
Buried in concrete: how the mafia made a killing from the destruction of Italy's south - "The south of the country bears the scars of how bosses enriched their clans with illegal, brutalist buildings and gaudy, now decaying, villas."
From monkey business to royal photobombs: a history of seminal selfies - in pictures - "In 2011 on the Indonesian island of Sulawesi, a crested macaque managed to take a selfie using nature photographer David Slater's camera. In the years following, this image became one of the most famous and contentious selfies in the world. Guardian Australia looks back on some of the most famous selfies in history - taken by daredevils, celebrities, politicians and astronauts."
I compared Kendall Jenner's 818 tequila to George Clooney's Casamigos & was surprised by how different they were - "I tasted the blanco variety of the two side by side and found that 818 tastes more like vanilla and Casamigos tastes more like agave."

July 24, 2021

See Tokyo 2020 Olympics from above - "CNN's Will Ripley takes a look at the city of Tokyo ahead of the 2020 Olympics, where a growing number of athletes have tested positive for Covid-19 and venues sit nearly empty."
25 athletes to watch in the Tokyo Olympics - "Here are 25 who we will be watching closely as the Games progress. Some are already global superstars. Some you might be hearing about for the first time."
Tokyo Olympics opening ceremony included a light display with 1,800 drones - "It wasn't the biggest drone show ever, but it was impressive all the same."
Tokyo 2020 isn't the first Olympic Games to battle a pandemic - "A century ago, the 1920 Antwerp Olympics were held only a few months after the Spanish flu ravaged the world, killing at least 50 million people. In 2010, the Vancouver Olympics were threatened by an outbreak of H1N1. In 2016, the Zika virus prompted calls to cancel the Rio Games. And most recently in 2018, officials in Pyeongchang wrestled with an outbreak of the norovirus."
How Equestrian Teams & Their Horses Get To The Olympics - "There are the four traveling reserve riders, who would step in in the event of an injury. There are the seven coaches. There are the six team leaders, who manage logistics. There are the 16 grooms, to care for the horses. Then there is the farrier, to look after the horses' hooves and handle their shoeing. And the four veterinarians. And the two equine physical therapists. And the human physical therapist."
Jeff Bezos & Sir Richard Branson not yet astronauts, US says - "In a move that pours cold water on the dreams of a few billionaire space explorers, the US has tightened its definition of the word 'astronaut'."
Why your cereal boxes & ice cream cartons are shrinking - "The reason? A tactic known as 'shrinkflation,' deployed by consumer product brands and grocery stores. The phenomenon - getting less for your money because a manufacturer has reduced the size of the product - has been going on for decades, but it typically becomes more common when companies' costs go up like the inflation surge we are seeing today."
Switzerland's gravity-defying solution - "Switzerland's 15th-Century farmers and vintners had a dangerously creative solution to irrigating their mountainous land that's still in use today."
Stonehenge may be next UK site to lose world heritage status - "Britain is eroding global reputation for conserving its historic assets, culture bodies are warning."
APPLE MAGSAFE BATTERY PACK REVIEW: CONVENIENCE OVER CAPACITY - "Perfectly designed for the iPhone, but not a lot of charge."
The New 4,000 HP Lamborghini 63 Is a Cruiser That Will Make Your Supercar Jealous - "Tecnomar's Lamborghini 63 has the Raging Bull's DNA, from the Aventador steering wheel to leather racing seats. And it's very, very fast."
Idris Elba: 'I used work to exorcise my demons' - "The actor was working as a bouncer when he got a small part in a new show called The Wire. Two decades on, he's a blockbuster fixture. The Suicide Squad star talks about fighting for his big break, losing his dad, and why acting helped him out of a 'dark, weird junction'."
Koenigsegg's Absurdly Awesome 1,600hp Jesko 'Megacar' Gets A Proper Introduction From The Man Himself - Forbes.

July 23, 2021

How to stream the Tokyo Olympics opening ceremony - "Everywhere to find coverage of the Games."
How to watch the Tokyo Olympics - "Every event is available, you just need to know where to look."
Tokyo 2020 Olympics: complete event schedule & live scores - "Browse day-by-day listings of every event at the Olympics, or filter by the sports that interest you most."
The cost of hosting the Olympics - "Hosting the world's biggest sporting event comes with a hefty price tag. But is holding the Olympics worth the investment for host cities?"
Tokyo Olympiad: The greatest film about sport ever made - "Kon Ichikawa's study of Tokyo's 1964 Games is considered one of the world's greatest documentaries. It captured the essence of a post-crisis nation – will a new film do the same?"
Spacing out Pfizer Covid jabs gives antibody boost - "A longer gap between first and second doses of the Pfizer-BioNTech Covid vaccine makes the body's immune system produce more infection-fighting antibodies, UK researchers have found."
The complexities of vaccine hesitancy - "Social media is rife with posts disparaging the vaccine hesitant - but these reactions are doing more harm than good."
How worried should vaccinated people be about Covid-19 breakthrough infections? - "Coronavirus infections are on the rise again in the United States. While more than 99% of deaths are among those unvaccinated, anecdotal reports abound of breakthrough infections, or cases of fully vaccinated people who still test positive for Covid-19 - including several New York Yankee baseball players."
China rejects WHO plan for second phase of virus origin probe - "China has rejected the next stage of a World Health Organization (WHO) plan to investigate the origins of the coronavirus pandemic."
'Headphones make food taste better!': 10 readers' tips for a better holiday - "From wearing an 'airport shirt' to travelling solo, our tipsters share their secrets for easier, stress-free breaks."
Airlines need to do more than plant trees to hit net zero, MPs told - "Climate Change Committee head says firms must invest in 'scaleable' offsets such as carbon capture."
Steve Jobs' 1973 job application is up for auction as an NFT - "The one-page-long application was created by Jobs after he dropped out of Reed College and three years before he founded Apple. It doesn't list a position or the company but says he was interested in electronics tech or design engineer positions. His skills included computer and calculator experience."
Dream Golf Communities From Europe To Mexico - "Living Your Dream - Some Best Second Home Golf Communities From Europe To Mexico."
These are the world's most beautiful museums - "Return to travel by seeing 14 architectural marvels, from a building that tracks the sun to a donut-shaped cultural center."
Is French cuisine forever changed? - "Alain Ducasse says the pandemic accelerated the evolution of French cuisine. But some are in no hurry to abandon the generations-old rituals that define the Gallic art of eating."
Why trash-raiding parrots in Sydney are smarter than 'bin chickens' - "It's a five-stage process for the birds to open the bin lid, according to the study. The bird has to pry open the lid with its beak, twist its neck sideways and hop onto to the edge of the bin, hold it open with its beak or foot, walk along the rim, and finally flip the lid open."
Facebook spent $23.4 million on Mark Zuckerberg's personal security - "The CEO's protection costs far eclipsed those of other tech execs."
Amy Winehouse's 20 greatest songs - ranked! - "With the 10th anniversary of her death this week, rediscover the best of Winehouse's discography, where heartbreak and anger are mixed up with wit and joy."
'Like a horror film': revisiting the Fyre-esque disaster of Woodstock 99 - "A new documentary surveys the mess of Woodstock 1999 - a disaster of poor planning and a microcosm of toxic masculinity, raunch culture and entitlement."
Tsar Nicolas II Thought Vodka Was Hurting Russians - But Banning It Helped Destroy His Empire - TIME Magazine.

July 22, 2021

The Tokyo 2020 Olympics - "What you need to know."
Tokyo 2020: Does Japan have Covid under control? - "With the Tokyo Olympics and Paralympics due to start on Friday, more than 70 people associated with the Games have tested positive."
What You Need to Know About COVID-19 Booster Shots - TIME Magazine.
The World's Greatest Places of 2021 - "100 extraordinary destinations to explore." TIME Magazine.
Australia races against time to avoid an 'in danger' rating at UNESCO vote - "The Australian government and a United Nations body are facing off this week over whether the Great Barrier Reef is 'in danger' of losing its 'outstanding universal value.'"
Millions Of Apple Users Warned To Delete 'Very Malicious' Hidden Files - "An alarming warning has just been issued for millions of Apple users, after a 'very malicious' malware was found stealing credentials, logging keystrokes and recording screenshots. Here's what you must do today."
Here's how to check your phone for Pegasus spyware using Amnesty's tool - "The process involves some terminal work, but it's relatively straightforward."
Why Apple's walled garden is no match for Pegasus spyware - "Pegasus can infect a phone through 'zero-click' attacks, which do not require any interaction from the phone's owner to succeed."
Dubai suspected after Princess Haya listed in leaked Pegasus project data - "Closest aides and friends of emir's ex-wife also began to appear on database as she moved to the UK."
40 Smart Money Moves You Can Make Right Now - "Money is simply a tool you can learn to manipulate. The more you learn, the better able you'll be to wield it in a way that serves your goals."
First death from Bitcoin mining - "Cryptocurrency hunter is electrocuted while trying to power up faulty computer in Thailand."
Magacoin: pro-Trump cryptocurrency attracts over 1,000 people to sign up - "Magacoin bills itself as the 'digital currency for the MAGA community' but data from the site shows most of the cryptocurrency is allocated to its self-style creator."
Clubhouse is no longer invite-only - "The app goes wide."
China debuts world's fastest train - "A maglev bullet train that can reach speeds of 600 kilometers per hour (373 miles per hour) has made its debut in Qingdao, China."
New York air quality among worst in world as haze from western wildfires shrouds city - "Smoke from wildfires in the west caused hazy skies as air quality index surged to 157 in Manhattan, well above threshold of 100."
Eating processed meat raises risk of heart disease by a fifth - "Oxford University researchers urge people to reduce consumption by three-quarters or give it up."
Why does Jeff Bezos's rocket look like that? An inquiry - "Experts weigh in on the 'anthropomorphic' design of New Shepard, the Amazon CEO's Blue Origin rocket."
The long-term quest to build a 'galactic civilisation' - "Behind the headlines about billionaire jaunts into space, there's a deeper motivation – the belief that spreading into the cosmos will save humanity's future. How did this idea emerge?"
What regular swimming does for the body & mind - "Swimming regularly can help relieve the stress of pandemic life, but the benefits of a dip in the pool go well beyond the momentary boost of mood."
THE BEST SUPERYACHT POOLS IN THE WORLD - "Superyacht swimming pools represent the ultimate spot for onboard relaxation and some of the world's biggest yacht builders have taken novel approaches to this challenge. We take a closer look at some of the finest examples, including favourites Flying Fox, Madsummer and Octopus..."
How to quit smoking: 5 actions you can take now - "5 actions you can take now to end the addiction. Cigarette smoking is very addictive and can have long-term, adverse health effects. But there is hope for those who want to quit thanks to innovative apps, help lines and proven coping strategies."
What's the purpose of the office - and do we still need it? - "Remote work is working. So, why do we need a physical space?"
The New Luggage From Rolls-Royce Is The Ultimate Summer Must-Have - "Style-up your summer road trip with the new Black Badge luggage from Rolls-Royce, starting at $30,000."
Chinese tycoon gets go-ahead to build vast central London 'palace' - "Westminster council unable to block Cheung Chung-kiu's grand plans for Knightsbridge property despite ban on 'Monopoly board-style' homes."
This cruise sold fares starting at $73k. It sold out in less than 3 hours - "Regent Seven Seas Cruises put tickets for the 2024 World Cruise up for sale around 8:30 a.m. EST Wednesday. They sold out around 11 a.m., according to a company statement. Fares were as high as $199,999 per guest for a master suite."
what our feline friends are doing when we're not looking - "In Britain, most pet cats are free to roam, but where do they go and what do they get up to? We fitted six cats with GPS trackers and found out."

July 21, 2021

Tokyo Olympics officially underway despite threat of Covid-19 - "Competition began Wednesday morning with Japan's softball team facing off against Australia at the Fukushima Azuma Baseball Stadium. The opening ceremony will be held Friday, but Olympic events typically begin before the formal start for scheduling purposes."
Some popular European destinations are tightening COVID-19 restrictions again - "European nations are reimposing some COVID-19 measures in a bid to curb rising case numbers of the highly infectious Delta variant. France has tightened travel restrictions, Spain and Portugal have reintroduced curfews in tourist hotspots, and Greece and the Netherlands are reimposing curbs on hospitality."
Jeff Bezos swung by space and has some thoughts - "Breaking news: A billionaire says the planet is beautiful."
Queen could withdraw Harry & Meghan's Platinum Jubilee invitation - "Insiders reveal growing Palace anger over the 'clearly deliberate' timing of duke's tell-all Megxit Memoir that threatens to eclipse her 70th anniversary year."
World's best airlines for 2021, ranked by AirlineRatings.com - "The Australia-based aviation safety and product rating agency compiles its Airline Excellence Awards based on criteria including age of fleet, passenger reviews and product offerings. This year, the team of global editors threw airlines' Covid-19 responses into the mix too."
Pegasus scandal: Are we all becoming unknowing spies? - "The allegations that spy software known as Pegasus may have been used to carry out surveillance on journalists, activists - and even perhaps political leaders - highlights that surveillance is now for sale."
Bitcoin price slides amid EU call to make transfers traceable & rise of 'stablecoins' - "European regulator want banks to hold personal details of cryptocurrency clients, while US wants swift work to establish less volatile 'stablecoins'."
One of the biggest myths about EVs is busted in new study - "Even EVs that plug into dirty grids emit fewer greenhouse gases than gas-powered cars."
Climate crisis: 50 photos of extreme weather around the world - in pictures - "As temperatures rise and pollution increases, wildfires, floods and extreme winds have battered many parts of the world in the last six months."
Sony's latest flagship soundbar offers Dolby Atmos & 360 Reality Audio - "The company also has a new multi-speaker system for your living room."

July 20, 2021

How to watch Jeff Bezos go to space - "The excursion, which will last about 11 minutes from takeoff to landing, will kick off from Blue Origin's facilities at an extremely remote plot of land near Van Horn, Texas, which is about two hours from El Paso, on Tuesday July 20 at 8 a.m. CT or 9 a.m. ET, weather permitting."
Apple releases iOS 14.7 just as MagSafe Battery Pack appears on shelves - "It's Apple update day again, but with new hardware."
The first real photos of Apple's MagSafe Battery Pack are here - "It's a chonk."
What you need to know before you board an airplane right now - "The Covid travel checklist: What to know before you go."
Covid: Asia follows global shares slide amid recovery fears - "Stock markets across the world have dropped on fears that increasing numbers of Covid cases will hamper economic recovery."
Pegasus Spyware: Does Apple Have 'Major' iMessage Security Problems? - "iPhone spyware made by $1 billion surveillance company NSO has exposed 'major' issues in Apple iMessage security, according to a security expert who has spent years researching the Israeli business' hacks."
5 things that are cheaper now than before the pandemic - "You might've heard that everything is getting more expensive. Well, that's mostly true. It wasn't easy, but we found a handful of items that are still cheaper than when the pandemic started last year."
Bitcoin Is At A Critical Juncture - "After peaking at $63,503 on April 13 this year bitcoin has fallen just over 50% to approximately $30,700 today. It is still up 6% for the year but has been in a steady downward trend since it tried to rally in the late April to mid-May timeframe and failed to make a new high. There are two technical patterns that show bitcoin is at a critical juncture."
Harry DIDN'T warn Charles about $20m book deal - "Royal Family are left 'surprised' as Duke reveals he has written Megxit memoir 'not as the prince I was born but as the man I have become' - but experts ask what will his 'truth' be?"
Coffee won't make your heart flutter, study says - "Worried that coffee will make your heart go pitter-patter, and not in a good way? A new study puts to rest the fear that your daily fuel will cause heart palpitations -- or cardiac arrhythmia, as doctors call it."
10 luxury hotel rooms where you can sleep in the great outdoors - "Whether you're looking to plan a trip to one of America's largest and most bustling cities, escape to the cerulean waters of the Caribbean or explore the savannahs of Kenya, we found an outdoor setup for every type of traveler."
Why we dim lights at night - "The argument for switching off lights at night. The light pollution produced by street lamps, advertising boards, flood lights and our homes is so bad that 80% of the world's population lives in the haze of a perpetual glow in the hours of darkness."
What did the ancient Romans eat? - "A chef is unearthing recipes from one of the world's oldest cookbooks to reveal the origin of Italian food."
Walmart, Ikea & Amazon have a dirty shipping problem - "New report identifies the biggest corporate culprits of maritime emissions."
Kross Studio Debuts 'Space Jam: A New Legacy' Tourbillon Watch - "A creative alliance of high luxury horologists, basketball, cinema, and beloved animated Looney Tunes characters has yielded one of 2021's most collectible timepieces."
Louis Vuitton's $2,890 light-up speaker looks like something Thanos would steal - "Louis Vuitton has revealed its next foray into tech products: the $2,890 Horizon Light Up Speaker, which looks less like either a gadget or a piece of high fashion, and more like an artifact of untold cosmic power from the next Marvel movie."

July 19, 2021

Masks, hugs & hand washing: 18 new rules for protecting yourself and others - "When should you open the windows, wear a mask and take a lateral flow test? As we enter the 'personal responsibility' era, here's an expert guide."
As Freedom Day dawns businesses & MPs demand end to pingdemic chaos that's keeping Britain closed - "PM is forced into humiliating U-turn on bid to dodge quarantine and hands NHS workers a get out of jail free card."
The war over misinformation heats up as Covid case counts rise - "President Joe Biden is locked in a showdown with Facebook over vaccine misinformation. His predecessor, Donald Trump, is now weighing in, linking his Big Lie over election fraud to Biden's management of the Covid-19 crisis in a way that could brew even more of the vaccine hesitancy that is causing thousands of Americans to become infected."
Covid outbreak at Olympic Village in Tokyo - "Tokyo 2020: Two South African footballers test positive for Covid-19 in Olympic Village."
48 Athletes to Watch at the Tokyo Olympics - TIME Magazine.
How data could save Earth from climate change - "Using a name inspired by Indonesian farmers, Subak will share information and fund hi-tech solutions to fight global heating."
Spyware leak suggests lawyers & activists at risk across globe - "Leaked records show dissidents and those who help them prominent among those under threat from NSO spyware."
What is Pegasus spyware & how does it hack phones? - "NSO Group software can record your calls, copy your messages and secretly film you."
Why it seems like everyone hates the English abroad - "While the image of the 'ugly American' is known across the world, many countries, particularly in Europe, experience the brunt of the 'boozy Brit.' The stereotypical English person abroad speaks English -- slowly, loudly and deliberately -- instead of learning the local language, searches out English restaurants as they don't trust 'foreign food,' and obliterates themselves with booze by the afternoon. By the evening, their boorish behavior is on full display."
Science is making incredible discoveries in the ocean twilight zone - "'What we know now is how much we don't know': Enter the strange world of the ocean twilight zone."
Hybrid work: How to maximise your in-office days - "Hybrid arrangements are new to us all. Working out how to divide our tasks between home and the office will be crucial to success."
How To Conjure A $20 Billion Fortune Using A SPAC - "The new high watermark in financial alchemy using special purpose acquisition corporations, or SPACs, was unlocked this week with a deal that aims to conjure tens of billions of dollars almost entirely out of thin air."
Jean Paul Gaultier on couture, conical bras and condoms: ''No sex please, we're British?' Au contraire!' - "After 50 years in fashion, the designer is having new adventures. He discusses love, work, Madonna - and why Eurotrash couldn't be made now."
Secrets & pies: the battle to get lab-grown meat on the menu - "Sustainable alternatives to livestock farming are being held back by patents, a reluctance to share research and lack of government support."
The contentious origins of England's famous pudding - "Sticky toffee pudding marries flavour, regional culture and history, but tensions around its origins remain."

July 18, 2021

Say goodbye to your carefree Covid summer - "Summer is only halfway done, but the carefree Covid season is over. Case numbers and hospitalizations are up. Vaccinations are down and the US government has labeled vaccine misinformation a 'serious threat to public health.'"
Scientists' plea: 'If you don't wear a mask, the virus spreads further. It's as simple as that' - "Scientists have strongly endorsed the continued wearing of masks in enclosed public spaces over summer. As Covid-19 cases continue to spiral, face coverings offer people the most robust way of limiting the spread of the disease in cafes, theatres and restaurants, they said last week."
Majority of Covid misinformation came from 12 people, report finds - "CCDH finds 'disinformation dozen' have combined following of 59 million people across multiple social media platforms. CCDH, a UK/US non-profit and non-governmental organization, found in March that these 12 online personalities they dubbed the 'disinformation dozen' have a combined following of 59 million people across multiple social media platforms, with Facebook having the largest impact. CCDH analyzed 812,000 Facebook posts and tweets and found 65% came from the disinformation dozen."
Science failed to predict flood & heat intensity - "Top climate scientists have admitted they failed to predict the intensity of the German floods and the North American heat dome."
Half the country believes a deadly conspiracy theory - "The two most monumental events of the last year in the US were the election of Joe Biden to the presidency and the introduction of Covid-19 vaccines. Yet there are those who falsely believe Biden won only because of fraud or that they shouldn't get a vaccine."
French dark fantasy film wins top award at Cannes - "Cannes Film Festival: Titane wins top Palme d'Or prize. Titane - an outlandish film packed full of sex and violence - has won the top award at the 2021 Cannes Film Festival."
Apple's Stunning New iPhone Feature Is A Triumphant Success - "Apple's recently-launched iPhone privacy feature, App Tracking Transparency (ATT) is proving to be a triumphant success - that is, if you care about privacy."
Jeff Bezos is flying to space. Here's everything you need to know - "Jeff Bezos, the richest man on the planet, is preparing for a rocket-powered, 11-minute 2,300-mph excursion to the edge of space, capping off a month filled with rocket news and a bit of drama among the world's richest people who are dedicating large portions of their wealth to rocket development."
Scientists are fighting to protect a shark & turtle 'superhighway' - "Deep in the Pacific Ocean, an underwater 'superhighway' stretches roughly 700 kilometers (430 miles) between the marine reserves of Ecuador's Galapagos Islands and Cocos Island, off the coast of Costa Rica."
The race to save bird legends - "Why local legends about birds matter. The stories of enigmatic birds told in indigenous folklore aren't just fascinating tales, they may be a way to preserve languages and cultures at risk of extinction."
Princess Diana: Forty years on, everything you didn't know about the wedding of the century - "In glorious July sunshine, the wedding of Prince Charles and Lady Diana Spencer, 40 years ago this month, provided Britain with a rare blast of celebration during a difficult summer."
The Last Days of John F. Kennedy Jr. & Carolyn Bessette Kennedy - "Questions swirled around John and Carolyn in the summer of 1999 - about their marriage, their careers, their futures, and most of all, what led them to make the tragic choice to board John's tiny airplane that foggy night in July."
TAG Heuer Joins Forces With Nintendo, Unveils Super Mario Limited Edition - "For TAG Heuer, the goal is to further the brand's already strong Connected Technology."
Mercedes S-Class cabin review: Money may not buy happiness. Sheer luxury? Sure - "Mercedes S-Class 2021 showcases the high level of opulence that is now possible in a flagship luxury sedan, raising the bar several notches higher."

July 17, 2021

Living with Covid-19 - "Singapore and the UK are both planning to 'live with Covid.' They are worlds apart on how to do that."
First case of Covid-19 reported at Tokyo Olympic village - "An unidentified visitor has tested positive for Covid-19 at the Tokyo Olympics athletes' village, organizers said on Saturday -- the first such case amid concerns the Games could become a super-spreader event."
US seeing 'pandemic of the unvaccinated' as cases rise in every state - "Public health chiefs warn of 'extraordinary surge' as less than half the US population fully vaccinated."
FDA grants priority review to Pfizer/BioNTech Covid-19 vaccine - "Agency official says approval decision expected within two months."
CDC warns Covid-19 vaccines might not protect people who are immunocompromised - "The US Centers for Disease Control and Prevention on Friday warned people who are immunocompromised that the Covid-19 vaccine may not have been effective for them and encouraged them to take precautions as if they were not vaccinated."
The stakes for fighting misinformation are life & death - "Nearly all deaths from COVID-19 in the United States are preventable."
Vaccine Passport: The Government Can't Share Your Data, But Airlines Can - "While these passports continue to garner visceral political reactions, differing from state to state, public companies and nongovernmental organizations have quietly rolled out passports of their own. American Airlines, United, and The Commons Project Foundation, a digital health non-profit, have all created their own passports."
'A madman with millions of followers': what the new Trump books tell us - "Books show how close the US came to disaster, and document an unprecedented moment in US history that is not yet over."
Italy town puts price of cheap homes up to €2 - "Of the countless dwindling Italian towns that have opted to sell dilapidated homes for just one euro, Sambuca di Sicilia has undoubtedly been the most successful."
These Beautiful Villages In Italy Will Pay You $33,000 To Move There - "Italy is at it again, trying to inspire the next generation to move there. This time around, the offer is coming from the beautiful region of Calabria in southern Italy, which is giving a handful of new residents cold hard cash totaling €28,000 (about $33,000) over the course of three years to move to one of several charming small villages."
Elon Musk's Biggest Tesla Blunders Of The Last Five Years - "Elon Musk was in court in Delaware last week defending his role in Tesla's acquisition of failing solar panel installer SolarCity in 2016. That questionable decision -SolarCity was founded by his cousins; Musk was its biggest shareholder and served on the board of both companies - triggered a shareholder lawsuit."
Why are billionaires obsessed with going to space? - "If civilisation perishes on planet Earth, Musk, Bezos and Branson seem to think humans have a backup elsewhere."
Apple's MagSafe Battery Pack has more capacity than it seems - here's why - "The MagSafe Battery Pack appears to have a tiny capacity when examining its milliamp-hour rating, but that isn't the whole story. Here are the battery ratings and what they mean to users."
AI narration of chef Anthony Bourdain's voice sparks row - "A new documentary about Anthony Bourdain has ignited a debate, after film-makers revealed they had used an AI simulation of the late chef's voice."
Bill Clinton & Ghislaine Maxwell Took Undisclosed Trip Together in 2003 - Podcast - "In Chasing Ghislaine: The Untold Story of the Woman in Epstein's Shadow, investigative journalist Vicky Ward alleges that the British socialite joined the former president on a visit to the Taj Mahal. On this trip, Ward claims that Maxwell and Clinton traveled on a private jet owned by billionaire Ron Burkle, as part of the former president's work with the Clinton Foundation."
Pregnant man & multiracial handshake emojis unveiled before launch - "Additional emojis aim to complete Unicode's drive to offer more variety and gender-neutral options."
The online data that's being deleted - "For years, we were encouraged to store our data online. But it's become increasingly clear that this won't last forever - and now the race is on to stop our memories being deleted."
Russian billionaire settles with ex-wife five years after £450m payout ruling - "Farkhad Akhmedov had contested 2017 decision but has now reached an agreement over divorce."

July 16, 2021

Covid vaccines for kids under 12 expected midwinter, FDA official says - "After emergency use authorization, the agency hopes to move quickly to full approval."
Long Covid has more than 200 symptoms, study finds - "Calls for national screening programme as symptoms revealed range from brain fog to tinnitus."
WHO chief says push to discount lab leak theory was 'premature' - "Tedros says 'accidents happen' in labs and calls on China to be more transparent."
Huge study supporting ivermectin as Covid treatment withdrawn over ethical concerns - "The preprint endorsing ivermectin as a coronavirus therapy has been widely cited, but independent researchers find glaring discrepancies in the data."
As global Covid vaccine passports become a reality, we have to make sure they're fair - "Discrimination against those from poorer countries seems inevitable unless everyone accepts the WHO's guidelines."
Amazon rainforest is emitting more carbon dioxide than it absorbs in some areas, study says - "Parts of the Amazon rainforest are now emitting more carbon dioxide than they absorb, raising fears of the potentially devastating impact on its fragile ecosystems and a further worsening of the climate crisis, according to a new study."
Richard Branson Didn't Go To Space - "He did, however, go very high in the sky in a rocket plane. The billionaire Richard Branson went 53.5 miles into the sky on Sunday, short of the Kármán line, which is 62 miles above sea level and where it is generally agreed that space begins. Branson did surpass 50 miles above sea level, above which NASA gives out astronaut wings. But come on, man, Branson's stunt only barely cleared that."
18-year-old to go to space with Jeff Bezos after $28M auction winner backs out - "Blue Origin said in a press release that the person, who asked to remain anonymous for the time being, had to bow out because of 'scheduling conflicts.' The winner will instead take a spot on a future mission. Flying in their place - alongside Bezos, his brother Mark Bezos, and Wally Funk, an 82-year-old pilot and one of the 'Mercury 13' women - will be an 18-year old recent high school graduate named Oliver Daemen."
Lufthansa switches to gender-neutral plane greetings - "Lufthansa Group's airlines -- which include Lufthansa, Eurowings and Brussels Airlines -- have historically welcomed travelers on board by referring to them as 'ladies and gentlemen.' In a statement, the airline said that on future flights travelers will be referred to as 'guests,' or simply greeted with a cheerful: 'Good morning here on board.'"
Cryptocurrency Crime Is Booming. Here's How to Invest Safely - TIME Magazine.
These are the 3 most misunderstood emojis on the planet - "Millennials and Gen Zers in the United States may not think the 'laughing' emoji 😂 is cool anymore, but a majority of emoji users around the world disagree, according to a new study."
Here are the emoji finalists for Unicode 14.0 - "The Unicode Consortium will make a final decision in September."
One of Europe's last wild bastions - "A new hiking route between Europe and Asia. Spanning three countries and extending 1,500km, the soon-to-open TCT will take hikers into the heart of some of the world's most culturally and ecologically diverse regions."
Aston Martin Reveals 937hp Valhalla Hybrid Supercar - "Aston Martin has revealed the production-ready version of the Valhalla supercar, complete with a 937hp hybrid power unit comprising a 4.0-liter, twin-turbo V8 engine and dual electric motors."

July 15, 2021

MI5 chief Ken McCallum accuses Facebook of giving 'free pass' to terrorists - "Facebook has given terrorists a "free pass" by allowing stronger encryption on its network, the head of MI5 has said in his first criticism of Mark Zuckerberg's company. Ken McCallum said that the social media giant's plans to install end-to-end encryption would block hundreds of counterterrorism investigations by the Security Service."
Top generals feared Trump would attempt a coup after election - "'They're not going to f**king succeed': Top generals feared Trump would attempt a coup after election, according to new book."
Trillions of dollars spent on Covid recovery in ways that harm environment - "Only 10% of $17tn global bailout directed to cutting greenhouse gas emissions and restoring nature, report finds."
La baguette: secrets of France's most addictive food - "'Le pain qui chante,' or bread that sings, is an expression among French bakers, and is one of the hallmarks of a well-baked baguette."
Gillian Anderson says she won't wear a bra ever again - "Gillian Anderson says she's had it with bras -- 'I don't care if my breasts reach my belly button'."
What your sneakers say about you - "For sneakerheads, there is a style of trainer for every taste and identity. Arwa Haider explores the pop-culture currency of the footwear favourite, from 'Satan Shoes' to customised creations."
Apple Quietly Confirms Brilliant Secret iPhone 12 Feature - "Apple has just published a support document which suggests there's a cool extra feature hidden inside the iPhone."
Citizenship for sale: fugitives, politicians & disgraced businesspeople buying Vanuatu passports - "More than 2,000 people, including individuals sought by police, have purchased passports, and with them visa-free access to the EU and UK."
Harley-Davidson Unveils High-Powered Sportster S Model With New Engine, Modern Styling -"An era ended at iconic American motorcycle maker Harley-Davidson on Tuesday, but as happens so often, a new and hopefully better chapter also began. The Motor Company took the wraps off a long-awaited new motorcycle, but rather than give it a new name ('Bronx' had been hinted at in the the past), it has assumed the classic Sportster moniker, albeit with an 'S' for emphasis. And likely, for Speed."
LG's rollable OLED R TV costs $100,000 in the US - "The price, at least, does not disappoint."
Introducing the Praetor 600 - "Welcome to Flexjet, Europe's highly anticipated private aviation provider featuring the world's youngest and most advanced fleet of aircraft, seamless personlised service, sophisticated Owner benefits and amenities, and so much more."
Meet The Winners of BOAT International Media's Design & Innovation Awards - "351-Foot-Long Superyacht Lana And 263-Foot-Long Artefact Top List Of Prestigious Design And Innovation Award Winners."
One of Napoleon's hats could fetch €600,000 at auction - "Felt bicorne is part of sale at Sotheby's in Paris to mark bicentenary of Napoleon's death."

July 14, 2021

WHO warns of 'chaos' if individuals mix Covid vaccines - "Chief scientist says organisation is awaiting data on studies combining vaccines but that health agencies can make decision to mix shots."
US COVID-19 cases rising again, doubling over three weeks - "Confirmed infections climbed to an average of about 23,600 a day on Monday, up from 11,300 on June 23, according to Johns Hopkins University data. And all but two states - Maine and South Dakota - reported that case numbers have gone up over the past two weeks."
Trump's last days in office were worse than we thought - "Donald Trump's final days as president were defined by near-total chaos as House Democrats moved to impeach him for his action (and inaction) during the January 6 riot at the US Capitol even as the soon-to-be-former president sought to use the power of his office to settle scores and reward loyalists."
Drunken Giuliani urged Trump to 'just say we won' on election night, book says - "A drunken Rudy Giuliani repeatedly urged Donald Trump to 'just say we won' on election night last November, according to a new book, even as key states started to slip away from the president and defeat by Joe Biden drew near."
The Anthony Bourdain Doc Is No Hagiography - "Roadrunner is a brilliant, sometimes troubling documentary about a brilliant, sometimes troubling man."
Italy bans cruise ships from Venice lagoon after Unesco threat - "Spurred to act quickly after Unesco threatened to put Venice on its endangered list unless Italy permanently banned cruise ships from docking in the world heritage site, the government said on Tuesday that vessels weighing more than 25,000 tonnes would be barred from the lagoon from 1 August."
Severe drought threatens Hoover dam reservoir - and water for US west - "The wellspring of Lake Mead created by the dam's blocking of the Colorado River has plummeted to an historic low as states in the west face hefty cuts in their water supplies."
Boeing discloses a new problem with the 787 Dreamliner - "Boeing (BA) on Tuesday disclosed a new issue with the 787 Dreamliner widebody jet, which has been dogged with problems since August. The company said some of the planes' fuselage was not joined together to meet precise standards and there are questions about the verification process to make sure they meet the standards."
Coke is giving one of its most popular drinks a makeover - "If you're a big fan of Coca-Cola Zero Sugar, you may want to brace yourself: The recipe for your beloved drink is changing. Coca-Cola said Tuesday that it is tweaking the beverage in an effort to make the drink taste more like regular Coke. The product's can will also look different — all red, rather than red and black."
Alcohol caused 740,000 cancer cases globally last year - study - "Researchers behind estimate say more needs to be done to raise public awareness of link."
Zsa Zsa Gabor: Hollywood legend's ashes buried in Hungary - "The ashes of Hollywood star Zsa Zsa Gabor have been interred in a ceremony in her native Hungary."
How the future of offices will look - "Hybrid work: What the office could look like now. As companies shift to hybrid, the purpose of the office has changed. Workers will start seeing different floorplans, functions and technologies."
2021 Bentley Continental GT V8 Review: The Latest Chapter In A Great Design Story - "Test-Driving The 2021 Bentley Continental GT V8."
Apple just launched an official $99 MagSafe battery pack for the iPhone 12 lineup - "Apple has released battery cases for iPhones in the past, but the new pack attaches to the iPhone 12 phones thanks to embedded magnets. And it will work with all four of the phones in the iPhone 12 family — the iPhone 12, iPhone 12 Mini, iPhone 12 Pro, and iPhone 12 Pro Max."
world's greatest dessert: 10 superb pavlovas - from peach melba to beautiful banoffee - "There are no end of delicious variations on the meringue, cream and fruit original, whether you're a vegan, have a sweet tooth or like sophisticated pink peppercorns."
Welsh caviar: should we all start eating laver? - "Protein-rich seaweed has dropped off British menus. Now an innovative Pembrokeshire group is leading a renaissance rooted in Welsh history."
Zero's FXE offers electric motorcycle fun in a slightly new package - "Based on the FXS, the FXE gets a new look and an updated display."

July 13, 2021

Richard Branson's 17-Year Journey Into Space - "How The Virgin Founder Became First Billionaire To Fly Own Rocket."
Richard Branson's disappointing space jaunt - "The billionaire space race looks set to kick space tourism into gear in earnest in the near future. But the implications of these developments aren't quite as rosy as Branson's overly optimistic message implies -- and dreaming big billionaire-style might come at a hefty toll for the rest of us. First, there's the environmental cost of space travel. Virgin Galactic claims that the carbon footprint for passengers of its suborbital space flight is comparable to that of a business class ticket on a transatlantic flight (which is about 0.2 kilograms per kilometer or 0.44 pounds per .62 miles -- amounting to a massive 2,220 kilo output per passenger over a typical 11,100-kilometer flight or 2.45 tons over a 6,897-mile flight)."
Elon Musk booked a trip to space with Virgin Galactic - "Musk and Branson aren't the bitter rivals you might expect."
Pfizer pushes for US booster shots as WHO says greed is driving vaccine disparities - "After a sharp increase in US Covid cases and amid fears of a surge of the Delta variant, Pfizer on Monday said it was seeking federal authorisation for third doses of its Covid-19 vaccine to be delivered as booster shots."
Goldfish dumped in lakes grow to monstrous size, threatening ecosystems - "Minnesota pet owners warned not to release fish into wild, where they wreak havoc on native species."
Cryptocurrency diamond sale sets new auction record - "Mystery buyer spends $12.3M on a 101-carat diamond -- and pays in cryptocurrency."
how excessive cleaning gives us a false sense of security - "Covid-19 is a mainly airborne disease. So does our endless disinfecting and hand sanitising serve any purpose - or could it be worse than useless?"
'Streetonomics': What our addresses say about us - "From unseen gender bias to hidden historical patterns, you can tell a lot about where you live by looking at the names of the streets."
The world's most endangered sound - "50 Reasons to Love the World." In an ever-louder world, Gordon Hempton has spent more than 40 years speaking out about the importance of saving silence. Is the world finally ready to listen?
recipe for chocolate-coated coffee semifreddo - "An imperfect but joyful summer treat that bears more than a passing resemblance to a velvety iced cappuccino covered in dark chocolate."

July 12, 2021

Richard Branson flies to edge of space in Virgin Galactic passenger rocket plane - "Spaceplane went into sub-orbital flight days ahead of a rival launch by Jeff Bezos."
Why Richard Branson's Spaceflight Is a Very Big Deal - TIME Magazine.
Flu jab may reduce severe effects of Covid, suggests study - "Analysis of 75,000 coronavirus patients found fewer major health problems among people with flu jab."
Billionaires descend on Sun Valley in private jets to talk about climate change - "The private conference was canceled last year because of the pandemic."
Bezos Made Burgers, Musk Sold Video Games - "The First Jobs of World's Billionaires."
Google boss Sundar Pichai warns of threats to internet freedom - "He says many countries are restricting the flow of information, and the model is often taken for granted."
Life outside the window: Marcel Proust at 150 - "As Proustophiles the world over commemorate the 150th anniversary of the author's birth on July 10 and look ahead to the centenary of his death in November next year, the time is ripe to reflect on Proust and his writing and to take stock of his status in contemporary literature and culture."
Oliver Stone derided for film about 'modest' former Kazakh president - "Eight-hour series about Nursultan Nazarbayev criticised for stoking cult of personality of 30-year ruler."
Can you solve it? Oxford university admissions questions - "Brainteasers for budding philosophers."
Matt Damon Talks Turning Down 'Avatar' - "Matt Damon has his audience in stitches during his Cannes Film Festival masterclass today. 'I was offered a little movie called Avatar, James Cameron offered me 10% of it,' he recalled. 'I will go down in history... you will never meet an actor who turned down more money.'"
First Green-Dial Patek Philippe Nautilus Ref. 5711/1A-014 At Antiquorum's July 2021 Auction In Monaco - "Antiquorum will be holding its next auction in Monaco on July 21, 2021, where collectors will have a chance to bid for the very first time on a Patek Philippe Reference 5711/1A-014. Yes, this is the brand-new stainless steel Nautilus with olive-green dial introduced in April 2021 as the model replacing the blue-dialed Reference 5711/1A-010."

July 11, 2021

Watch Virgin Galactic's livestream starting at 10:30AM ET on its Twitter, Facebook & YouTube - "Virgin Galactic will launch Richard Branson and three company employees to the edge of space on the morning of Sunday, July 11th. The company is promising quite a show for the mission: Stephen Colbert will host the mission's livestream, singer-songwriter Khalid will reportedly perform a new single live onstage following the spaceplane's landing, and Branson has said he'll 'announce something very exciting' after his spaceflight."
Sir Richard Branson: Space flight will be 'extraordinary' - "UK businessman Sir Richard Branson is about to realise a lifetime's ambition by flying to the edge of space. He'll ride his Virgin Galactic rocket plane on Sunday to an altitude where the sky turns black and the Earth's horizon curves away into the distance. The vehicle will set off for the 1.5-hour mission above New Mexico at about 08:30 local US time (15:30 BST)."
Here are just some of Richard Branson's near-death experiences ahead of his first space flight - "Richard Branson, the billionaire entrepreneur who is set to take a test flight on his Virgin Galactic spaceship to the edge of outer space on Sunday, has rarely been one to shy away from risky activities, and because of that he's narrowly avoided being killed numerous times in his nearly 71 years."
First space tourist: 'It was the greatest moment of my life' - "On April 30, 2001, US millionaire Dennis Tito arrived at the International Space Station (ISS) via a Russian Soyuz rocket, becoming the world's first space tourist."
KÁrmÁn line - the Fédération Aéronautique Internationale (FAI), an international standard-setting and record-keeping body for aeronautics and astronautics, defines the Kármán line as the altitude of 100 kilometres (54 nautical miles; 62 miles; 330,000 feet) above Earth's mean sea level.
G20 backs crackdown on multinationals' use of tax havens - "Finance chiefs endorse landmark move to prevent profits being shifted to low-tax countries."
ICYMI: A big cat 3D billboard & a tiny celebrity cow - "Watch our round-up of the week's more paw-sitive stories that you miaow have missed."
Yappy dogs, moody cats... why lockdown owners are full of 'pet regret' - "Charities are warning of a surge in people struggling to cope with animals bought last year."
The hidden history behind our pets' most revolting habits - "From pooing in strangers' gardens to barking incessantly, even the most precious pets can be annoying, embarrassing, or just plain revolting. Where did these behaviours come from?"
7 Reasons To Buy An Xbox Series X Instead Of A PS5 - "Microsoft is going big with Xbox Game Pass in 2021, providing gamers with a clear list of reasons to go with Xbox Series X over PlayStation 5."
Where Elon Musk Lives Since He Pledged To Ditch 'Almost All Physical Possessions' - "After promising to sell nearly everything he owned last year including six mansions in California, Tesla's billionaire CEO has taken up residence in a studio-apartment sized rental - here's what it looks like inside and out."
THE SEARCH IS OVER: SMART TRACKERS FROM APPLE, SAMSUNG & TILE COMPARED - "It's never been easier to keep track of your keys."
These Swimwear Brands Are Proving Every Body Is A Beach Body - "According to the American Psychological Association, most Americans have seen their bodies change since the beginning of the pandemic - 42 percent reported undesired weight gain while 18 percent said they lost more weight than they wanted to. Either way, this year's 'Hot Vax Summer' is fraught with body insecurity and weight loss companies are jumping in, promising a quick fix to the 'quarantine-15.' But not everyone has the resources nor feels the need to change their post-pandemic body. Instead, many will opt for the easier option - buying new clothes."

July 10, 2021

What Pfizer's plan for a third coronavirus vaccine dose means for you - "Even though the biopharmaceutical company Pfizer has announced that it might be time to consider giving a third dose of its coronavirus vaccine to people, many doctors and public health officials argue that it's more beneficial to get shots into the arms of the unvaccinated right now than to boost those who are already fully vaccinated."
Scientists weigh up evidence over covid's origin - "There is no definitive piece of evidence - no Covid-positive bat or a confirmed first human case - to show conclusively how it started. That may never be known, but the scientists who wrote this latest report want to clarify the available evidence and what it means."
Climate crisis 'may put 8bn at risk of malaria & dengue' - "Reducing global heating could save millions of people from mosquito-borne diseases, study finds."
'We live in a desert. We have to act like it': Las Vegas faces reality of drought - "Water investigators track down wasteful homeowners and public turf torn up to conserve scarce water supplies."
'A weirder Cannes': how Covid-19 has changed the face of the film festival - "The face mask has become the most ubiquitous accessory at this year's event and makes it difficult to know who's who."
$350M 'palace on rails' luxury train concept unveiled - "Various new trains and routes are currently in the pipeline, including Italy's "Dolce Vita train," set to run 10 routes through the country's most well-known landscapes, and Midnight Trains, an upcoming network of overnight services from Paris to 12 different European destinations. However, French designer Thierry Gaugain plans to take the rail travel experience to a completely new level with his latest concept, a private luxury train made to measure for one lucky, and very wealthy, owner."
10 of Spain's best quiet & easy-to-reach beaches - "The authors of a new book, Hidden Beaches Spain, pick five quiet spots along usually busy coastlines, plus five reachable by train."
Reporter who broke Theranos scandal predicts outcome of Elizabeth Holmes trial - "'Bad Blood' author John Carreyrou's new podcast debuts Aug. 26, it follows the upcoming criminal fraud trial of former Theranos CEO Elizabeth Holmes."
The world's best potato dishes - "Fried, baked, mashed and beyond -- whether the recipe calls for Russets or Yukon Gold, red-skinned or purple potatoes -- these are some of the most popular ways to enjoy a potato around the world."
Giant pandas no longer endangered but still vulnerable, says China - "The classification was downgraded as their number in the wild has reached 1,800. Experts say that the country managed to save its iconic animal through its long-term conservation efforts, including the expansion of habitats. China considers pandas a national treasure, but have also loaned them to other countries as diplomatic tools."
Basque cake made with a 280-year-old water mill - "In France's Basque country, a quaint bakery still uses old methods to make the region's beloved shortbread cake. The sights and sounds of the mill and bakery keep people coming."
Net-A-Porter & Mr Porter Launch Sales Of Pre-Owned Timepieces With Watchfinder & Co - "This month, Net-a-Porter and Mr Porter enter the pre-owned watch space thanks to a new partnership with Watchfinder & Co., selling 108 different watches from some of watchmaking's finest brands, including Breguet, Patek Philippe, and Rolex. Vintage watches are hot commodities these days, as horology enthusiasts seek out timepieces they missed the first time around, as well as with clients interested in sustainability and the circular economy."
Toxic 'forever chemicals' are contaminating plastic food containers - "Harmful PFAS chemicals are being used to hold food, drink and cosmetics, with unknown consequences for human health."
NightWatch - "The Dock That Turns Your Apple Watch Into into an Awesome Nightstand Clock." Our huge, patented touch screen was designed exclusively for Apple Watch NightStand mode. With multiple global patents pending, the screen magnifies the Apple Watch and provides a large touch screen to tap on the watch display at night.

July 9, 2021

WHO warns of 'epidemiological stupidity' of early Covid reopening - "Mike Ryan issues warning over letting people catch Covid earlier as England prepares for 'big bang' reopening."
Pfizer sees waning immunity from its Covid-19 vaccine - "Pfizer says it's time for a Covid booster; FDA and CDC say not so fast."
Delta variant is 'Covid-19 on steroids,' expert says - "Twenty-four states have seen an uptick of at least 10% in Covid-19 cases over the past week, Johns Hopkins University data shows, as health experts and the federal government keep pressing for more people to get vaccinated. For fully vaccinated people, the variant 'presents very little threat to you, very unlikely that you're gonna get sick,' Andy Slavitt said."
Tokyo Olympics: Fans largely barred as Covid emergency declared - "The Olympic Games in Japan will be held without spectators at venues in and around the capital after a spike in coronavirus infections."
Delta variant fears send shares down sharply in London & Europe - "Investors worry resurgence of Covid-19 cases will slow economic growth and stall global recovery."
Is going 'back to normal' even possible? - "For some, things feel eerily normal - going out to the pub, seeing family and friends. But others may never feel settled again."
These Are the Most & Least Stressful Cities to Live In, According to a New Study - Travel + Leisure.
Steve Ballmer Becomes Ninth Member of the $100 Billion Club - "Steve Ballmer, the former chief executive officer of Microsoft Corp., has a net worth of more than $100 billion, making him the ninth person in the world to reach that lofty plateau. Oracle Corp. founder Larry Ellison fell just short of making it an even 10, ending Wednesday with a fortune of $98.6 billion, according to the Bloomberg Billionaires Index."
Steve Jobs Explained 1 Clear Way to Build a Team That People Will Love to Work For - "If you build it, they will come."
Jeff Bezos Is Building a 10,000-Year Clock Inside a Mountain - "The 'Clock of the Long Now,' which will tell time for the next 10,000 years, has cost $42 million to build so far.".
Boris Johnson's personal finances? They're as orderly as his hair - "Parliamentary Standards Commissioner Kathryn Stone, who had investigated the Prime Minister's 2019 holiday with then-fiancee Carrie Symonds to Mustique, had ruled that Boris broke the rules that say MPs must 'conscientiously fulfil' their duty to declare all financial interests."
Celebrities At The 2021 Cannes Film Festival - "After hitting the pause button in 2020, the Cannes Film Festival rolled out the red carpet once more - and the A-list celebrities brought their fashion A-game."
Elegance is refusal - Coco Chanel.
One of the world's largest diamonds has just been unearthed - "Huge 1,174-carat diamond unearthed in Botswana."
Currency & control: why China wants to undermine bitcoin - "Beijing's crackdown on cryptocurrencies has captured headlines, while behind the scenes its reserve bank set up its own digital currency."
World's deepest pool opens in Dubai, part of huge underwater city - "Already home to the world's tallest skyscraper and the world's largest mall, Dubai has just opened another record-breaking attraction -- the deepest dive pool in the world."
Because the night ... why I love a sleeper train - "Whether it's Edinburgh, Vienna or Madrid, overnight rail travel is about romance and excitement. So look forward to new French night trains from 2024."
The abandoned airport terminal where everything still works - "In November 2019, just months before the Covid pandemic swept the world, New Orleans inaugurated its gleaming new $1.3 billion airport terminal, which speaks more to where the Crescent City, then celebrating its Tricentennial, was headed for the next 300 years than wallowing in its past. On the south side of the airfield, 'The City That Care Forgot' has all but forgotten its old airline terminal."
Introducing The Lotus Emira, The Evija-Inspired Small Sports Car - "The Emira is a significant product for Lotus. The series production car begins a new era for the niche sportscar maker as it officially joins the Chinese auto giant Geely family. And it represents the final chapter in the age of the combustion engine for Lotus. 'The Emira is a game-changer for us,' says managing director Matt Windle. 'It is a highly significant milestone on our path to becoming a truly global performance car brand.'"
Harley-Davidson's latest LiveWire electric motorcycle is more affordable - "The first electric motorcycle from the company's LiveWire brand is here."
MagSafe Your Life With These Great iPhone 12 Accessories - "Owners of Apple's iPhone 12 line of smartphones can take advantage of a feature exclusive to that generation of handset (well, at least until the iPhone 13 is out). MagSafe, which uses magnets to attach accessories and properly center compatible wireless charging pads, has given birth to a growing crop of useful goodies. Yes, Apple sells them, but you can save money and often get more innovation by turning to third parties."
10 Sustainable Watches Made from Ocean Plastic - "Believe it or not, upcycled plastic recovered from the sea is the latest hot watchmaking material."

July 8, 2021

Global Covid-19 death toll surpasses 4 million - "In total, three countries account for more than a third of all global deaths. The United States, which has the highest number of fatalities at 606,000, accounts for 15% of the global total, followed by Brazil and India."
With Delta variant spreading, experts split on whether to test vaccinated people for Covid-19 - "Although health officials have said evidence shows vaccinated people are unlikely to spread the virus to others, Dr. Peter Hotez, dean of the National School of Tropical Medicine at Baylor College of Medicine, says it may be important to watch to make sure the more transmissible Delta variant does not evade the effects of vaccines."
Tokyo to be put under state of emergency for duration of 2020 Olympic Games - "Measure increases the likelihood that the Games in Japan will be held without a single spectator."
Bitter Scottish fans join Italians & Danes to accuse Raheem Sterling of DIVING to win penalty that put England into Euro final - "Some Scottish and Danish fans are accusing England of cheating their way into the Euro 2020 final and say Raheem Sterling took a dive to secure the crucial penalty that secured England's win over Denmark."
World 'must step up preparations for extreme heat' - "Rising temperatures may be hitting faster and harder than forecast, say climate scientists in wake of heatwave in US and Canada."
Extreme temperatures kill 5 million people a year with heat-related deaths rising, study finds - "More people died of cold than heat in past 20 years but climate change is shifting the balance."
Microsoft issues urgent security warning: Update your PC immediately - "Microsoft is urging Windows users to immediately install an update after security researchers found a serious vulnerability in the operating system. The security flaw, known as PrintNightmare, affects the Windows Print Spooler service. Researchers at cybersecurity company Sangfor accidentally published a how-to guide for exploiting it."
Bill Gates could oust Melinda French Gates from their foundation in 2023 - "Bill Gates and Melinda French Gates are giving themselves a two-year trial period to see if they can co-parent the massive charitable foundation that they have treated as another one of their children."
Billionaire Richard Branson is going to space. How risky is that? - "There's plenty that could go wrong. The rocket motor could fail to light up. The cabin could lose pressure and threaten the passengers' lives. And the intense physics involved when hurtling out of - and back into - the Earth's atmosphere could tear the vehicle apart."
Trump told chief of staff Hitler 'did a lot of good things', book says - "On a visit to Europe to mark the 100th anniversary of the end of the first world war, Donald Trump insisted to his then chief of staff, John Kelly: 'Well, Hitler did a lot of good things.'"
Trump is suing Mark Zuckerberg & Jack Dorsey. Here's why they shouldn't worry - "Former President Donald Trump on Wednesday filed proposed class-action lawsuits targeting Facebook and its CEO Mark Zuckerberg and Twitter and its CEO Jack Dorsey, as well as YouTube and its parent company's CEO Sundar Pichai, in a Hail Mary move after being removed from their platforms. Courts have typically dismissed similar suits, and these are likely doomed from the start as well."
Italy's latest weapon against overtourism - "The Italian gardens hoping to change tourism."
World's tallest sandcastle built in Denmark - "Standing at just over 21m, the world's tallest sandcastle has been built in the town of Blokhus in Denmark. The structure, reinforced with glue and clay, took 4,860 tonnes of sand to make."
How an 'inherited' work ethic shapes some workers - "British Nigerians and Korean Americans tend to be high achievers. Now the long working hours of the first generation are giving way to a more rounded approach."
BMW's futuristic electric scooter is straight out of anime - "It's a truly wild design concept made real."

July 7, 2021

Pfizer vaccine appears to be less protective against Delta variant - "In a brief statement issued on Monday, the government said that as of June 6, the vaccine provided 64% protection against infection. In May -- when the Alpha variant dominated in Israel and the Delta strain had not yet spread widely -- it found that the shot was 95.3% effective against all infections."
The people who are terrified of normal - "One of the world's strictest lockdowns is lifting, but many are scared to go back to normal life. In May, as the United Kingdom began to emerge from one of the world's longest and most stringent lockdowns."
Italian tourist city bans evening walks to halt overcrowding - "In a bid to avoid overcrowding during the pandemic, authorities in Florence have announced that people will be banned from the city's most popular nightlife areas, unless they've been eating or drinking in the area."
Human activity influencing global rainfall, study finds - "Anthropogenic warming of climate has been a factor in extreme precipitation events globally, researchers say."
Cannes 2021: Film stars without masks on Cannes red carpet - "After it's 2020 cancellation due to Covid, the Cannes Film Festival is back – and so are the stars on its red carpet."
The world's most powerful passports for 2021 - "The Henley Passport Index, which has been regularly monitoring the world's most travel-friendly passports since 2006, has released its latest rankings and analysis. If there was an Olympics of passports, Japan wouldn't just be hosting it -- it'd be winning the whole competition. As the index doesn't take temporary restrictions into account, Japan is once again top of the leaderboard, with its passport offering visa-free or visa-on-arrival access to 193 destinations around the world."
Where To Travel In July - "If you are among those who want to hit the road, Forbes Travel Guide found the best places to travel in July, ranging from a new one-of-a-kind park in New York to a James Bond-themed dinner in London."
Apple iMessage Soundly Beaten By WhatsApp's Stunning New Update - "Apple is now battling its tech rivals to protect your privacy, it says. What happens on your iPhone, stays on your iPhone, it says. But there's a catch. Apple's iMessage has now fallen well behind its rivals, risking the privacy of millions of iPhone users."
Tomatoes are the perfect no-cook food for a heat wave - "On their own, tomatoes are just what the doctor ordered. 'Raw tomatoes are a source of lycopene, an antioxidant, and they're also a good source of vitamin C, potassium, and folate,' said Lauren Manganiello, a registered dietitian and sports nutritionist in Long Island, New York."
A giant 3D cat has taken over one of Tokyo's biggest billboards - "Shown between advertisements, the hyper-realistic feline comes to life on a 1,664-square-foot curved LED screen in the Shinjuku district. The 4K-resolution display shows the cat walking around high above the Japanese capital as it audibly meows."
Notre-Dame fire lead pollution endangered life, lawsuit claims - "Parisian authorities are facing legal action over the health threat from toxic lead particles released during the fire at the Notre-Dame Cathedral. Hundreds of tonnes of lead within the cathedral's roof melted during the blaze in 2019. It released toxic particles into the air, which settled in the local area."
Who's behind the Kaseya ransomware attack & why is it so dangerous? - "The breach has affected hundreds of businesses around the world, and experts fear the worst is yet to come."
Bentley Reveals The Flying Spur Hybrid & A Bespoke Whisky With The Macallan - "Bentley Motors has revealed its latest car, the Flying Spur Hybrid. The new product forms part of the marque's 'Beyond100' business strategy, outlined last November, with ambitions to evolve Bentley into a global leader in sustainable luxury transport."
Leonardo Da Vinci project finds 14 living male descendants - "Researchers hope to understand genius of artist by reconstructing his genealogical profile."
So happy to see you: our brains respond emotionally to faces we find in inanimate objects, study reveals - "University of Sydney researchers find humans detect and react to illusory faces in the same way they do real faces."
Renting clothes is 'less green than throwing them away' - "Transportation and dry cleaning make it the worst green option for consumers of fashion, study finds."

July 6, 2021

How soft drinks can spoof a covid test - "How children are spoofing Covid-19 tests with soft drinks. Some children have found a devious method to get out of school - using cola to create false positive Covid tests. How does it work?"
Shampanskoye: French champagne industry in a fizz over Russian law - "Non-Russian producers now required to mark their bottles as sparkling wine. If anything is guaranteed to get French wine producers in a fizz, it is the suggestion that champagne can be made anywhere outside the Champagne region in France. As a protected appellation, the term is jealously guarded and legally defended. As the Champagne committee's website clearly states: 'Champagne only comes from Champagne'."
French champagne industry group fumes over new Russian law - "The law, signed by Russian President Vladimir Putin on Friday, requires all foreign producers of sparkling wine to describe their product as such on the back of the bottle - though not on the front - while makers of Russian 'shampanskoye' may continue to use that term alone."
Here's How Rich Jeff Bezos Got As Amazon's CEO - "July 5 was Jeff Bezos' last day as Amazon CEO, ending a remarkable 27-year run that saw the e-commerce giant become one of the most valuable public companies in the world, with a market capitalization of $1.8 trillion. In the process, his fortune has increased by 12,425% - up by $196 billion since 1998, when he first appeared on The Forbes 400 list of richest Americans with a net worth of $1.6 billion. Now, he's worth nearly $202 billion, making him the richest person on Earth."
5 of Jeff Bezos' best lessons for success from his 27 years as Amazon CEO - "Monday marks Jeff Bezos' final day as the CEO of Amazon, the company he launched in 1994 as an online bookseller that is now an ecommerce behemoth worth $1.7 trillion - the company that has made him the richest person in the world with a nearly $200 billion fortune. Over Bezos' roughly 27 years as CEO, he's regularly shared advice and lessons learned in interviews and his annual letters to Amazon shareholders."
Andy Jassy officially takes over as Amazon CEO from Jeff Bezos - "Jeff Bezos, who has served as the CEO of Amazon since founding the company exactly 27 years ago on July 5th, 1994, has officially stepped down from the role. Andy Jassy is now listed as the company's CEO on its investor relations website, after previously having run Amazon Web Services since 2003, while Bezos is listed as Executive Chair. The July 5th handover date was previously announced in a shareholder meeting in May."
Cannes film festival signals industry reopening for business after pandemic - "The physical event is set to open on Tuesday with the premiere of Annette, as industry insiders breathe a sigh of relief."
Every James Bond Movie from Best to Worst, According to Critics - "The latest installment of the epic Bond franchise, No Time to Die, has been postponed month after month due to the coronavirus pandemic. For those needing a fix for their 007 obsession, look no further."
How Your Car Watches Everything You Do & Everywhere You Go - "To determine what state the driver was in, the Tennessee Highway Patrol stepped in and determined that they should look at data from the airbag control module (ACM). This hidden part of the car records the approximate speed, the braking and the amount of throttle used by the driver. The police wanted to know what was happening before and during impact. The ACM is just one of many modules that records what's happening in a vehicle at any one time."
Bugatti joins forces with electric hypercar maker Rimac - "They'll share resources and expertise as part of a joint venture with Porsche called Bugatti Rimac."
Glass-bottomed panda train debuts in China - "On June 26, the capital of Sichuan province debuted the Zhongtang Air Railway, a sky train with a 'glass' bottom riders can see through. It has 270-degree visibility as the top is not transparent. Travelers who look at the train head-on will notice that it is painted to resemble a panda."
Should women be grateful for help at home? - "Should women show gratitude for help, even if the division of housework and childcare mostly fall on them? Actually, yes - because they'll reap benefits."
The invisible addiction: is it time to give up caffeine? - "Caffeine makes us more energetic, efficient and faster. But we have become so dependent that we need it just to get to our baseline."
India's billionaires got richer while coronavirus pushed millions of vulnerable people into poverty - "Mukesh Ambani — chairman of the sprawling conglomerate Reliance Industries - is now worth more than $80 billion, some $15 billion more than a year ago, according to the Bloomberg Billionaires Index. Not far behind him is Adani Group founder Gautam Adani, whose wealth skyrocketed from less than $13 billion this time last year to $55 billion today."

July 5, 2021

Climate change is frying the Northern Hemisphere - "Unprecedented heat, hundreds dead and a town destroyed. Climate change is frying the Northern Hemisphere."
60 years of climate change warnings: the signs that were missed (and ignored) - "The effects of 'weird weather' were already being felt in the 1960s, but scientists linking fossil fuels with climate change were dismissed as prophets of doom."
Face masks will be a 'personal choice' in England, says UK minister - "The UK government is currently considering whether to lift all remaining restrictions on social contact on July 19. The government's new Health Secretary Sajid Javid has signaled he would like to ease coronavirus restrictions."
The philosophy behind Jeff Bezos' Amazon success - "As Bezos leaves his role as CEO, those who have worked with him ponder the lessons learned."
Eight TV shows to watch in July - "From Gossip Girl to Baptiste and the return of Ted Lasso, Eddie Mullan picks the programmes worth seeing this month."
The Greek island with an ancient 'sushi' tradition - "On verdant Skopelos, locals have been curing and rolling fish for generations in a 'sushi-style' preparation that dates back to medieval times."
82-year-old woman is going to space with Jeff Bezos - "After a half-century of waiting, Wally Funk - who trained for NASA's Mercury program but was denied the opportunity to go to space - is finally getting her time amongst the stars. She's been selected by the world's richest man, Jeff Bezos, to accompany him, his brother, and an as-yet unknown auction winner on a suborbital trip on July 20th."
Is the use of jetpacks finally about to take off? - "Leigh Coates says that when you speed through the air wearing a jetpack it feels as if you are able to fly like a superhero."
Young people fear poor mental health will affect post-Covid job prospects - "Research by Resolution Foundation and IFS suggests 18- to 24-year-olds could bear scars of crisis for years."
The damaging effects of 'boreout' at work - "Being chronically bored at work can have damaging consequences - and we need to talk about it more, say experts."
The real reason most late night talk show hosts sit behind a desk - "'It's less democratic, less egalitarian, if someone is sitting behind a desk in an elevated position, and his guests are not equal in stature in terms of how they're being seated,' production designer Keith Raywood said. Media scholar and professor of television and popular culture at Syracuse University Robert Thompson points out the setup 'leaves the guests to be fully exposed.' Cavett, whose talk show slots included late night, preferred to sit more casually on comfortable chairs with his guests, putting them on equal ground."

July 4, 2021

Vaccines 'outpaced by variants', WHO warns, as Delta now in 98 countries - "Proposals to extend Covid jabs to children in west would delay worldwide rollout, say experts, and allow deadly variants to develop elsewhere."
Why Covid-19 outbreaks in countries using Chinese vaccines don't necessarily mean the shots have failed - "As Western nations stockpiled supplies for their own populations, China sent vaccines overseas -- in June, the foreign ministry announced the country had delivered more than 350 million Covid-19 vaccine doses to more than 80 countries. That mission highlighted inadequate Western efforts at a time when tensions between China and many major democracies were running high."
Revealed: rise in stress among those working from home - "New research finds that those living and working alone during the pandemic have suffered the worst effects of all."
Parts of global north are now cooking - "Unprecedented heat, hundreds dead and a town destroyed. Climate change is frying the Northern Hemisphere."
Water is disappearing in the West -- and not just during the summer - "The West's historic drought has many impacts, including water shortages, more severe wildfire seasons and unprecedented heat waves, to name a few. Intense droughts are a result of many factors, one of which scientists have recently began to analyze with more scrutiny: snow drought."
Is it time to begin rewilding the seas? - "From giant clams to zebra shark, marine biologists want to replace lost and vanishing species at sea but face unique obstacles - not least rampant overfishing."
Bezos, Gates back fake meat & dairy made from fungus as next big alt-protein - "As consumers become increasingly comfortable eating faux-meat burgers that look, cook and taste like the real thing, a food-tech start-up backed by Jeff Bezos and Bill Gates is using fungus as the primary ingredient to create alt-meat foods."
Kanye West's team name-dropped world-famous Noma to get a last-minute table at S.F. restaurant - "On a recent afternoon, someone called San Francisco Thai destination Nari wanting a last-minute reservation for six people - 'it's going to be a table of Noma people,' the person said, according to restaurant owner Pim Techamuanvivit. Techamuanvivit's staffers thought maybe Danish chef and Noma owner René Redzepi, whose New Nordic restaurant has repeatedly been ranked the best restaurant on Earth on the World's 50 Best list, was in San Francisco. Fortunately, Nari's semi-private dining room was open that night."
Enjoy the restored Night Watch, but don't ignore the machine behind the Rembrandt - "The computer restoration of this masterpiece illustrates both the benefits and the dangers of AI."
Prince Charles reveals the songs that give him 'an irresistible urge to get up & dance' - "The Three Degrees, Diana Ross and Edith Piaf all made the cut as part of the prince's list, which he shared as part of an hour-long show on hospital radio to thank healthcare staff and volunteers for their work during the Covid-19 pandemic, according to the PA news agency."
why armchair travelling is back in fashion - "Reissued tales of classic journeys are being snapped up as Britons long for escape while having to stay at home."
How to find the documents behind big legal cases - "CourtListener has the receipts."

July 3, 2021

The realities of Chinese vaccines - "Why Covid-19 outbreaks in countries using Chinese vaccines don't necessarily mean the shots have failed."
What Bill Cosby's release means for Harvey Weinstein - "Since Bill Cosby walked out of prison a free man after a court overturned his sexual assault conviction, observers have found themselves wondering: Could Harvey Weinstein be next?"
Mega rich buy $11M homes on world's biggest superyacht - "World's first 'yacht liner' unveiled."
Then & now: Arctic sea-ice feeling the heat - "In our monthly feature, Then and Now, we reveal some of the ways that planet Earth has been changing against the backdrop of a warming world. The shrinking sea-ice in the Arctic is not only a sign of climate change, it is causing the planet to warm more quickly. This is because more sunlight is being absorbed by the darker ocean, rather than being reflected back into space."
The cat with more than 50,000 social media followers - "Pet influencers are on the rise thanks to a surge in animal adoptions during the pandemic. In the US, pets who endorse everything from e-commerce to clothing brands, are part of a $100bn market, but Asia could very well be the next big destination for these furry influencers."
A Beverly Hills Estate Is Asking $65 Million, or The Bitcoin Equivalent, To Take It Off The Market - "Purchasing real estate with cryptocurrency is on the rise, and America's largest-known cryptocurrency deal happened in Miami in June with the sale of the city's most expensive penthouse, valued at $22.5 million. While purchasing real estate with cryptocurrency dates as far back as 2014, it hasn't quite infiltrated the mainstream."
10 MINDBLOWING things that make a Rolls Royce cost 10 crores or more - "Rolls Royce cars are the epitome of luxury, comfort and technological brilliance. Rolls Royce is not cheap in any way and still, they remain high in demand. While many of us may not get a chance of owning a Rolls Royce in a single lifetime, there are a few interesting facts that make the Rolls Royce cars and SUVs very interesting. Here are ten such facts about Rolls Royce that justifies the price tag on them."
Italy to run luxury 'Dolce Vita' sleeper train - "The 'Dolce Vita train' is set to run 10 routes through Italy's most famous landscapes, in historic trains with retro luxury, Dolce Vita-era fittings. The itineraries will cover 14 of Italy's 20 regions, and reach 128 cities, covering 10,000 miles of tracks from north to south. Itineraries will range from one to three nights."
Canadian inferno: northern heat exceeds worst-case climate models - "Scientists fear heat domes in North America and Siberia indicate a new dimension to the global crisis."
The Radical Concept Bike By White Motorcycles Is Another Sign Of Change For The Whole Industry - Forbes.
Google promotes YouTube TV's new 4K add-on with a free Chromecast - "At the start of the week, Google announced it was finally adding support for 4K streaming to YouTube TV. Now the company is attempting to entice existing YouTube TV subscribers to sign up for the pricey $20 monthly add-on with a promotion that dangles a free Chromecast with Google TV."
'Idiotic': Fury in Ukraine after female soldiers made to march in heels - "Female troops were photographed practising for a parade wearing high heels, sparking outrage among lawmakers."
Yellowstone's most famous geyser could shut down, with huge ramifications - "If temperatures rise 10F by the century's end as projected, Old Faithful could stop erupting, and the snowpack that feeds rivers throughout the west may disappear."
100 Years Ago: Dempsey Vs. Carpentier - The First Million Dollar Gate - "It was the very first million-dollar gate. It was the historic Jack Dempsey-Georges Carpentier fight: July 2, 1921. The first world title fight to be broadcast on radio, this "Fight of the Century" really did usher in the new era of boxing."
Britney Spears: Everything she said in court - "Britney Spears told a US judge that she had been drugged, forced to perform against her will and prevented from having children, as she asked the court to end a conservatorship that has governed her life for the last 13 years."
The Most Expensive House in The World - YouTube 10:00.

July 2, 2021

Richard Branson aims to beat Jeff Bezos into space by nine days - "Virgin Galactic founder has announced he will take off on board the next test flight on 11 July."
William & Harry reunite at Diana statue unveiling - "Princes William and Harry put aside their differences to appear together Thursday to unveil a statue honoring their mother, Diana, Princess of Wales, in the Sunken Garden of Kensington Palace."
How the Delta Variant Affects Whether You Should Wear a Mask or Not - TIME Magazine.
'We are a petri dish': world watches UK's race between vaccine & virus - "UK stands alone in pitting advanced vaccination programme against fast-spreading Delta variant."
Vaccine hesitancy: Your job or the jab? - "As more Americans return to the office, public health officials say falling vaccination rates and viral anti-vax rhetoric are threatening the nation's pandemic recovery."
EU officially launches digital vaccine passport - "It shows proof of vaccination, negative test result, or past infection."
Twin Peaks & The Twilight Zone has left Netflix - "Both of these shows departing Netflix is a major loss for the service though, not because they've dominated the viewership charts really but because they've been streaming on Netflix for years."
Agent Dale Cooper's 'Twin Peaks' hangover cure - "'Surefire cure for a hangover, Harry,' Cooper begins. 'You take a glass of nearly frozen, unstrained tomato juice. You plop a couple of oysters in there and you drink it down. Breathe deeply. Next, you take a mound and I mean a mound of sweetbreads sauteed with some Canadian bacon and chestnuts. Finally, some biscuits, big biscuits, smothered in gravy.'"
10 films to watch in July - BBC Culture.
What's on Netflix & Amazon this month - The Guardian.
Global tax reform: 130 countries commit to minimum corporate rate - "Landmark moment for world economy with OECD plan that also covers prevention of profit-shifting."
Rege-Jean Page Is Now the Odds-on Favorite to Become the Next James Bond - "Rege-Jean Page overtakesTom Hardy as the new favorite for the role of James Bond after Daniel Craig according to bookmakers."
Great Barrier Reef: leading scientists praise Unesco's 'in danger' warning - "Group of reef and climate scientists say world heritage warning merited and Australia has not 'pulled its weight on emissions'."
How airlines will stop you losing your bags in the future - "Despite the improvements, there is work still to do. A 2020 report from SITA found that in 2019, 25.4 million pieces of luggage were mishandled around the globe, costing the air transport industry approximately $2.5bn."
12-year-old Abhimanyu Mishra becomes youngest grandmaster in chess history - "To become a grandmaster in chess, a player must achieve three grandmaster norms -- an award given for a high level of performance in a chess tournament -- as well as achieving an 2500 Elo rating given out by the Fédération Internationale des Échecs (FIDE), the rankings that govern international chess competition."
Astronomy Photographer of the Year 2021 shortlist revealed - "Breathtaking images of a lavender field lit up by the Milky Way, a panorama of Iceland's Northern Lights over a frozen estuary, and a hazy sunrise in Shanghai are among those shortlisted for this year's 2021's Astronomy Photographer of the Year competition."
The hidden history of the peas in your freezer - "Think of frozen vegetables and chances are you're thinking of the humble green pea. How did it become a staple of the freezer drawer?"
The darkest side of online dating - "There are lots of perks to online dating - but it has a worrying dark side that can leave some shaken."
Great Escapes: 11 Alternatives To America's Crowded National Parks - "After being stuck at home for the past year, many Americans are craving the great outdoors. As a result, the country's most popular national parks - from Yellowstone National Park to the Grand Canyon - are being deluged. According to the National Parks Service, 2021 is expected to break all kinds of records."
Gainsborough's Blue Boy to return to UK after 100 years - "'Masterpiece of British art' heads to National Gallery in London thanks to loan from gallery in California."
iPhone 12, MacBook Air, Apple Watch & more Apple devices among products to keep away from pacemakers - "A number of Apple products have been found to interfere with some medical devices like pacemakers. Apple has now listed these, along with an advisory on their handling for people using such medical devices."
Frank Gehry's Dynamic Reflective Tower Opens to the Public for the First Time - "Frank Gehry's long awaited LUMA Arles has finally opened its doors to the public. The stainless-steel-clad tower with a twisting geometric structure sits in a 27-acre creative campus at the Parc des Ateliers in the French city of Arles, housing exhibition galleries, project spaces, and the LUMA's research and archive facilities."

July 1, 2021

100 years of the Chinese Communist Party - "10 moments that shaped China's Communist Party." Interactive.
50 Reasons to Love the World in 2021 - "BBC Travel celebrates 50 Reasons to Love the World in 2021, through the inspiration of well-known voices as well as unsung heroes in local communities around the globe."
New Tibet bullet train line is so high passengers need extra oxygen - "A 435-kilometer (250-mile) rail line connecting Tibetan capital Lhasa with the city of Nyingchi entered into service on June 25, giving all 31 provincial-level regions of mainland China access to high-speed train travel."
Making water in a desert, from sunlight & air - "Mineralizing rivers, desalinating oceans, drilling into the ground. There are many different ways to access drinking water in places where it's in short supply. But with overpopulation, climate change and increasing water scarcity, innovators have been on the lookout for a new solution -- and some are convinced the answer is up in the air."
Tim Berners-Lee's NFT of world wide web source code sold for $5.4m - "Crypto asset represents ownership of various digital items from when Berners-Lee invented the web in 1989."
iOS 15 beta hands-on: A surprisingly complete preview - "The iOS 15 public beta is live today, which means a larger swath of people can now check out the latest features coming to iPhones later this year. Despite being a beta, it's surprisingly complete, with most of the coming changes already available. Some of the updates getting the most buzz are the new Focus modes and FaceTime sharing tools, but there are also changes across Messages, Maps, Weather, Safari, Photos and more to check out."
Neutral Switzerland plans to buy dozens of US F-35 fighter jets - "Switzerland has chosen Lockheed Martin's F-35A Lightning II as its next-generation fighter jet, the government said on Wednesday, angering opponents who have pledged a new referendum to overturn what they dubbed an unnecessary 'Ferrari' option."
Bill Cosby freed after top court overturns sexual assault conviction - "The judges said there had been a 'process violation' by the prosecution, but admitted their ruling was unusual."
Bill Cosby: The rise, fall & release of 'America's Dad' - "Bill Cosby was once known to millions as 'America's Dad', but the comedian had his reputation shattered when he was sentenced to three to 10 years in jail after being convicted of sexual assault."
Britney Spears: judge denies request to remove father from conservatorship - "A week after Spears delivered dramatic testimony calling the conservatorship 'abusive', a court filing reveals her petition to remove Jamie has been unsuccessful."
Diana at 60: How would the Princess of Wales have dressed in 2021? - "The late Princess Diana's wardrobe has been immortalized in books, exhibitions, Netflix series, tribute photo shoots in Vogue and even a musical. From her fairytale wedding gown to the so-called 'revenge dress' she wore after Prince Charles admitted to infidelity, the world witnessed her style transformation into the 'People's Princess.'"
Turns out Donald Trump wasn't the worst president in US history, historians say - "On Wednesday, C-SPAN released its 2021 Historians Survey of Presidential Leadership, including for the first time former President Donald Trump. The survey organizers have assembled a broad ideological and demographic spectrum of 142 presidential historians and professional observers of the presidency invited to participate. Donald Trump is not our worst president. Instead, James Buchanan continues to hold the bottom spot. Trump ranks in 41st place, with three presidents beneath him."
11 remote mountain huts to escape from it all - "Occupying a special place in adventure lore, mountain huts have been offering a roof over travelers' heads since the dawn of exploration. If you can reach them, they provide a thrilling and wild escape from civilization down below -- a place to marvel at starry night skies and then wake up to breathtaking panoramas."
The tree cutting emissions from Brazilian beef - "With the help of the fast-growing eucalyptus tree, Brazil has created its first carbon-neutral beef."
Big oil & gas kept a dirty secret for decades. Now they may pay the price - "Via an unprecedented wave of lawsuits, America's petroleum giants face a reckoning for the devastation caused by fossil fuels."
Will This 728-Foot-Long Residential Superyacht Become The World's Most Exclusive Address? - "For anyone who's ever dreamed of owning a superyacht, or living in a hyper-exclusive ocean-front community, or girdling the globe in impossible luxury, Somnio - a massive residential superyacht that was conceived to provide all the benefits of yacht travel to an elite group of wealthy individuals who want to own and design their own luxury apartment with onboard amenities reflecting the service and offering only found in the world's finest hotels."
Actress Kim Novak's Former Estate In California Hits The Market For $12.5 Million - "Her primary residence from 1961 to 1973 was 170 Spindrift Lane in Carmel, California, which Novak referred to as the Gull House. Now, the home is officially on the market for $12.5 million. Not only was this her Hollywood escape, but she also used the home as her art studio, as she is a talented painter."
Cristiano Ronaldo shoots to top of Instagram rich list - "Portugal footballer can command as much as $1.6m to endorse a product on social media."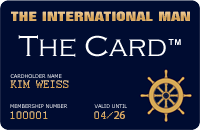 Upcoming VIP Privilege Membership Card
The International Man will in the near future be launching its own PRIVILEGE & BENEFIT VIP MEMBERSHIP CARD - named simply 'The Card'. Members will receive special privileges, benefits and preferential rates with selected partner hotels, restaurants, our LUXURY WEBSHOP, and more. Enter your name and e-mail address to receive FREE INFO about 'The Card' HERE.
RETURN TO TOP OF PAGE