The official site of The International Man. Online since November 27, 2000. Founded by KIM WEISS. 879 pages. 26,626 photos. 204,488 links

Current & Upcoming Events:
FORMULA 1 VTB RUSSIAN GRAND PRIX
September 26 (Sochi Autodrom, Sirius, Krasnodar Krai, Russia) -
FORMULA 1 TURKISH GRAND PRIX
October 10 (Intercity Istanbul Park, Tuzla, Istanbul, Turkey) -
FORMULA 1 ARAMCO UNITED STATES GRAND PRIX
October 24 (Circuit of the Americas, Austin, Texas, U.S.A.) -
FORMULA 1 GRAN PREMIO DE LA CIUDAD DE MÉXICO
November 7 (Autódromo Hermanos Rodríguez, Mexico City, Mexico)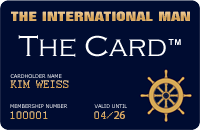 Check Out The Upcoming VIP Privilege & Benefit Membership T.I.M. Card
The International Man will in the near future be launching its own PRIVILEGE & BENEFIT VIP MEMBERSHIP CARD - named simply 'The Card'. Members will receive special privileges, benefits and preferential rates with selected partner hotels, restaurants, airlines, business jet charters, limousine services, exclusive private members' clubs, health clubs, gourmet food suppliers, luxury shops, The International Man's new luxury webshop, and much more.
Enter your name and e-mail address to receive FREE INFO about 'The Card' here.
Online since Monday, November 27, 2000. Last updated on Sunday, September 26, 2021
CET (UTC+01:00)
.