The official site of The International Man. Online since November 27, 2000. Founded by KIM WEISS. 857 pages. 25,628 photos. 178,946 links

Current & Upcoming Events:
CHRISTMAS EVE MIDNIGHT MASS
December 24 at 9:30pm (Saint Peter's Basilica, Piazza San Pietro, Vatican City, Rome, Italy) -
TIMES SQUARE NEW YEAR'S EVE BALL DROP 2020
December 31 (1 Times Square, New York City, NY 10036, U.S.A.) -  
SUPER BOWL LIV | 54th SUPER BOWL 2020
February 2 (Hard Rock Stadium, 347 Don Shula Drive, Miami Gardens, Florida 33056, U.S.A.) -
WHITE TURF HORSE RACES 2020
February 2nd, 9th & 16th (Lake St. Moritz, CH-7500 St. Moritz, Switzerland)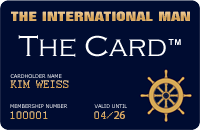 Check Out The Upcoming VIP Privilege & Benefit Membership T.I.M. Card
The International Man will in the near future be launching its own PRIVILEGE & BENEFIT VIP MEMBERSHIP CARD - named simply 'The Card'. Members will receive special privileges, benefits and preferential rates with selected partner hotels, restaurants, airlines, business jet charters, limousine services, exclusive private members' clubs, health clubs, gourmet food suppliers, luxury shops, The International Man's new luxury webshop, and much more.
Enter your name and e-mail address to receive FREE INFO about 'The Card' here.
Online since Monday, November 27, 2000. Last updated on Monday, December 16, 2019
CET (UTC+01:00)
.