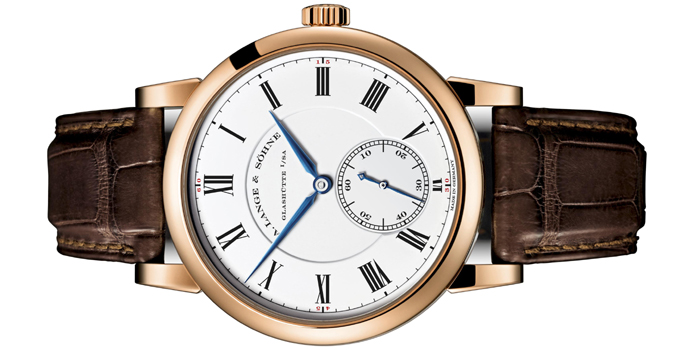 World's Top 1200 Watch Brands & Watchmakers: A

A. LANGE & SÖHNE is a trademark of German watchmaking company Lange Uhren GmbH ("Lange"), a subsidiary of Richemont SA. Lange pocket and wrist watches are among the finest in the world, competing with watches produced by Swiss firms such as Patek Philippe and Vacheron Constantin.

Lange was founded in 1845 by Ferdinand Adolph Lange in the town of Glashütte, near Dresden, in the eastern state of Saxony. Under Ferdinand, and then, following his death, his sons Emil and Richard, Lange produced quality pocket watches, the company's very best products generally being given the "1A" designation. Under subsequent generations of the Lange family the company continued to produce pocket watches and, like many German watch makers, produced special over-sized wrist watches for use by German airmen in World War II.

In 1948, the post-war Soviet administration expropriated the company's property, and the Lange brand ceased to exist. However, in 1990, following the collapse of the East German government, the founder's great-grandson, Walter Lange, together with watch industry executive Günter Blümlein, restored the company with the assistance of several Swiss watch manufacturers, including IWC and Jaeger Le Coultre. The refounded Lange, again operating from Glashütte, presented its first range of wrist watches in 1994. Today, A. Lange & Söhne (litt. A. Lange & Sons) wrist watches are sold globally and Lange, like IWC, is a member of the Richemont group.

All Lange watches contain mechanical rather than quartz movements and, with the exception of a very few special edition watches, Lange watch cases are made of gold or platinum. Lange movements are developed, produced, and assembled by Lange itself. Lange's movement design and decoration is distinctively Glashütte in appearance, eschewing typically Swiss features, such as multiple bridges and cocks, or Geneva wave decoration, in favor of three-quarter plates, "Glashütte stripes", hand-engraved balance cocks and screwed gold chatons. Lange movements are made from a metal known as "German silver", an alloy of copper and nickel, as opposed to the plated brass typically used for Swiss movements, giving Lange movements an unusual color and sheen.

AUDEMARS PIGUET is a manufacturer of Swiss watches. The manufacture Audemars Piguet produces 26,000 timepieces per year. The roots of Audemars Piguet date back to 1874, when the 23-year-old Jules Louis Audemars met Edward Auguste Piguet, then only 21, at Vallée de Joux, they were both born in Le Brassus. When they graduated from school, they went to Vallée de Joux to start working together in watch manufacturing. Thus Audemars started producing component parts for movements and Piguet got the job of a repasseur, maker the final regulation of the timepiece. In 1875, they founded a firm later known as Audemars, Piguet et Cie. Since 1882, members of the Audemars and Piguet families have always been on the board of directors and have, therefore, directly or indirectly run the company.

The business started with Audemars managing the production and technical part, and Piguet focusing on sales, and success was not immediate. The Audemars Piguet trademark was registered in 1882; however, it would be seven years later that the company was officially founded. At this point, Audemars Piguet et Cie became one of the largest employers for watch-making in the whole of Vaud, southwestern Switzerland. The company opened its first branch in Geneva in 1889, and began creating its own components and assembling within its factory with direct supervision and strict quality control.

Between 1894 and 1899, the company produced about 1,200 timepieces, including some very complex watches. When Audemars and Piguet died, in 1918 and 1919 respectively, the company steadily grew and became more famous. As the success of the company's business was rising, its customers became Tiffany & Co, Cartier, and Bulgari, who rebranded and sold Audemars Piguet watches under their own house names. Today, these watches are only identifiable as Audemars Piguet products by their serial numbers. Later, Audemars Piguet launched several watches like the smallest minute repeater in the world and a jumping second hand (i.e. the second hand jumps from second to second in quanta rather than progressively) pocket watch. In 1925, Audemars Piguet introduced the world's thinnest pocket watch, at 1.32 millimeters. Only three years later the company created the first skeleton watch.

During World War II the manufacturer was able to come back on the market by producing a range of ultra-thin chronograph models, notably the Calibre 2003. The sales of Audemars Piguet started growing in the 1940s and 1950s. Together with Jaeger-LeCoultre it designed the thinnest automatic movement. The latter included a 21 carat gold rotor placed in the center. Their "Royal Oak", which uses a custom Jaeger-leCoultre movement, was produced in 1972 and is considered to have created the market for the stainless steel luxury watch. It was designed by Gerald Genta. Today, the company, along with Patek Philippe and Vacheron Constantin, is sometimes claimed to be one of the "big three" Swiss watchmakers. Every timepiece manufactured in-house is still made using the old-fashioned hand-made technique.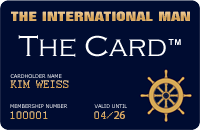 Upcoming VIP Privilege Membership Card
The International Man will in the near future be launching its own PRIVILEGE & BENEFIT VIP MEMBERSHIP CARD - named simply 'The Card'. Members will receive special privileges, benefits and preferential rates with selected partner hotels, restaurants, our LUXURY WEBSHOP, and more. Enter your name and e-mail address to receive FREE INFO about 'The Card' HERE.
RETURN TO TOP OF PAGE