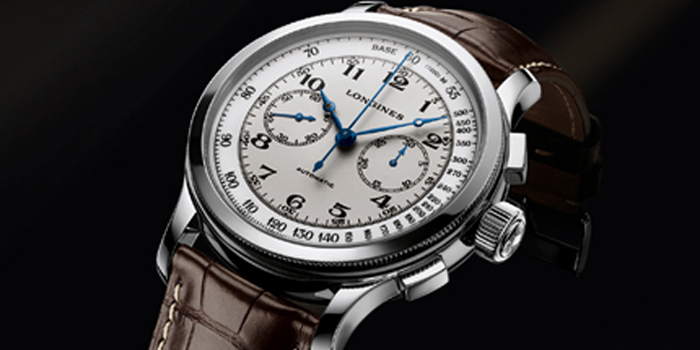 World's 1200 Top Watch Brands & Watchmakers: L

LIP is a French watch and clock company whose turmoil became emblematic of the conflicts between workers and management in France. The LIP factory, based in Besançon in eastern France, was having financial problems in the late 1960s and early 1970s, and management decided to try to close it. However, after strikes and a highly publicized factory occupation in 1973, LIP became worker-managed. All the fired employees were rehired by March 1974, but the firm was liquidated again in the spring of 1976. This led to a new struggle, called "the social conflict of the 1970s" by the daily newspaper Libération.

In 1807, the Jewish community of Besançon offered a mechanical watch (montre à gousset) to Napoleon. Sixty years later, Emmanuel Lipman and his sons founded a clockwork workshop under the name of Comptoir Lipmann. In 1893 it became the Société Anonyme d'Horlogerie Lipmann Frères (Lipmann Brothers Clock Factory). The firm launched the Lip stopwatch in 1896. Thereafter Lip became the brand of the company. They built around 2,500 pieces a year. The company launched the first electronic watch in 1952, called "Electronic" (it was not electric because of the presence of a diode). The first models were worn by Charles de Gaulle and U.S. President Dwight D. Eisenhower; in 1948, a T18 was offered to Winston Churchill. LIP built the first French quartz watches in 1973, but had to face increasing competition from the United States and Japan. The LIP cooperative was bought back by Kiplé in 1984, during François Mitterrand's presidency. However, the new firm was liquidated six years later. Jean-Claude Sensemat then bought the brand in 1990, and relaunched the production with modern marketing methods. The sales increased to a million watches a year. The LIP reissued Charles de Gaulle's watch, which Jean-Claude Sensemat offered to U.S. President Bill Clinton.

LONGINES is a luxury watches house based in Saint-Imier, Switzerland. Founded by Auguste Agassiz in 1832, the company is owned by the Swatch Group. Its winged hourglass logo is the oldest registered for a watchmaker. Longines is known for its 'Aviators' watches. A company director was a friend of Charles Lindbergh; after his transatlantic flight, Lindbergh designed a pilot watch to help with air navigation. Built to his specifications, it is still produced today. Longines provided timers used at the first modern day Olympics in 1892. In 1899, Longines went to the North Pole with Arctic explorer Louis Amédée de Savoie. It was the first to use automatic timekeeping for the Federal Gymnastics, at Basel in 1912. Today, Longines remains a widely recognized name in sport watches and chronographs.

Based in Saint-Imier since 1832, the Compagnie des Montres Longines Francillon S.A. was among the world's leading watch companies. In 2007, Longines had its 175th anniversary. The brand evolved from a comptoir to a full-fledged manufacturing operation and then back down to an établisseur today, since the early 1980s, as a Swatch Group company. The Longines' story began in 1832, when Auguste Agassiz, brother of naturalist Louis Agassiz, found a job in the hamlet of Saint-Imier, joining Comptoir Horloger Raiguel Jeune (a trader of watch parts), in 1833 taking over the business when he and two of his associates set up a company named Comptoir Raiguel Jeue & Cie. The venture was run on the then-prevailing business model based on piecework by people making or processing watch parts in their own homes for the account of a jobber who delivered the blanks, or rough parts, and picked up and paid for the finished ones. The company soon found ways to market its timepieces in distant markets, not least in the Americas.

In 1866, Francillon purchased two adjoining plots of land at a place locally known as Les Longines (meaning "the long meadows" in the local dialect) on the right bank of the River Suze in the Saint-Imier valley. Here he built a factory, to gather the entire production under one roof. By 1867, Francillon had convinced some of his pieceworkers to transfer their activities to his newly built factory and hired a young kinsman, the engineer Jacques David, to help him devise the tools and machines which he needed to improve the manufacturing processes. Jacques David was able to mechanize much of the process of watchmaking. The first in-house Longines movement was created in 1867. The same year Ernest Francillon returned from the World's Fair in Paris with a bronze medal for this watch. From the 1870s on, Longines' industrial options proved judicious and the company grew steadily until the first third of the 20th century. The buildings themselves regularly had to be adapted to the needs of a flourishing enterprise which, by 1911, employed over 1,100 people and sold its timepieces worldwide. In 1880, on 19 July, the Longines brand and logo were registered at the Swiss Federal Office of Intellectual Property, now the World Intellectual Property Organization. The company had by 1867 already adopted its Winged Hourglass symbol both as a mark of quality and as a defence against counterfeiting.

In the 1970s Longines experienced a breakthrough in development and production. In 1972, Longines was the first world watch maker to introduce a LCD-display watch on the consumer market. There were advances in performance of the watches and their appearance continued to change. In 1980s there were a series of ultra-thin designs following another world record of Longines in 1979 - the thinnest quartz watch called the Feuille d'Or - it was just 1.98 mm thick. In 1984 Longines introduced the Conquest VHP (Very High Precision) caliber - the first thermocompensated quartz movement. It set new accuracy standards with a variance of only ±12 seconds a year. Thermocompensation uses a highly sensitive thermometer to measure surrounding temperatures and slightly adjust the frequency of the quartz oscillator to compensate for adverse effects on timekeeping caused by temperature fluctuation. On 19 February 2001 Longines produced the 30 millionth watch at their factory. In 2002 the brand celebrated the 170th year of the flying hourglass logo.

LOUIS MOINET (1768 - 1853), inventor of the chronograph, was born into a prosperous family of farmers in Bourges, France, was a French horologist, sculptor and painter. In the course of his career, Louis Moinet created some extraordinary clocks for such eminent figures of his era as Napoleon Bonaparte, Tsar Alexander Ist, American Presidents Thomas Jefferson and James Monroe, King George IV of England, King of Naples Marshal Murat, Marshal Ney, along with many crowned heads the length and breadth of Europe.

There are some extraordinary stories behind Louis Moinet's clocks, usually crafted in cooperation with the famous bronzier, Thomire - Napoleon Bonaparte: The "Napoleon Clock" was made in 1806 by Louis Moinet in Paris, and is equipped with an eight-day movement. It displays the hours, minutes and date but its great originality lies in an outstanding mechanism displaying the moon phases inside the day hand, by means of a tiny ivory ball. Thomas Jefferson: Signatory of the Declaration of Independence and also United States Ambassador in Paris, he became acquainted with Louis Moinet, and spelled out for the latter his three criteria for the creation of the work of art : beauty, durability and utility. One can well imagine that he really loved his clock, since it accompanied him during his two White House terms of office and indeed until his last breath.

As a maker of precision instruments, Louis Moinet perfected various techniques in these fields and developed several important new improvements. To enhance his astronomical observations, he invented a sensational instrument: a counter in the shape of a watch displaying 60ths of a second. The obvious advantage was a degree of superior to any other time measurement. One of its particularly original features was a jewelled escapement that oscillated at 216,000 vibrations per hour without any trace of wear nor increased friction during prolonged use.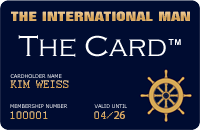 Upcoming VIP Privilege Membership Card
The International Man will in the near future be launching its own PRIVILEGE & BENEFIT VIP MEMBERSHIP CARD - named simply 'The Card'. Members will receive special privileges, benefits and preferential rates with selected partner hotels, restaurants, our LUXURY WEBSHOP, and more. Enter your name and e-mail address to receive FREE INFO about 'The Card' HERE.
RETURN TO TOP OF PAGE