World's 1200 Top Watch Brands & Watchmakers: E

ESZEHA was founded in Pforzheim, Germany by Karl Scheufele I in 1904. 'EsZeHa' is the German pronunciation of the first three letters of his name. In 1911, Karl Schuefele I invented the watch 'scissors-clasp' that was a bracelet with a clasp that could hold a lady's pocket watch - Achtung! - the early inkling of a wristwatch. Patenting the invention, Eszeha made gold and platinum clasps and business was good. Eszeha switched its business in 1920; stopping jewelry production and focusing only on watches. The movements were imported from Switzerland - JLC, IWC, Vacheron Constantine and Eterna. His grandson Karl Scheufele III later bought Chopard in 1963.

ETERNA is a Swiss luxury watch company founded in Grenchen, Canton Solothurn on the 7th of November 1856 by Dr Josef Girard and Urs Schild. They initially specialised in producing pocket watches with alarms. In 1906 the company name changed from U. Schild to Eterna. In 1908 they became the first company to produce an alarm wristwatch. In 1995 Eterna was bought by the German company Porsche Design.

The basis of the Eterna Watch Company was founded in 1851. By the 1900s, wristwatches were just starting to become fashionable. Schild Fréres, as the company was then known, started to produce lady's wristwatches from adapted small pocket watches. In 1905, the company changed their name to Eterna. The company continued to be at the leading edge of watch developments, and in 1908 it patented the first alarm wristwatch. The watch went into production in 1914 and was launched at the Swiss National Exhibition at Berne in that year. By 1932, Eterna had set up a subsidiary company, ETA, to make movements for itself and other Swiss watch companies. This same year Theodore retired and handed over the control of the company to his nephew Rudolf Schild. Although retired, Theodore remained on the board of directors until his death in 1950.

Eterna produced many innovations in their history, the smallest production wristwatch with a Baguette movement in 1930, an eight-day alarm watch in the 1930s and their first automatic watch in 1938. Probably the most famous Eterna watch was their Eterna-matic. This watch was launched in 1948. The design of the automatic winding was one of Eterna's greatest designs. The rotor ran on small ball bearings making it very efficient, hence the trademark of five ball bearings. The Eterna-matic continued in various styles and was still available in 1998, and has indeed been relaunched. Eterna produced a range of watches that were marketed under the Porsche Design label. The company is still at the forefront of modern wristwatch design. Porsche Design sold Eterna to International Volant Ltd, a subsidiary of China Haidian 30.6.2011.

ETA SA Manufacture Horlogère Suisse (ETA SA Swiss Watch Manufacturer) designs and manufactures quartz watches and both hand-wound and automatic-winding mechanical ébauches and movements. Commonly referred to as ETA, the company is headquartered in Grenchen, Switzerland and is a wholly owned subsidiary of The Swatch Group Ltd. Though ETA was founded by Eterna in 1856 some part of its production line can be traces back to the 1793 founding of Fabriques d'Horlogerie de Fontainemelon (FHF) by David Benguerel, Isaac Benguerel, François Humbert-Droz and Julien Humbert-Droz. Although ETA specializes in ébauches, ETA is capable of making all components necessary for a completed watch and is therefore considered a manufacture d'horlogerie. ETA movements and ébauches are used both in watches of other Swatch Group subsidiary brands and in the watches of competitors. Through a series of mergers, ETA has become the largest manufacturer of Swiss watch movements and controls a virtual monopoly over their production and supply. ETA has undergone several Swiss government investigations due to its market position. To resolve the concerns of Swiss government regulators, ETA has entered into an agreement that governs certain business practices.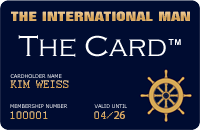 Upcoming VIP Privilege Membership Card
The International Man will in the near future be launching its own PRIVILEGE & BENEFIT VIP MEMBERSHIP CARD - named simply 'The Card'. Members will receive special privileges, benefits and preferential rates with selected partner hotels, restaurants, our LUXURY WEBSHOP, and more. Enter your name and e-mail address to receive FREE INFO about 'The Card' HERE.
RETURN TO TOP OF PAGE