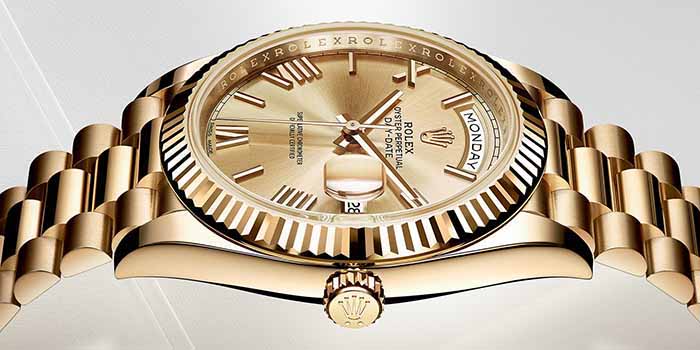 World's 1200 Top Watch Brands & Watchmakers: R

RADO Rado is a Swiss luxury manufacturer of watches, with headquarters in Lengnau, Switzerland. It is noted for its use of scratch-proof materials, a field in which it is considered a pioneer. Today the company produces about half a million watches a year with a staff of about 470 in total. Rado's watches are obtainable in more than 150 countries, at over 5900 points of sale. The most important markets are Southeast Asia, Japan, China, Middle East as well as countries within Europe (Switzerland, Germany, Italy) and the USA. Formed in 1917 as [Schlup & Co.], Rado initially produced watch movements only. In 1957 the company launched its first collection of watches under the Rado brand. In 1962 the Rado Diastar, the world's first scratch-proof watch, was launched. It has been in production ever since, now sold as DiaStar The Original. In 1968, Rado became part of the ASUAG, which merged 1983 with the SSIH to the SMH group, renamed in 1998 as the Swatch Group. Rado's sister brands within the Group include Breguet, Blancpain, Glashütte Original, Omega, Longines and Tiffany & Co., among others.

RADO's differs from the traditional Swiss watch makers in that it leans towards innovative uses of high tech materials in distinct design. RADO has focused on pioneering the use of a number of materials that are unique within the watch making industry, such as e.g. hardmetal(tungsten- and titanium-carbide), ceramics, lanthanum and sapphire crystal. In 2004 RADO created a 'high-tech diamond', by the transformation of carbon into a nanocrystalline diamond with a Vickers hardness number of 10,000, thus naming the watch the V10K. It is the hardest watch on Earth, certified by the Guinness Book of World Records. The newer RADO watches are also distinct from the traditional Swiss watch industry in that their aesthetic is unique. Market reaction tends to be mixed to such a strong aesthetic, with many who appreciate the unique and distinct RADO look and those who do not. During their time, RADO has received more than 20 elite international design awards, from the RED DOT Award to the iF Design Award, for both their product and most recently, their collaboration with Jasper Morrison for an innovative watch box that mimics the shape of the human wrist. RADO watches vary in pricing according to model, age and materials but the core collection of RADO pieces will range from about US$700 to about US$28,000. Models that include pave dials of diamonds and baguette diamonds can cost approximately US$30,000 to US$250,000.

RICHARD MILLE is a French businessman and owner of a Swiss luxury watchmaker of the same name. The watch making company, founded in 2001, is based in Les Breuleux, in the Canton of Jura, Switzerland. The brand's most famous models are the Tourbillon RM 008 (chronograph tourbillon) and the sapphire split seconds (chronograph tourbillon) RM 056. The RM 008 combines a tourbillon movement with manual winding, a chronograph split-seconds, a torque indicator, and a power reserve indicator. Claimed to be one of the most advanced watches in the world, it is priced from €500,000 and upwards. The RM 056 split seconds (chronograph tourbillon) is distinguished for its three-part all-sapphire case skeletal case build. This makes the RM 056 completely see-through and is the first watch case to be completely built from sapphire, with a limited edition 5 pieces of the Richard Mille RM 056 Felipe Massa Sapphire priced at US$1.7 million. The RM 056 went on to win the SIAR October 2012 award for best watch of the year.

ROLEX SA and its subsidiary Montres Tudor SA design, manufacture, distribute and service high-quality wristwatches sold under the Rolex and Tudor brands. Founded by Hans Wildorf and Alfred Davis in London, England in 1905 as Wilsdorf and Davis, Rolex moved its base of operations to Geneva, Switzerland in 1919. Bloomberg Businessweek magazine ranked Rolex No.71 on its 2007 list of the 100 most valuable global brands. Rolex is the largest single luxury watch brand, producing about 2,000 watches per day, with estimated 2003 revenues of approximately US$3 billion.

Hans Wilsdorf and his brother-in-law, Alfred Davis, founded Wilsdorf and Davis, the company that would eventually become Rolex SA, in London, England in 1905 Wilsdorf and Davis' main business at the time was importing Hermann Aegler's Swiss movements to England and placing them in quality watch cases made by Dennison and others. These early wristwatches were sold to jewellers, who then put their own names on the dial. The earliest watches from Wilsdorf and Davis were usually hallmarked "W&D" inside the caseback. In 1908, Wilsdorf registered the trademark "Rolex" and opened an office in La Chaux-de-Fonds, Switzerland. The company name "Rolex" was registered on 15 November 1915. The book The Best of Time: Rolex Wristwatches: An Unauthorized History by Jeffrey P. Hess and James Dowling says that the name was just made up. One story, never confirmed by Wilsdorf, is that the name came from the French phrase horlogerie exquise, meaning "exquisite clockwork" or as a contraction of "horological excellence". Wilsdorf was said to want his watch brand's name to be easily pronounceable in any language. He also thought that the name "Rolex" was onomatopoeic, sounding like a watch being wound. It is easily pronounceable in many languages and, as all letters have the same size, allows to be written symmetrically. It was also short enough to fit on the face of a watch. In 1914, Kew Observatory awarded a Rolex watch a Class A precision certificate, a distinction which was normally awarded exclusively to marine chronometers. In 1919, Wilsdorf left England due to wartime taxes levied on luxury imports as well as export duties on the silver and gold used for the watch cases driving costs too high and moved the company to Geneva, Switzerland where it was established as the Rolex Watch Company. Its name was later changed to Montres Rolex, SA and finally Rolex, SA. Upon the death of his wife in 1944, Wilsdorf established the Hans Wilsdorf Foundation in which he left all of his Rolex shares, making sue that some of the company's income would go to charity. The company is still owned by a private trust and shares are not traded on any stock exchange. In December 2008, the abrupt departure of Chief Executive Patrick Heiniger, for "personal reasons", was followed by a denial by the company that it had lost 1 billion Swiss francs (approx £574 million, $900 million) invested with Bernard Madoff, the American asset manager who pleaded guilty to an approximately £30 billion worldwide Ponzi scheme fraud. Today, Rolex watches are popularly considered status symbols.

Among the company's innovations are: The first waterproof wristwatch "Oyster", 1926; the first wristwatch with an automatically changing date on the dial (Rolex Datejust ref.4467, 1945); the first wristwatch case waterproof to 100 m (330 ft) (Rolex Oyster Perpetual Submariner ref.6204, 1953); the first wristwatch to show two time zones at once (Rolex GMT Master ref.6542, 1954); the first wristwatch with an automatically changing day and date on the dial (Rolex Day-Date, 1956); the first watchmaker to earn chronometer certification for a wristwatch.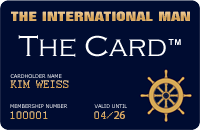 Upcoming VIP Privilege Membership Card
The International Man will in the near future be launching its own PRIVILEGE & BENEFIT VIP MEMBERSHIP CARD - named simply 'The Card'. Members will receive special privileges, benefits and preferential rates with selected partner hotels, restaurants, our LUXURY WEBSHOP, and more. Enter your name and e-mail address to receive FREE INFO about 'The Card' HERE.
RETURN TO TOP OF PAGE