World's 1200 Top Watch Brands & Watchmakers: O

OMEGA is a Swiss luxury watchmaker based in Biel/Bienne, Switzerland. Britain's Royal Flying Corps chose Omega watches in 1917 as its official timekeepers for its combat units, as did the American army in 1918. Omega watches were the choice of NASA and the first watch on the Moon in 1969. Omega has been the official timekeeping device of the Olympic Games since 1932. James Bond has worn it in films since 1995; other famous Omega wearers, past and present, include John F. Kennedy, Prince William, and Buzz Aldrin. Omega is owned by the Swatch Group.

The forerunner of Omega was founded at La Chaux-de-Fonds, Switzerland in 1848 by 23-year-old Louis Brandt, who assembled key-wound precision pocket watches from parts supplied by local craftsmen. He sold his watches from Italy to Scandinavia by way of England, his chief market. After Louis Brandt's death in 1879, his two sons Louis-Paul and César, troubled by irregular deliveries of questionable quality, abandoned the unsatisfactory assembly workshop system in favour of in-house manufacturing and total production control. Due to the greater supply of manpower, communications and energy in Biel/Bienne, the enterprise moved into a small factory in January 1880, then bought the entire building in December. Two years later the company moved into a converted spinning-factory in the Gurzelen area of Biel/Bienne, where its headquarters are still situated today. Their first series-produced calibres, Labrador and Gurzelen, as well as the famous Omega calibre of 1894, would ensure the brand's marketing success.

Louis-Paul and César Brandt both died in 1903, leaving one of Switzerland's largest watch companies - with 240,000 watches produced annually and employing 800 people - in the hands of four young people, the oldest of whom, Paul-Emile Brandt, was not yet 24. Brandt was the great architect and builder of Omega. His influence would be felt over the next half-century. The economic difficulties brought on by the First World War would lead him to work actively from 1925 toward the union of Omega and Tissot, then to their merger in 1930 into the group SSIH, Geneva. Under Brandt's leadership and Joseph Reiser's from 1955, the SSIH Group continued to grow and multiply, absorbing or creating some fifty companies, including Lanco and Lemania, manufacturer of the most famous Omega chronograph movements. By the 1970s, SSIH had become Switzerland's number one producer of finished watches and number three in the world. Up to this time, the Omega brand outsold Rolex, its main Swiss rival in the luxury watch segment, although Rolex watches sold at a higher price point. Around this time it was viewed as Rolex versus Omega in the competition for the "King of Swiss Watch brands". Omega watches tended to be more revolutionary and more professional focused, while Rolex watches were more 'evolutionary' and famous for their mechanical pieces and brand.

While Omega and Rolex had dominated in the pre-quartz era, this changed in the 1970s. That was when Japanese watch manufacturers such as Seiko and Citizen rose to dominance due to their pioneering of quartz movement. In response, Rolex continued concentrating on its expensive mechanical chronometers where its expertise lay (though it did have some experimentation in quartz), while Omega tried to compete with the Japanese in the quartz watch market with Swiss made quartz movements. Weakened by the severe monetary crisis and recession of 1975 to 1980, SSIH was bailed out by the banks in 1981. During this period, Seiko expressed interest in acquiring Omega, but nothing came out of the talks. In 1998 it became the Swatch Group, which now manufactures Omega and other brands such as Blancpain, Swatch, and Breguet. Omega's brand experienced a resurgence with advertisement that focused on product placement strategies, such as in the James Bond 007 films; the character had previously worn a Rolex Submariner but switched to the Omega Seamaster with GoldenEye (1995) and has stayed with the latter ever since. Omega also adopted many elements of Rolex's business model (i.e. higher pricing, tighter controls of dealer pricing, increasing advertising, etc.) which was successful in increasing Omega's market share and name recognition to become more of a direct competitor to Rolex.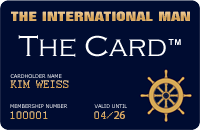 Upcoming VIP Privilege Membership Card
The International Man will in the near future be launching its own PRIVILEGE & BENEFIT VIP MEMBERSHIP CARD - named simply 'The Card'. Members will receive special privileges, benefits and preferential rates with selected partner hotels, restaurants, our LUXURY WEBSHOP, and more. Enter your name and e-mail address to receive FREE INFO about 'The Card' HERE.
RETURN TO TOP OF PAGE