World's 1200 Top Watch Brands & Watchmakers: S

SEIKO Holdings Corporation, more commonly known simply as Seiko, is a Japanese watch company. The company was founded in 1881, when Kintarō Hattori opened a watch and jewelry shop called "K. Hattori" in the Ginza area of Tokyo, Japan. Eleven years later, in 1892, he began to produce clocks under the name Seikosha, meaning roughly "House of Exquisite Workmanship". According to Seiko's official company history, titled "A Journey In Time: The Remarkable Story of Seiko" (2003), Seiko is a Japanese word meaning "exquisite," "minute," or "success".

The first watches produced under the Seiko brand appeared in 1924. In 1969, Seiko introduced the Astron, the world's first production quartz watch; when it was introduced, it cost the same as a medium-sized car. Seiko later went on to introduce the first quartz chronograph. In 1985, Orient Watches and Seiko established a joint factory. The company was incorporated (K. Hattori & Co., Ltd.) in 1917 and was renamed Hattori Seiko Co., Ltd. in 1983 and Seiko Corporation in 1990. After reconstructing and creating its operating subsidiaries (such as Seiko Watch Corporation and Seiko Clock Inc.), it became a holding company in 2001 and was renamed Seiko Holdings Corporation as of July 1, 2007. Seiko is perhaps best known for its wristwatches, all of which were at one time produced entirely in-house. This includes not only major items such as microgears, motors, hands, crystal oscillators, batteries, sensors, LCDs but also minor items such as the oils used in lubricating the watches and the luminous compounds used on the hands and the dials. Currently watch movements are made in Shizukuishi, Iwate (SII Morioka Seiko Instruments), Ninohe, Iwate (SII Ninohe Tokei Kogyo), Shiojiri, Nagano (Seiko Epson) and their subsidiaries in China, Malaysia and Singapore. The fully integrated in-house production system is still practised in Japan.

Seiko produces both quartz and mechanical watches of varying prices. The least expensive are around ¥4,000 (US$45) (sold under the brand Alba); the most expensive (Credor JURI GBBX998) costs ¥50,000,000 (US$554,000). Seiko mechanical watches are highly prized by collectors - from the Seiko "5" series (the 5 reflects the five essential features of the watch, namely shock resistant, water resistant, automatic, and day and date display), which is the most common, to the highly prized luxury "Credor," "King Seiko," and "Grand Seiko" lines. Today, Seiko Kinetic watches account for a large proportion of sales that combine the self-energizing attributes of an automatic watch with quartz accuracy. The watch is entirely powered by its movement in everyday wear.

Various Seiko watches were worn by the cinematic James Bond 007 in four films starring Roger Moore from 1977 to 1985. Also, a Seiko watch was worn by Sean Connery in the 1983 Bond film Never Say Never Again. A Seiko Chronograph is also worn by Jason Bourne in the book "The Bourne Identity" by Robert Ludlum. Aki Ross wears a Seiko wristband computer in Final Fantasy the Spirits Within. NASA Flight Director Gene Kranz wore a Seiko 5 model 6119-8460 during the height of his career. It was on his wrist when the Apollo 11 crew touched down on the lunar surface, when the Apollo 13 explosion occurred, and throughout the remainder of his career at NASA. The watch was recently sold and is still in working order. Nazi war criminal and SS officer Josef Mengele wore a Seiko Automatic 21 Jewels watch in South America held by the archives of the Federal Police in Brazil and it is still working to this day. (seen in National Geographic Mengele Twin Mystery).

The SWATCH Group is the world's largest watch company, and the group has accelerated its acquisition of Swiss luxury brands in recent years. The Swatch Group owns the following brands: Breguet, Blancpain, Jaquet Droz, Glashütte Original, Léon Hatot, Omega, Tiffany & Co., Rado, Longines, Union Glashütte, Tissot, Calvin Klein, Certina, Mido, Pierre Balmain, Hamilton, Flik Flak and Endura. The name "Swatch" is a contraction of "Second Watch" - coined by Nichole Lopez because the new watch was introduced with a new concept of watches as casual, fun, and relatively disposable accessories.

"Swatch" began development in the early 1980s, under the leadership of the then ETA SA's CEO, Ernst Thomke with a small team of enthusiastic watch engineers led by Elmar Mock and Jacques Müller, The engineers of Swatch designed the case back of the watch as a movement main plate (platine). This concept led to the thinnest watch in the world - the Delirium, which debuted in 1979. Conceived at the beginning as a standard timekeeper in plastic, Franz Sprecher, a marketing consultant hired by Thomke to give the project an outsider's consideration, soon led the project into what it has become: a trendy line of watches with a full brand identity and marketing concept - instead of developing just another watch collection, which could have soon been matched by the competition. Swatch was originally intended to re-capture entry level market share lost by Swiss manufacturers during the aggressive growth of Japanese companies such as Seiko and Citizen in the 1960s and 1970s and to re-popularize analog watches at a time when digital watches had achieved wide popularity. The launch of the Swatch brand in 1983 was marked by bold new styling, design and marketing. Lebanese entrepreneur, Nicolas G. Hayek, who, with a group of Swiss investors, took over a majority shareholding of Swatch during 1985 in the then, between ASUAG and SSIH, newly consolidated group under the name Societe Suisse de Microelectronique et d'Horlogerie, or SMH, became Chairman of the Board of Directors and CEO in 1986 (who later significantly changed its name to Swatch Group), further masterminded its development to reach its now major worldwide Swiss watch brand status within the lower end of watch prices. This combination of marketing and manufacturing expertise restored Switzerland as a major player in the world wristwatch market. Synthetic materials were used for the watchcases as well as a new ultra-sonic welding process and the assembly technology. The number of components was reduced from 91 or more to 51, with no loss of accuracy. The Satch watch was also known as the savior, to many of the swatch-watch style fans.

The first collection of twelve Swatch models was introduced on March 1, 1983 in Zürich, Switzerland. Initially the price ranged from CHF 39.90 to CHF 49.90 but was standardized to CHF 50.00 in autumn of the same year. Sales targets were set to one million timepieces for 1983 and 2.5 million the year after. With an aggressive marketing campaign and a very reasonable price for a Swiss-made watch, it gained instant popularity in its home market. Compared to conventional watches, a Swatch was 80% cheaper to produce by fully automating assembly and reducing the number of parts from the usual 91 or more to only 51 components. Swatches enjoyed their peak popularity during the mid-1980s. Such '80s fads included wearing two Swatches and using a Swatch as a ponytail band. Some models, like the Pop Swatch, allowed wearers to attach Swatches directly to clothing. It was also popular to accessorize the watch with a neon-colored protective 'Swatch Gaurd' -- a thin rubber band, which had hoops on both ends that were slipped over the straps of the watch, which protected the watch's face. During this same time, Swatch introduced the idea of partnering with noteworthy artists, including Keith Haring and others. Artist-edition watches gave a new cachet to what had previously been a trendy youth article. Simon Cowell allegedly bought 10 Swatch watches, wearing them often as a fashion statement.

From the original cult plastic watches, Swatch has diversified its offerings considerably, and the company now sells more than a dozen different types of watches, including metal-bodied watches (the Irony series); diving watches (the Scuba series); thin and flat bodied watches (the Skin family); and even an Internet-connected watch that can download stock quotes, news headlines, weather reports, and other data (the Paparazzi series). Swatches have become fashionable objects, generating specialized models (the "Flik-Flak" for children) quartz chronographes, automatic and automatic chronographes movements, and even some diamond-decorated Swatches. The company also produces watches with seasonal themes.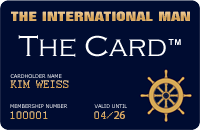 Upcoming VIP Privilege Membership Card
The International Man will in the near future be launching its own PRIVILEGE & BENEFIT VIP MEMBERSHIP CARD - named simply 'The Card'. Members will receive special privileges, benefits and preferential rates with selected partner hotels, restaurants, our LUXURY WEBSHOP, and more. Enter your name and e-mail address to receive FREE INFO about 'The Card' HERE.
RETURN TO TOP OF PAGE