World's 1200 Top Watch Brands & Watchmakers: M

MATHEY-TISSOT is a Swiss watch maker of prestige watches, originally established in the late 19th century by Edmond Mathey-Tissot at Les Ponts-de-Martel in the canton of Neuchâtel in Switzerland. It should not be confused with Tissot, a completely separate Swiss watchmaking firm established by Charles-Felicien Tissot.

Edmond Mathey-Tissot established his watchmaking business at the village of Les Ponts-de-Martel in 1886. He began by specializing in complications, and especially repeater pocket watches, that is, watches which chime the minute and/or the hour and quarter-hour. The firm soon proceeded to make chronographs and won a number of prizes. In 1899, the outbreak of the Second Boer War led to such an expansion in demand for Mathey-Tissot watches that a new factory was built. Among the orders received was one from a nobleman in Scotland who commissioned 2,500 watches, having decided to present every man in his son's regiment with a repeater watch: in gold for officers, silver for other ranks. In 1914, Mathey-Tissot was represented at the Kew Observatory Competition by six Observatory Chronometers capable of split-second timing, all six being rated 'Class A' with the comment 'specially good'. The same year, Mathey-Tissot gained the Grand Prix at the Swiss National Exhibition. During the First World War, the company supplied the United States Army's Corps of Engineers with precision chronographs in large quantities, while General Pershing, commanding the United States Expeditionary Force, chose the watch to award to members of his own staff. Both before and after the Second World War, the company continued to supply the U. S. Army and the Royal Navy. In 1969 and 1970, Elvis Presley bought several dozen customized Mathey-Tissot automatic watches for giving to family, friends, and staff, the purpose being to identify the wearers as having a privileged right of access to Presley's concerts and tours. For this object, a bezel setting was created with the name ELVIS PRESLEY in raised letters and four stars. Mathey-Tissot today continues to make and customize watches with both mechanical and quartz movements. The company's logo is similar to the symbol of the British Campaign for Nuclear Disarmament, but turned upside-down, with the words Mathey-Tissot in manuscript, above the printed words "since 1886".

MAURICE LACROIX is a luxury brand of Swiss watches based in the Canton of Jura and headquartered in Zurich. Maurice Lacroix was founded as part of Desco von Schulthess of Zurich in 1975. Founded in 1889, Desco von Schulthess (Desco) is an older company with roots in the silk trade. Since 1946, Desco has also been a representative for luxury watches including Audemars Piguet, Heuer, Eterna, and Jaeger-LeCoultre. Over the years, Desco became more interested in the watch business, and in 1961 Desco acquired an assembly facility named Tiara in Saignelégier, in the Swiss Canton of Jura. There it produced private label watches for third parties. In 1975, Desco started marketing watches under the brand name Maurice Lacroix. Like other Swiss watch brands, including Rolex and Omega, the brand Maurice Lacroix does not correspond to any one individual. By 1980, Maurice Lacroix had become so successful that the facility in Saignelégier ceased production for third parties. In 1989 Maurice Lacroix acquired the case maker Queloz S.A., also based in Saignelégier. This ability to produce watch cases in-house makes Maurice Lacroix unusual compared to other luxury watch companies.

During the 1990s, Maurice Lacroix experienced a "rocket-like ascent" with the launch of their high end "Les Mécaniques" line, later renamed the "Masterpiece" line. During this time, the company elevated itself to the high ranks of Swiss watch manufactures, by both maintaining traditional 'Swiss watch making art' and by creating their own movements for its Masterpiece Collection. As of 2010, Maurice Lacroix, has a total of approximately 220 employees worldwide, and is represented in around 4,000 shops in more than 60 countries all over the world.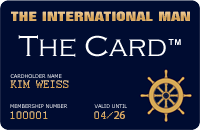 Upcoming VIP Privilege Membership Card
The International Man will in the near future be launching its own PRIVILEGE & BENEFIT VIP MEMBERSHIP CARD - named simply 'The Card'. Members will receive special privileges, benefits and preferential rates with selected partner hotels, restaurants, our LUXURY WEBSHOP, and more. Enter your name and e-mail address to receive FREE INFO about 'The Card' HERE.
RETURN TO TOP OF PAGE