World's 1200 Top Watch Brands & Watchmakers: B

BAUME & MERCIER is a Swiss luxury watchmaking company founded in 1830. It is owned by Richemont, and with Cartier and Piaget they make up the core of the group. This company is represented in 75 countries and produces around 200,000 watches a year. The most important markets are in Europe, especially Italy, Spain and France. Baume et Mercier is distributed by 220 exclusive retailers worldwide and has established itself as a manufacturer of sporty chronographs.

In 1830 the Baume family opened one of the first comptoirs horlogers (watch shops) in the Swiss Jura region in the village of Les Bois. "Frères Baume" soon became a major watch company, thanks to the commercial flair and rigorous industrial methods of the two brothers, Louis-Victor and Joseph-Célestin Baume, who strictly followed their motto: "Accept only perfection. Only manufacture watches of the highest quality."

By 1876, when the second generation took over, "Frères Baume" had already acquired a solid international reputation for its simple watches, chronographs and Grand Complication models, including minute repeaters, calendars and tourbillons. The company management was again shared by two brothers, sons of the co-founder, Louis-Victor. Alcide Baume was in charge of production in Les Bois, while Arthur Baume was based in London and handled international marketing. The company soon set up branches in Geneva, Switzerland and Philadelphia, in the United States.

Baume watches earned ever-growing success and recognition under the impetus of the second generation. In 1892, Baume earned the highest score in the competition (91.9 points out of a 100) with a split-second chronograph, an all-time record that remained unbeaten until over a decade later. Up to the early 20th century, the brand won a steady succession of prizes for its simple and complicated watches, all equipped with the most advanced technological features. In London, Arthur Baume became a leading figure in the United Kingdom. He was named a knight of the Legion of Honor, and later became an officer, and was twice decorated by French President Poincarré in person.

In 1919, barely a year after the company was set up, Baume & Mercier movements were awarded the "Poinçon de Genève" or Geneva Hallmark, the highest token of fine craftsmanship in watchmaking. A year and a half later, Baume & Mercier had become the watch brand producing the largest number of movements certified by this prestigious quality label. In 1964, in order to reinforce it's brand identity, Baume & Mercier chose the Greek symbol PHI as its new visual brand emblem. Considered since Antiquity to be the "golden section" representing perfect proportions, the PHI appeared from then on as the Baume & Mercier logo on all its watch dials. It was from this time onwards that Baume & Mercier acquired its status as an affordable luxury brand, a positioning it continues to uphold. The brand also accentuated its avant-garde, innovative approach, especially during the 1970s.

BLANCPAIN designs, manufactures, distributes and sells luxury watches. Founded in 1735 by Jehan-Jaques Blancpain, Blancpain is headquartered in Biel, Switzerland and is now a wholly owned subsidiary of the Swatch Group. Blancpain started making watches in 1735 in Villeret, Switzerland. According to their commercial slogans, the company has never produced quartz watches in the past and has stated in its advertisements that it never will, nor have they ever produced watches with digital displays. In comparison to a large watch maker like Rolex, which makes about 2,000 watches a day, Blancpain produces fewer than 10,000 watches a year. Each watch is made by a single watchmaker.

Blancpain is also famous for being the creator of one of the most complicated mechanical watches ever made, the Blancpain 1735, which is a true grand complication (Tourbillon, minute repeater, perpetual calendar, split chrono), a limited edition of 30 pieces only, production of just one piece per year. Blancpain is also known for its Fifty-Fathoms watch, selected by the United States Navy and worn by Jacques-Yves Cousteau in his award-winning film. In 1984, Blancpain launched the world's smallest movement, followed in 1989 by the launch of the world's thinnest movement.

Édouard BOVET (1797–1849) was a Swiss watchmaker and founder of the Bovet Fleurier watch company. Édouard Bovet was born in Fleurier in Neuchâtel, the son of Jean Frédéric Bovet, in 1797. Although the "Genève" tag is virtually compulsory for Swiss prestige name watches in the highest price bracket, it is the lesser known place name "Fleurier" that graces the watches from the Bovet company in Geneva: for the Bovet originated from this village in the Val-de-Travers, to the west of Neuchâtel. Watchmaking was introduced there between 1730 and 1740 by David Vaucher, probably a pupil of the legendary Daniel JeanRichard. The number of watchmakers in the Val-de-Travers grew very rapidly in the first half of the 19th century. The lace making that had provided work for a good third of the people living in the valley had been replaced by the much lower cost production on jacquard machines in France and Flanders. Four more sons and a daughter were born in the following years. After completing his apprenticeship as a watchmaker, Edouard Bovet and two of his brothers moved to London, then the center of watch assembly and the watch trade in 1814.

Édouard Bovet returned to Fleurier in 1830 as a made man. Édouard Bovet's brothers and nephews - all of them shareholders in the company - made sure that the cornerstones of the Bovet empire in Fleurier, London and Canton continued to flourish. Once the political situation was back to normal, in 1840, the firm was re-registered as Bovet Frères et Cie.; the share capital amounted to 1 million francs. Édouard Bovet died in 1849; he lived long enough to witness the triumph of the republic and the withdrawal of the Prussians in the previous year. The succession was settled and the production for China continued; in 1855 Bovet was awarded a gold medal at the world exhibition in Paris for an absolutely identical pair of watches ordered by the emperor of China. Two generations later the Bovets were running a flourishing Swiss-Chinese commercial enterprise and were no longer interested in watchmaking. The name was sold several times and relaunched in 1994. The current Bovet watches are modeled on their luxury precursors from the 19th century and look like pocket watches for the wrist.

BREGUET is a Swiss manufacturer of luxury watches, founded by Abraham-Louis Breguet in Paris in 1775. Currently part of The Swatch Group, its timepieces are now (since 1976) produced in the Vallée de Joux in Switzerland. It is one of the oldest surviving watch-making establishments and is the pioneer of numerous watch-making technologies, the most notable being the tourbillon, invented by Abraham-Louis Breguet. It also produced the first wrist watch in 1810. Breguet watches are often easily recognized for their coin-edge cases, guilloché dials and blue pomme hands (often now referred to as 'Breguet hands').

Breguet was founded in 1775 by Abraham-Louis Breguet. His first known address was at 51 Quai de l'Horloge on the Île de la Cité in Paris. Thanks to his marriage to the daughter of a prosperous French bourgeois, her dowry provided the backing which allowed him to open his own workshop. The connections Breguet had made with scholarly people during his apprenticeship as a watchmaker and as a student of mathematics soon paid off. Following his introduction to the court, Queen Marie Antoinette grew fascinated by Breguet's unique self-winding watch; Louis XVI bought several of his watches and legend has it that Marie Antoinette commissioned the watch that was to contain every watch function known at that time - Breguet's masterpiece, the Marie Antoinette (No. 160).

BREITLING is a luxury brand of Swiss watches produced by Breitling SA, a private company headquartered in Grenchen, Canton of Solothurn (originally founded in Saint-Imier, Bernese Jura by Léon Breitling in 1884). The company exclusively offered Certified Chronometers in all models since 2000. Watches are usually oriented towards three categories: Diving (SuperOcean), Aviation (Navitimer), and Luxury (Breitling for Bentley). Aviation models such as the Navitimer offer aviation functions largely as complications, since their function in aviation has largely been replaced by modern electronic instruments. The styling of Breitling watches is characterized by polished cases and bracelets and large watch faces which are designed to improve readability. Many models feature an automatic winding mechanism that is purely mechanical (i.e. using no electronic components) and frequently feature complications.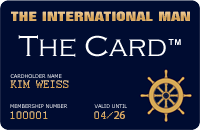 Upcoming VIP Privilege Membership Card
The International Man will in the near future be launching its own PRIVILEGE & BENEFIT VIP MEMBERSHIP CARD - named simply 'The Card'. Members will receive special privileges, benefits and preferential rates with selected partner hotels, restaurants, our LUXURY WEBSHOP, and more. Enter your name and e-mail address to receive FREE INFO about 'The Card' HERE.
RETURN TO TOP OF PAGE