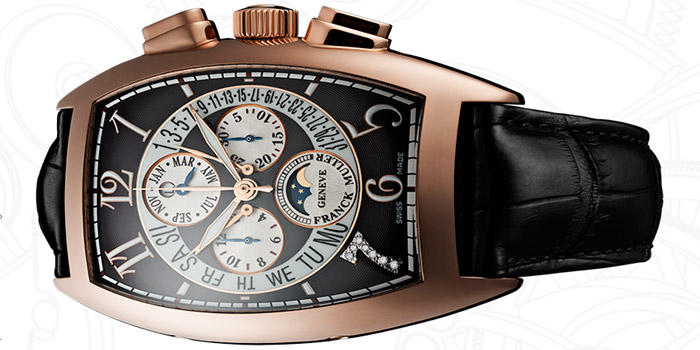 World's 1200 Top Watch Brands & Watchmakers: F

FAVRE-LEUBA is a Swiss manufacturer of wristwatches based in Le Locle, Switzerland. It was one of the very first watchmaking companies in Switzerland founded in 1737.

History of Favre-Leuba begins in 1718, when watch enthusiast Abraham Favre decided to become a watchmaker. His profession was soon recognized, and his manufactory was officially registered in 1737. The company was passed down through eight generations of Favre family. In 1814, Abraham Favre's grandson Henry-Auguste went into partnership with Auguste Leuba, a watch dealer from Buttes in the Val-de-Travers. The business remained in the same family over eight generations, through to 1969. Then the quartz revolution came along, bringing many changes for the industry. Favre-Leuba, one of the largest companies of its time, passed through different hands such as Benedom SA and LVMH before finally regaining its independence in 2003. On November 16, 2011, Titan Industries acquired Favre Leuba for Euro 2 million.

FRANCK MULLER is a noted Swiss watchmaker and the company of the same name. The brand of watches carries the slogan "Master of Complications". Franck Muller's watches are worn by various celebrities, among them Demi Moore, Robin Williams, Elton John, 50 Cent, and José Mourinho. Franck Muller timepieces are famous for their fusion of "modern" style, mostly inspired by American watches from the thirties, like "Elgin tonneau", and traditional Swiss watch manufacturing. The president of the company is Franck Muller himself. He claims to design the mechanism of every watch by himself.

Franck Muller was born in 1958. He spent his childhood in La Chaux-de-Fonds with his Italian mother and Swiss-born father. When 15, he enrolled in a watchmaking school. In the early 1980s, he graduated from the Watchmaking School of Geneva (French: Ecole d'Horlogerie de Genève). Afterwards he began repairing top-quality pocket watches. Close to an independent watchmaker by the name of Svend Andersen, Franck Muller became responsible for handling watches from the collection of Patek Philippe. Most of the clientele were private individuals and museums. While he was working with complicated timepieces, he became passionate about their mechanisms and began to think of building his own workshop.

Soon after, in 1984, Franck Muller designed his own tourbillon wristwatch. In the 1980s, few watchmakers were capable of creating such complicated timepieces, among them Patek Philippe and Vacheron Constantin. The private clients of Franck Muller continued to come for new timepieces, and thus his business started growing. The House of Franck Muller opened in 1991, and his ultra complicated timepieces instantly became famous in Europe and the United States. Today, his factory, which is also the headquarters of Franck Muller, produces a limited number of watches for private clientele. Franck Muller's collections include a variety of designs and price ranges.

Franck Muller is also known for its "World Premiers". Each year, the manufacturer launches at least one new line of timepieces, featuring something special and exclusive, that has never seen before in the watchmaking industry. The first such world premiere was launched in 1993. The watches had split seconds chronograph, minute repeater, and a perpetual calendar. In addition, the watches included an indicator showing the internal temperature. Many of the world premieres from Franck Muller are patented. All his watches are mechanical, having either a manual or self-winding movements. Some of their watches use movements based on standard ETA calibers.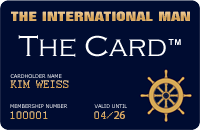 Upcoming VIP Privilege Membership Card
The International Man will in the near future be launching its own PRIVILEGE & BENEFIT VIP MEMBERSHIP CARD - named simply 'The Card'. Members will receive special privileges, benefits and preferential rates with selected partner hotels, restaurants, our LUXURY WEBSHOP, and more. Enter your name and e-mail address to receive FREE INFO about 'The Card' HERE.
RETURN TO TOP OF PAGE