World's 1200 Top Watch Brands & Watchmakers: T

TAG HEUER S.A. designs, manufactures and markets luxury TAG Heuer-branded watches, chronographs and fashion accessories and markets Swiss luxury TAG Heuer-branded eyewear and mobile phones manufactured under license by other companies. TAG Heuer traces its roots to the 1860 foundation of Uhrenmanufaktur Heuer AG by Edouard Heuer in St-Imier, Switzerland. The company was purchased by TAG Group (Holdings) S.A. in 1985 and the Heuer brand became TAG Heuer. In 1999, TAG Group sold TAG Heuer to French luxury goods conglomerate LVMH. TAG Heuer is based in Neuchâtel, Switzerland and is led by President and CEO John-Christophe Babin. Jack Heuer, the great grandson of the founder, is the Honorary Chairman. TAG Heuer maintains a watchmaking workshop in Cornol, Switzerland and a watchmaking factory in La Chaux-de-Fonds, Switzerland. The TAG Heuer slogan is "Swiss Avant-Garde Since 1860". Notable wearers and brand endorsers of TAG watches include Barack Obama, Lewis Hamilton, Leonardo DiCaprio, Tiger Woods, Brad Pitt and Shahrukh Khan.

Commencing in the mid-1960s, Heuer was part of a partnership (with Breitling and Hamilton) that sought to introduce the world's first automatic chronograph. Seiko (a Japanese watch manufacturer) and Zenith (a Swiss watch manufacturer) were also seeking to be the first to offer these chronographs. These projects were conducted in secret, as none of the competitors wanted the other companies to be aware of their efforts. Most agree that the Heuer-Breitling venture was first to introduce their new line of automatic chronographs to the world wide market, with Heuer-Breitling-Hamilton holding lavish press conferences in Geneva and New York, on 3 March 1969, to show their new lines of chronographs. Heuer's first automatic chronographs were the Autavia, Carrera and Monaco. These were powered by the Cal 11 and Cal 12 movements (12-hour chronograph); Cal 14 movement (12-hour chronograph and additional hand for GMT / second time-zone) and the Cal 15 movement (30-minute chronograph). Unusually, the winding crown was on the left, with the pushers for the chronograph on the right. The earliest of Heuer's Cal 11 chronographs (from 1969) were named "Chrono-Matic". In the early 1970s, Heuer expanded its line of automatic chronographs to include the Daytona, Montreal, Silverstone, Calculator, Monza and Jarama models, all of them powered by the Caliber 11 movement. Several of the automatic Heuer chronographs powered by the Caliber 11 series of movements are associated with automobile racing and specific drivers. Steve McQueen wore a blue Monaco in the 1971 movie, Le Mans (with this model now referred to as the "McQueen Monaco") and Swiss Formula One star Jo Siffert customarily wore a white-dialed Autavia with black registers. In 1974, Heuer produced a special version of the black-dialed Autavia that was offered by the Viceroy cigarette company, in a special promotion for $88. The Viceroy advertisements for this promotion featured racer Parnelli Jones, this version of the Autavia got to be called the "Viceroy".

In 1975, Heuer introduced the Chronosplit, a digital chronograph with dual LED and LCD displays. Later versions featured two LCD displays. TAG Heuer was formed in 1985 when TAG (Techniques d'Avant Garde), manufacturers of high-tech items such as ceramic turbochargers for Formula One cars, acquired Heuer. On 13 September 1999 TAG Heuer accepted a bid from LVMH Moët Hennessy Louis Vuitton S.A. of SwFr1.15 billion (£452.15 million) (US$739 million) contingent upon a transfer of 50.1% of stocks.

TIMEX Group USA, Inc. (formerly known as Timex Corporation), a subsidiary of Timex Group B.V. and its US headquarters, is based in Middlebury, Connecticut. The company is the current day successor to the Waterbury Clock Company, founded in 1854 in nearby Waterbury, Connecticut, U.S.A. Timex Corporation transformed itself again in the mid-1980s as it abandoned its development of various consumer products and refocused efforts specifically on timepieces. Product quality and fashionable design became essential to success in the mass market. Although Timex had a solid reputation for durable products, increased efforts were put behind quality improvement. Longer battery life, more durable gold plating, greater accuracy and more water resistant styles were some of the many improvements that were implemented. New quartz analog movements were created using fewer components, reducing overall production time and costs. Top athletes assisted in the design of sports watches for specific sports which led to the introduction of the Ironman Triathlon in 1986. Named for the Hawaiian triathlon the company had sponsored since 1984, the Ironman Triathlon became the most successful Timex watch in the post-mechanical watch era. Within its first year, Timex Ironman became the best-selling watch in the United States, and the world's largest selling sport watch for the next decade.

TISSOT is a luxury Swiss watchmaker company founded in 1853 by Charles-Félicien Tissot and his son Charles-Émile Tissot who established the Tissot factory in the Swiss city of Le Locle, in the Neuchâtel area of the Jura Mountains. Tissot should not be confused with Mathey-Tissot, a separate Swiss watchmaking firm established by Edmond Mathey-Tissot in 1886.

Tissot introduced the first mass-produced pocket watch and the first pocket watch with two time zones in 1853 and the first anti-magnetic watch in 1929-30. Charles-Emile Tissot left for Russia in 1858 and succeeded in selling their savonnette pocket watches across the Russian Empire. The Tissot company was also the first to make watches out of plastic (IDEA 2001 in 1971), stone (the Alpine granite Rock watch in 1985), mother of pearl (the Pearl watch in 1987), and wood (the Wood watch in 1988). Tissot merged with the Omega watch making family in 1930 and Tissot-Omega watches from this era are sought after by collectors. Still based in Le Locle, Switzerland and present in more than 150 countries around the world, Tissot has been a member of The Swatch Group Ltd., the largest watch producer and distributor in the world, since 1983.

Famous people who have worn Tissot watches include the actress Sarah Bernhardt, singer Carmen Miranda, Elvis Presley, Grace Kelly, and Nelson Mandela. James Stewart also wears a Tissot watch in the movie "Rear Window". Indian actor Kamal Hassan also wears a Tissot watch in the Tamil Movie "Dasavatharam". India's famous actress Deepika Padukone is brand ambassador in India since 2007.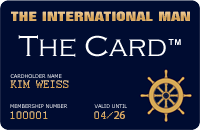 Upcoming VIP Privilege Membership Card
The International Man will in the near future be launching its own PRIVILEGE & BENEFIT VIP MEMBERSHIP CARD - named simply 'The Card'. Members will receive special privileges, benefits and preferential rates with selected partner hotels, restaurants, our LUXURY WEBSHOP, and more. Enter your name and e-mail address to receive FREE INFO about 'The Card' HERE.
RETURN TO TOP OF PAGE