World's 1200 Top Watch Brands & Watchmakers: J

JAEGER-LeCOULTRE | JLC is a high-end luxury watch and clock manufacturer based in Le Sentier, Vaud, Switzerland. In addition, Jaeger-LeCoultre also has a long tradition of supplying movements and parts to other prestigious watch companies in Switzerland. Since 1996, Jaeger-LeCoultre has been a fully owned subsidiary of the Swiss luxury group Richemont. Their watches compete with other high-end brands such as Patek Philippe & Co, Vacheron Constantin, and Audemars Piguet.

In 1833, Antoine LeCoultre (1803–81) founded a small workshop in Le Sentier, Switzerland, for the manufacture of high-quality timepieces. In 1844, he measured the micrometre for the first time and created the world's most precise measuring instrument, the millionometer, capable of measuring to thousandths of a millimetre. In 1847, LeCoultre developed a system that eliminated the need for keys to rewind and set watches, using a push-piece that activated a lever to change from one function to another. In 1851, he was awarded a gold medal for his work on timepiece precision and mechanization at the first Universal Exhibition in London. Antoine's son, Elie LeCoultre, desired to control all stages of timepiece production, so in 1866 he transformed his workshop into a manufacture, allowing his employees to pool their expertise under one roof. In 1870, LeCoultre began using mechanized processes to manufacture complicated timepiece movements. Within 30 years, LeCoultre had created more than 350 different timepiece calibers, of which 128 were equipped with chronograph functions and 99 with repeater mechanisms. From 1902 and for the next 30 years, LeCoultre produced most of the movement blanks for Patek Philippe of Geneva.

In 1903, Parisian Edmond Jaeger challenged Jacques-David LeCoultre, grandson of Antoine, to manufacture ultra-thin calibers of his design. Out of their relationship emerged a collection of ultra-thin pocket watches, followed by others that eventually, in 1937, officially culminated in the Jaeger-LeCoultre brand. In 1907, French jeweler Cartier, a client of Jaeger's, signed a contract with the Parisian watchmaker under which all Jaeger's movement designs for a period of 15 years would be exclusive to Cartier. The movements were produced by LeCoultre. Also in 1907, the LeCoultre Caliber 145 set the record for the thinnest movement at 1.38 mm. JLC began manufacturing the Atmos clock in 1936 after purchasing the patent from Jean-Leon Reutter, who invented it in 1928. The company was officially renamed Jaeger-LeCoultre in 1937. In 1941, Jaeger-LeCoultre earned the highest distinction from the Neuchâtel Observatory for its tourbillon Caliber 170. In 1982, the Jaeger-LeCoultre museum was established in Le Sentier. In 2009, JLC produced the world's most complicated wristwatch, the Hybris Mechanica à Grande Sonnerie with 26 complications.

JULES JURGENSEN is a watchmaking company. It was founded by Jürgen Jürgensen in 1740 in Denmark, when Jürgen Jürgensen went into partnership with Isaac Larpent, under the name "Larpent & Jürgensen". Upon Jürgens death in 1811, his youngest son Frederik took over the company and changed the name to "Frederik Jürgensen", while his eldest son Urban started his own company under the name "Urban Jürgensen" (Jürgens middle son was adventurer Jørgen Jørgensen). Urban Jürgensen was paid by the Royal Danish government to kickstart the production of Danish marine chronometers. Urban married the daughter of Frederic Houriet in Switzerland.

After Urban Jürgensen died in 1830, his younger son Jules went to Switzerland and started his own company under the name "Jules Jürgensen Copenhagen" in 1836, and his eldest son Louis Urban Jürgensen continued the business in Denmark, now under the name "Urban Jürgensens Sønner". Today the company Urban Jürgensens Sønner produces some of the finest watches in the world. Jules Jürgensen produced many fine, different, and fascinating watches in Switzerland, any serious watch collector may consider to own one. Jules Jürgensen was sold to a company in the US in 1936, but the watches were still produced in Switzerland until 1957, at which time it was first documented that the watches were made by others and have their name put on them. The company was sold to Mort Clayman in 1974, a watch distributor in the US. According to the company's website, they are no longer in business.

PIERRE JAQUET-DROZ (1721–1790) was a Swiss-born watchmaker of the late eighteenth century. He lived in Paris, London, and Geneva, where he designed and built animated dolls, or automata, to help his firm sell watches and mechanical birds. His astonishing mechanisms fascinated the world's most important people: the kings and emperors of Europe, China, India and Japan. Some consider these devices to be the oldest examples of the computer. The Writer has an input device to set tabs that form a programmable memory, 40 cams that represents the read only program, and a quill pen for output. The work of Pierre Jaquet-Droz predates that of Charles Babbage by decades. The automata of Jaquet-Droz are also considered to be some of the finest examples of human mechanical problem solving. Three particularly complex, and still working and functional dolls are housed at the art and history museum in Neuchâtel, Switzerland, now known as the Jaquet-Droz automata.

He once constructed a clock which was capable of the following surprising movements:—There were seen on it a negro, a dog, and a shepherd; when the clock struck, the shepherd played six tunes on his flute, and the dog approached and fawned upon him. This clock was exhibited to the King of Spain, who was delighted with it. "The gentleness of my dog," said Droz, "is his least merit; if your Majesty touch one of the apples, which you see in the shepherd's basket, you will admire the fidelity of this animal." The King took an apple, and the dog flew at his hand, and barked so loud, that the King's dog, which was in the room, began also to bark; at this the Courtiers, not doubting that it was an affair of witchcraft, hastily left the room, crossing themselves as they went out. The minister of Marine was the only one that ventured to stay. The king having desired him to ask the negro what o'clock it was, the minister obeyed, but he obtained no reply. Droz then observed that the negro had not yet learned Spanish.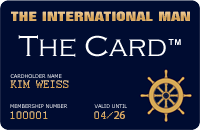 Upcoming VIP Privilege Membership Card
The International Man will in the near future be launching its own PRIVILEGE & BENEFIT VIP MEMBERSHIP CARD - named simply 'The Card'. Members will receive special privileges, benefits and preferential rates with selected partner hotels, restaurants, our LUXURY WEBSHOP, and more. Enter your name and e-mail address to receive FREE INFO about 'The Card' HERE.
RETURN TO TOP OF PAGE